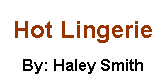 While lingerie is certainly something private and intimate, it is also something that changes with the times, bringing in new fashion every year. Thongs and their likes are going to be around maybe forever, but that doesn't prevent a few new trends from coming in.

Boy Shorts

Boy shorts are the latest in hot lingerie. Boy shorts are styled similar to boys' underwear and have snug fits that enhance your shape and make you look sexier. Boy shorts come in all varieties, and can cover your back completely or leave major portions of it uncovered. Boy shorts come in cotton, polyester, silk, satin, and micro-fiber. As for styles, you can choose from laced, decorative or scalloped edging. You can also get double layer laced boy shorts that have a second layer inside.

Baby Dolls

Baby dolls are like negligees with a formed cup near the breasts and an attached loose fitting skirt that falls somewhere in the region between the belly button and the hips. The baby doll design is generally see-through. There are several enticing variations that provide excitement. They come in a variety of materials and have additional attractions like matching G-strings. You can also get them with peek-a-boo cups that partially expose the breasts or nipples, and tie closures in which the garment opens or closes with a bow tie. Look around and you're sure to find some real sexy designs.

Chemises

A chemise is a short under dress or slip and is usually made of see-through material. Chemises also come with matching G-strings. Chemises come with stretch mesh or stretch lace with a lot of tantalizing designs and teasing variations. Polka dots are one of the many attractive design features. Add-ons could include fringes (yum decorative thin strips hanging from the hem line may be made of beads or other equally appealing options), open busts/tips, in which little or no coverage is provided fro the busts.

Crotchless Panties

There are panties and panties, and there are several that can make your mouth water. Crotchless panties are panties that have a convenient slit in the fabric covering the crotch area. These panties come to you in a variety of fabrics and with enticing variations. Fishnet is a coarse open mesh fabric that adds to your sex appeal. You can imagine what the fishnet crotchless panties can do to you. You can also get embroidered crotchless panties. Satin crotchless panties are the slippery ones, so better be careful!

G-Strings

The mention of G-strings is enough to arouse many a man. They are those triangular patches of fabric that are connected around the waist and leave the buttocks completely exposed. You can get a fairly wide variety here. You can opt for lace and pearls, velvet or even leather G-strings.
Thongs

Thongs are the evergreen item in lingerie and may perhaps never go out. While a lot of new styles are giving it a run for the money, thongs have so far asserted themselves and ensured their superiority.

Bustier

Bustiers are those cute things that extend below the breasts to provide additional support and control. They add to the sex appeal also. You get bustiers n all flavors and feels. There are the stretch and laced fishnet varieties. You also have a number of innovative designs and add-on features.

Corsets

These are the snug fitting garments that cinch the waist and lift the breasts. They can usually be adjusted for comfort using the lacing provided in the back. You can get them in a variety of materials like Jacquards, brocades, satin and leather. Varieties can include laced and tapestry.

Bras

Bras are, of course, the most widely used among lingerie, and have become an essential part of a woman's underwear. There are so many different bras out there, and some of them do stand out. A right choice of your bras can certainly add to your comfort and sex appeal.