Vijayeswari Textiles in India protects the environment with a treatment plant for wastewater at its textile finishing plant that gives no discharges whatsoever. The use of bio-scouring helps reduce the level of effluents, making water treatment easier.
Vijayeswari Textiles in Coimbatore is one of Indias few textile mills to have zero discharges of effluents. Other companies send their wastewater to a local effluent treatment plant, but this particular mill has invested INR 16 million (approx. USD 0.35 million) in its own plant capable of treating 600 cubic metres per day.
The first step is to neutralise the effluent using polymers, followed by treating the waste stream with microorganisms from Novozymes Biologicals, ensuring a 90% reduction in biochemical and chemical oxygen demand. The final step involves passing through a reverse osmosis system for recovery of up to 65% of the water.
The remainder, which has a high level of impurities, is evaporated to leave only solid waste. Currently about 230 cubic metres of water is used per day in the mill processes, and not one drop is released.
Making a difference
Vijayeswari Textiles uses its social and environmental performance to differentiate the company from the competition. The companys speciality is high-quality home textiles supplied to leading US and European retail chains such as Macys in the USA. The current product range includes bed linen, pillow cases, blankets, bedspreads and duvet covers, but new product lines may be introduced in future. High-end bed linen is made using special cotton and fine yarns with high thread counts in the cloth structure. International competition is tough, but the company continues to expand. Founded in 1953, Vijayeswari Textiles is a family-owned, vertically integrated textile mill taking the raw cotton, spinning it into yarn, and then weaving it into finished fabrics. The company employs around 2,800 people and produces about 2.7 million pieces of bed linen annually, which is expected to grow to 3.4 million pieces by 2007. Annual sales turnover is approx. USD 30 million.
The company employs high-calibre textile technologists who run its day-to-day operations. There is a strong commitment to new technology and protecting the environment under the leadership of A.L. Ramachandra, the managing director. He has a Masters degree in microbiology from the USA, so he knows all about enzymes and did not need much convincing to try the biological scouring (bio-scouring) process with Scourzyme L.
Scourzyme L is used for scouring, namely the complete or partial removal of the non-cellulosic components as well as other impurities found in native cotton. Scouring prepares the fabric so that it can be bleached and dyed successfully.
Reasons for switching
Following trials with Scourzyme L in January 2005, the bio-scouring process was adopted for full-scale production in March 2005 and has been used ever since at Vijayeswari. Apart from Scourzyme L for bio-scouring, the amylase Aquazym is used for desizing (starch removal), and the cellulase Cellusoft L for Bio-Polishing in the finishing stage. The only auxiliary used in the bio-scouring system at Vijayeswari Textiles is a wetting agent.
Before switching over to bio-scouring, a traditional alkaline scouring system was used. Vijayeswari Textiles gives a number of reasons for the switch:
The process is eco-friendly and gives a cleaner effluent.

Consumers prefer fabric prepared in an eco-friendly way.

The process is milder and does not alter the structure of the cotton, enabling the retention of natural properties.

Efficient removal of starch and pectins enhances properties such as wettability and bleachability.
Traditionally, highly alkaline chemicals such as sodium hydroxide are used for scouring. These chemicals not only remove the impurities but also attack the cellulose, leading to a reduction in the strength and weight of the cotton fabric. Furthermore, the resulting wastewater has a high chemical oxygen demand (COD), biochemical oxygen demand (BOD) and salt content.
Scourzyme L represents a biological alternative. Instead of extremes of pH and temperature, bio-scouring with Scourzyme L can run at moderate temperatures and pH. The actual cost of using Scourzyme L with the necessary auxiliaries is higher than the cost of traditional alkaline processes. However, the enzyme process works out cheaper when savings in energy, water consumption and effluent treatment are taken into account. Water consumption is usually 20-30% lower.
More suspended solids
The table shows a comparison of the two processes. As can be seen, COD and total dissolved solids (a measure of the salt content) are much lower in the bio-scouring process, partly due to a significantly reduced use of salts.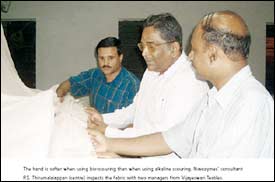 The reason for higher suspended solids in the case of the bio-scouring system is the efficient removal of size and other impurities due to enzyme activity. In contrast, higher dissolved solids in the conventional system relate to the use of a larger quantity of chemicals as compared to the bioscouring system. A higher level of suspended solids is advantageous for the mill because it is easy to remove suspended impurities by mechanical means, whereas dissolved impurities may have to be removed by chemical means.
After bio-scouring, it has been found that the cotton has an almost intact cellulose structure, lower loss in weight and higher strength compared to conventional alkaline scouring. Vijayeswari Textiles found that the hand and softness of the finished fabric were considerably improved.
Support from Novozymes
It was not difficult to switch. The mill changed a few process parameters, but did not need to add any new equipment. Without technical support from Novozymes, the change to bio-scouring would not have been so smooth, comments A.L. Ramachandra, managing director of Vijayeswari.
The company received support from Krishna Mohan, marketing manager for textiles at Novozymes in India covering South Asia and South East Asia, and P.S. Thirumalaiappan, a textile engineer with 35 years experience who has been working as a technical consultant for Novozymes in India since 2002. He works closely with Vijayeswari Textiles and even gives them advice on product development.
Many companies want a quick fix solution, but it is a two-way effort between us and the customer in getting new technology incorporated, P.S. Thirumalaiappan comments.
You have to spend time understanding the bio-scouring process. Usually, after two or three trials, customers find that the concept works well. At Vijayeswari Textiles, the team was open to new ideas and implementing changes. The mill has a strong backing for innovation from the top management.
Environmental regulations are becoming stricter and stricter all over India, where textile mills are under pressure to reduce discharges. Improved environmental performance is one of the reasons why customers shift to bio-scouring, but not the main one, according to Krishna Mohan of Novozymes: Bio-scouring actually gives a better quality finish.
Vijayeswari Textiles is a vertically integrated manufacturer of high-quality home textiles. It has a spinning complex with 50,000 spindles, a weaving complex with 180 modern looms, and a modern processing unit currently handling 12,500 m per day of fabrics 320 cm wide, but planning to handle 25,000 m per day from April 2007.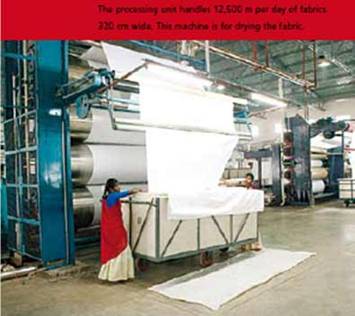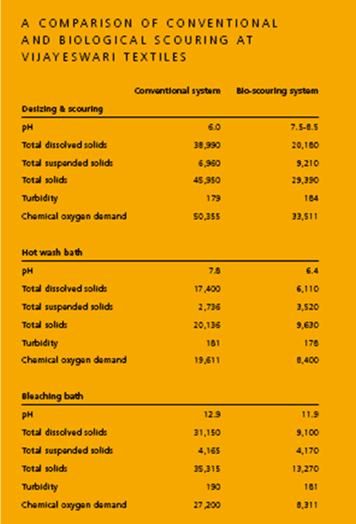 To read more articles on Textile, Industry, Technical Textile, Dyes & Chemicals, Machinery, Fashion, Apparel, Technology, Retail, Leather, Footwear & Jewellery, Software and General please visit http://articles.fibre2fashion.com

To promote your company, product and services via promotional article, follow this link: http://www.fibre2fashion.com/services/article-writing-service/content-promotion-services.asp