India is the second biggest textiles manufacturer worldwide, right after China. Textiles industry is not limited to manufacture and export of garments. The success of Indian textiles lies in an effective vertical integrations policies which have helped operators in taming the processes which while lying beyond simple manufacturing exercise do have a serious impact on it, for example, raw material treatment. Thus, cotton, jute, silk or wool and even synthetic material are also produced by this industry to complement and strengthen the garments manufacturing industry. Almost one quarter of the worlds spindle activities is hosted in India, again positioning itself just after China. Looming is another important element that accounts for significant activity in this industry; in fact, it takes an impressive 61% share including handlooms. The country is also significant textiles fiber and yarn manufacturer on the world scene, taking on its own a 12% share of the worlds production volume. India ranks on the second place as regards in production of silk and cellulose fiber and yarn whilst standing on the fifth position when it comes to synthetic fiber and yarn.
Indians have well understood the importance of staying one step ahead of developments in the world economic environment. The industry is now preparing itself to take share of opportunities expected to arise out of the market freed from quota restrictions and other trade barriers. The domestic textile sector is now at a critical stage where it should prepare itself to rise and grab the opportunities that are available through liberalization of the international market. Manufacturers however, were caught in inadvertence as new players started to creep on the market at a time when most operators had attention on imminent opportunities coming from a quota free market. Strategies and policies were mainly targeted towards expansion and modernization leaving more space to domestic players. Now it obviously appear that the latter have had ample freedom to strengthen them and they are now more prepared than export-oriented companies.
Chinas impressive production capacity and its growing strength compelled Europe and USA markets to some serious reflections. To bring a halt to massive invasion of their products, EU and USA have imposed trade restrictions, which also encourage retailers to review their sourcing strategy through diversification out of China. Now, undoubtedly India has good cards to play. With traders realizing the threat of relying on a single manufacturing source such as China, India could do well in proposing a valuable alternative to buyers on the international scene, but this is only possible through an adequate and appropriate development strategy and macro-economic policy.
Specific reasons for Indian dynamics?
A world survey on Textile and Nonwoven Industry which was taken by Oerlikon in the issue 7, May 2007 in the name of Fibre Year 2007 said, Indias success story in the textile and clothing industry continues at an even accelerated pace. The industry is strong in the conventional fibre-to- garment sectors with surging cotton production and the worlds largest polyester producer domiciled in the country. This industry plays a vital role in the Indian economy, consisting 4% of GDP and 16% of industrial production, employing in the textile and allied sectors about 90 million people, and exports for about 20% of the countrys total foreign revenues.
When benchmarking the Indian industry with PR China, there to be three major advantages in terms of industry structure, intellectual property and language. The industry has big-scale producers operating flexible units, capturing the complete value chain from raw material to garments in the manmade fibre as well as the cotton segment. In the light of massive counterfeit garments the respect of intellectual property will increasingly gain importance. Finally, in PR China a language imbalance from coastal to rural area prevails. However, both countries are still confronted with the need to catch up with strong, national brands. That still is a powerful advantage of the Italian industry despite its continuing contraction.
What are the specific reasons for Indian dynamics? The further extended Textile Upgradation Fund is one factor, showing the governments willingness to support this industry and also impressively proving their strong commitment. This has positively impacted the entire value chain.
India: Textile and Clothing Exports
The very much market driven strategy is based on growing domestic consumption and a stronger contribution from exports. The actual market size of textiles and apparel is about US$50 billion with 60% domestic consumption. The vision for 2010 is to target a market size of US$85 billion with exports of US$45 billion and local consumption of US$40 billion. However, the textile industry not only relies on knitted or woven textile products but is expected to expand into technical textiles and nonwovens. Industry experts believe that the Indian technical textile industry will succeed in attracting investments of up to US$2.2 billion by 2010. However, the Indian elephant needs to undertake more efforts to catch up with the Chinese dragon
Supportive Actions Taken by Govt. of India to Encourage Clothing Industry
Technology Upgradation Fund (TUF) increased toRs5.4bn from its previous Rs4.4 bn Interest subsidy provision on term loans available for those in the handloom field has been increased from Rs2.0bn to Rs2.4bn. The TUF, with its interest subsidy, provides textiles operators with interesting funding plan for their expansion and development strategies. Under TUFS, during April-February 2006-07, the overall increase was recorded in terms of total number of applications sanctioned (414.39%), the amounts sanctioned (192.32%) and disbursed (284.63%).The performance in respect of the power loom sector has also increased in terms of total amount disbursed (816.19%).
Excise duty has been reduced by half on all artificial fiber yarn and is now at 8% Import duty reduced from 15% to 10% on all artificial fiber yarn. Decrease in excise duty on artificial fibre has been implemented to favor cheaper production costs and ensure competitiveness on export market. SSIs are expected to grow further with interest subsidy on handloom sector loans.
Textiles parks creations will undeniably help in boosting the overall industry. 10 dedicated areas have already been identified and 7 of them already sanctioned. A special Scheme for Integrated Textiles Parks is meant to help in realization of such objectives.
A review note on growth & investment in textiles during 2006-2007 which was released by the Economic Division, Ministry of Textiles, Govt. of India says that Cloth production was more by 8.7%. Textile exports have been increased by 10.53%. Significant increase was recorded in Cotton Textiles (21.47%), Man-made Textiles (19.03%), and RMG (5.80%) during April-February 2006-07 as against corresponding period of previous year.
Sector Outlook
The future of the textiles industry seems to be bright in all aspects. As such Government places all its trust and relies sector for its strong employment creation capability, more precisely in the garments manufacturing side. Lowering tax burdens on companies will play an important part in cutting down production costs and boosting competitiveness, increasing ability to tap high-volume orders from the global market. Modernization would enable companies provide quality and volume solutions which is in constant demand by international buyers.
Positives Aspects
The Technology Upgradation Fund Scheme (TUFS) pushed an additional 10% capital subsidy in acquisition of processing machines; with a view to help in expansion plans. Processing sectors are expected to reap the benefits of such a measure in the long term.
Union Textile Ministry has exposed a White paper, named Vision 2010 where it gives clear indications as regards its objectives and targets concerning the US bn export market.
Operators are increasingly considering consolidation methods to strengthen production capacity, which would put them in better position on the global and free market. As such, mergers and takeovers are currently very frequent with companies tying up with smaller one to tackle global challenges.
Indian Power loom Industry
The Indian textiles, renowned for their fineness and captivating colors for ages beyond 5000 years, have attracted connoisseurs, from all parts of the world. The textiles of India bear the imprint of the fine craftsmanship of the Indian weaver. The skill of weaving with deft fingers, drawing patterns and creating designs, is an art which has been handed down through generations from father to son, from time immemorial. These finest gossamer fabrics woven from yarns of superior finish are now being manufactured more and more on power looms.
The emergence of power loom has transformed an art into a modern industry, producing around 50,000 million sq. meters of fabrics annually. The combination of traditional art and contemporary modern designs, has given a unique character to the Indian power loom textiles. The modernization process undertaken by the power loom industry has widened the scope of products such as grey, printed and dyed fabrics and cotton made-ups in a variety of sophisticated finishes and in a wide range of widths and sizes. Besides, the industry is now in a position to offer fabrics not only of cottons but also of rich blends of cotton, synthetics and other fibers. The process of economic liberalization has enabled the industry to become globally competitive, not only in terms of price, but also of quality. The ranges of products offered are many splendoured, rights from greys to finished fabrics and to made-ups.
Statistics of Indian Clothing Industry
Item

Unit




98-99




1999-

2000

2000-01

2001-02

2002-03

2003-04

2004-05

2005-06

(P)

Textile Mills (Non - SSI)

Composite Mills (Non-SSI)

No.

281

285

281

281

276

223

223

210

Exclusive Weaving Mills

(Non-SSI)

No.

199

202

203

207




209

206

202

204

Power loom Units

Lakh No.

3.58

3.67

3.74

3.75

3.80

4.13

4.26

4.34

Capacity Installed




Looms (Organized Sector)

Lakh No.

1.40

1.40

1.40

1.41

1.37

1.05

1.03

0.92

Power loom

Lakh No.

15.99

16.30

16.62

16.66

16.93

18.37

19.03

19.44

Fabric Production

Cotton

Million Sq.Mtr

17948

18989

19718

19769

19300

18040

20655

23873

Blended

Million Sq.Mtr

5700

5913

6351

6287

5876

6068

6032

6298

100% Non-Cotton (Including

Khadi, Wool & Silk)

Million Sq.Mtr

12479

14306

14164

15978

16797

18275

18691

19406

TOTAL

36127

39208

40233

42034

41973

42383

45378

49577




Per Capita availability of

Cloth

Sq.Mtr.

28.19

30.55

30.68

31.97

31.37

31.01

33.51

36.10
From the above table it is shown that the no. of composite mills decreased and the small scale power loom industries are increased tremendously in eight years. The total fabric production in million sq. mtrs. are increased around 28%.
Decentralized Power Loom Sector
The power loom sector plays a pivotal role in meeting the clothes needs of the country. The power loom industry produces a wide variety of cloth, both grey as well as processed. Production of cloth as well as generation of employment has been rapidly increasing in the power loom sector. There are 19.46 lakhs power looms in the country distributed over approximately 4.34lakhs units. The power loom sector contributes 63% of the total cloth production of the country, and provides employment to about 48.65 lakhs persons. It is estimated that more than 60% of the cloth meant for export comes from the power loom sector.
Growth in the Power loom Sector
The estimated number of power looms in the decentralized sector in the country till March 31, 2006 was 19, 43,892. The details of the number of power looms set-up since 2002-03, are at the following table.
| | |
| --- | --- |
| Year | Power looms |
| 2002-03 | 16,92,737 |
| 2003-04 | 18,36,856 |
| 2004-05 | 19,02,953 |
| 2005-06 | 19,43,892 |
| 2006-07 | 19,54,393 |
Source: State Govts. & UTs / Regional office of the Textiles Commissioner
Cloth production
Year

Total production

(Million sq. mtr.)

Production on power looms

(Million sq. mtr.)

% of power looms over total production

% increase over previous year

Total production

Power loom production

2002-03

41973

25954

62%

(-)0.15%

3%

2003-04

42383

26947

64%

1%

4%

2004-05

45378

28325

62%

7%

5%

2005-06

49008

30254

62%

8%

7%
Modernization of the Decentralised power loom sector
The Government has launched a major programme for modernization of the power loom sector by induction of 50,000 Shuttle less looms and 2.5 lakh semi automatic/automatic looms in the decentralised power loom sector. The emphasis has been on the Technology Upgradation Fund Scheme (TUFS). The different categories of looms installed under modernization from 2001-02 to 2005-06 is at the Table.
| | | | | | | |
| --- | --- | --- | --- | --- | --- | --- |
| Type of looms installed | 2001-02 | 2002-03 | 2003-04 | 2005-06 | 2006-07 | Total |
| Semi Automatic Looms | 483 | 14994 | 4732 | 3161 | 2298 | 25668 |
| Automatic Looms | 1230 | 1916 | 1193 | 1912 | 2466 | 8717 |
| Shuttle less Looms | 1923 | 3595 | 3639 | 3809 | 4165 | 17131 |
| Total | 3836 | 20505 | 9564 | 8882 | 8929 | 51516 |
In addition, about 2.00 lakh plain looms have been in-situ upgraded to semi auto looms.
Additionally, World Trade Organisation marked Indias share in the world trade in textiles & clothing during the last three years is as follows:
| | |
| --- | --- |
| Year | %age share |
| 2004 | 2.99 |
| 2005 | 3.66 |
| 2006 | 3.68 |
Even then, it is felt that in the near future, Conventional Textiles may find some difficulty to grow in faster space due to all round increased competition. On the contrary, Technical Textile is expected to grow steadily world over and especially in Developing Nations in the coming years. The major factors for such growth are stated to be:
Steady economic and industrial growth in the countries like India.

Increasingly stringent environmental regulations.

The need for increased energy efficiency and waste utilisation; and

An increased focus on leisure in our life style.
Very distinctive feature of Technical Textile is that it can make value addition as high as 500 percent depending upon the applications and end uses. But, it is a diverse and dynamic one, having wide range of materials, processes, products and application.
Hence, it is necessary that the Indian Elephant has to make a stronger step on Technical Textiles too.
An overview of Technical Textiles
Technical textiles are textile material and products manufactured primarily for their performance and functional properties rather then aesthetic or decorative purpose. Aesthetic properties are not much important for the Technical Textiles. The performance and functional properties are in sense with the agro to aerospace application. Based on the end uses, fibre selection to the method of processing are the keys to new product development in the textile arena. Over all growth rates of Technical Textiles in the world are about 4.0%per annum but the apparel and home textiles are at the rate of 1.0%.
Progress of Technical textiles in Global Market
Present market opportunities and in free quota regime, the prospects for the technical textiles is increasing to cater the needs of the requirements. Table shows %age of technical textile materials in the world during 2005. Out of which Filter clothing, furniture, hygiene medicals, building & construction materials growth rates are very significant.
| | |
| --- | --- |
| Technical textiles | % of share in 2005 |
| Automobiles | 3 |
| Filter clothing | 17 |
| Furniture and upholstery | 16 |
| Hygiene and medicals | 12 |
| Buildings and construction | 12 |
| Agro and forestry | 7 |
| Technical components and clothing | 6 |
| Packaging | 5 |
| Geo textiles | 4 |
| Sports wear | 3 |
| Environment protection | 2 |
| Personal &protection | 1 |
| Others | 12 |
Consumption Rate of Technical textiles
With keep in mind the over all growth rate of technical textiles (4.0%).There are plenty of opportunity for new entrepreneurs to step in to this market to gain their share.
Growth of Textile Material
In general the technical textiles are made in to fabric form from conventional weaving to composite layers. It is interesting to note down that the nonwoven and composite production methods has considerable market share, which is shown in the Table. This is due to relative high production rates and suitability to the end uses.
Material

US Billion $

Rate of Growth per

annum

Year

2000

2005

%

Woven

26.71

29.8

2.2

Nonwoven

14.64

19.25

6.0

Composites

6.69

9.16

6.0

Other textiles

11.95

4.06

3.3

All textiles

60.6

72.34

3.7
Statistical Analysis of Technical Textile Market
There are continuing signs that overall growth rates in technical textiles consumption are slackening. Figure, which summarizes the world forecasts from 1995 to 2010, indicates a rather higher growth rate over the second half of the current decade than for the first. However, this largely reflects an anticipated upturn in global economic activity after a period of slow growth (and in many countries actual recession) around the turn of the century. Forecast average growth rates (in volume terms) of 3.5% per annum between 1995 and 2005, and 3.8% per annum from 2005 to 2010 remain relatively attractive, especially in comparison with most other, non-technical, textile markets.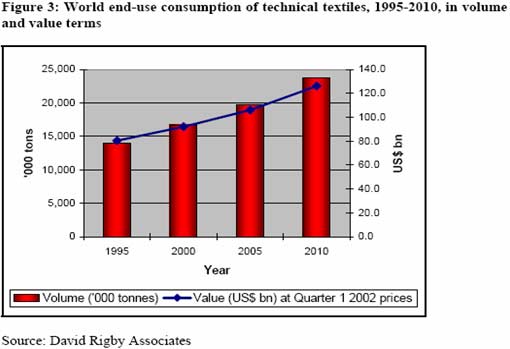 Forecast growth rates in value terms (constant 2002 prices) are lower than those for volumes. Technical textiles consumption is forecast to grow on average by only 2.8% per annum. in value terms over the period 1995-2005.
Split By Region
Table reveals the impact on technical textiles consumption of sluggish economic growth rates and maturing markets in the developed world during the early years of the century. Between 2000 and 2005, consumption is expected to grow by only 2.8% per annum on average in both Europe and the Americas. Asia, however, remains an engine of growth, with annualized consumption growth rates forecast to increase across each of the 5 year periods between 1995 and 2010, reaching 4.6% per annum over the five years to 2010.
World end use consumption of technical textiles by broad region, 1995 2010 (000 tons)

Technical Textiles Indian Scenario
A systematic survey had been undertaken by Ministry of Textiles to assess the progress of Technical Textiles in India. With this study, it is established that India is yet to find a significant place in the global scenario in this area. Traditionally, Indian textile industry is composed of four sectors, viz., composite mill sector, decentralised power loom, and hosiery and handloom sectors. The Indian textile industry was dominated by the composite mill sector in the post-independence period. Technical textiles did never find a place of priority in this sector, though a few mills produced a limited range of industrial textiles in their product mix. However, facing stiff competition from the power loom sector, gradually the composite mill sector suffered various set backs. Even in their revival effort, technical textiles did not find a strategic place as deserved. They still focused their priority in modernising conventional apparel & home textiles, yarn manufacturing, etc.
So far, the contribution of Indian textile industry towards technical textiles was restricted to a few low technologies and less sophisticated items like tarpaulin, industrial filter cloth, bolting cloth, textiles for luggage, decatatising fabrics, tyre cords, belting, etc. Another area of notable contribution of the Indian textile industry, particularly the decentralised sector is textiles for strategic application, viz., and national security. For example, parachute canopy fabrics used for man-dropping, supply dropping, brake parachute application, etc. have been largely indigenised and even exported to other countries, even in small quantities.
A slow but perceptible sign of growth has been observed in a few specialised fields. Use of various automotives textiles, structural canopies and awning, protective textiles, defence textiles, etc. has already started in the country. The use of geo-textiles for various applications including construction activities on many infrastructural projects has been well documented. Consumption of certain medical and health care textiles is growing in the country. Technical textiles in the form of shelter, protection, transportation, etc. are most suitable from the point of logistics for the victims of cyclone, draught, flood, earthquake, fire, etc., which are rather frequent events in our country every year. With the Indian population being second largest in the world, it would not be possible to avoid or certain the demand for technical textiles.
Dominance of the Decentralised Sector
The composite sector rarely found receptive to technical textiles and the market changes. In contrast the decentralised power loom sector has helped the country through indigenisation of certain technical textiles, particularly in the areas of strategic significance, i.e., national security. While the country is legitimately proud of such technological breakthroughs, there was no money and volume demand in such fields of technical textiles. Further technical textiles demand simultaneous development of both products and markets.
Manufacturing Facilities
Re-orientation of production facilities, training of existing man power to canalise their technical ability to the new technology of technical textile may be deployed.
Many of the technical textile products can be produced by the conventional process, machines and equipments, depending upon the application area and functional parameters. Likewise degree of precision required for the end use may be carefully selected. India has a fairly good infrastructure of spinning, weaving, wet processing, lamination, coating, etc. which, in the present form is capable of producing varieties of technical textiles such items should be identified and marketing efforts should be made accordingly.
Initiatives Taken by Govt. of India on Technical Textiles
The recent initiative taken by Ministry of Textiles, Government of India on Technical Textiles through their Expert Committee Report and on-going exercise in identifying the useful data and product specifications could give a tremendous awareness among investors and boost to the Technical Textile Industry in the country. This is further improved by the initiative taken by some of the progressive textile states like Gujarat who has announced a specific Policy on technical Textiles for its growth by providing financial support to the individual unit and also by creating required infrastructure, testing and training facilities for this specialized field in the state.
Future Scope of Indian Technical Textile Market
In many developed countries technical textiles now account for an average of 40% of both production and consumption, according to Michael Janecke of Messe Frankfurt, the organizer of the Techtextil trade shows. Within the European Union (EU) in 2003 there were approximately 2500 companies either exclusively or partly involved in this sector, which was worth 26.2 billion that year.
Messe Frankfurt is also to hold the first Techtextil India on 10-12 October this year, in parallel with Indian editions of its Heimtextil and Texworld shows, at the Bombay Exhibition Centre in Mumbai. The proportion of textiles used for technical purposes in India currently amounts to at most 17%Vi, representing a world-market share of only 3%, but the production of technical textiles in India is still in its infancy and as yet is unable to meet this comparatively low demand for products. It is, however, poised to emerge as a major growth area and could be worth around US$7 billion this year. Current incentives for doing business in India include a concessionary rate of just 5% duty on specified production machinery, which is much lower than in the past, and also concessionary rates for many high performance fibres and yarns.
Yet, on going changes demand reviewing each area of Technical Textiles separately keeping in mind that it is a Niche market and to ensure the maximum chances of success all along. An approach should therefore; to understand what is new, attractive and cost effective to fulfill its requirement in various on going applications for Agriculture, Construction, Healthcare, Automotive, Protective Apparels or for Home Textiles. With this aim, a successful industry or business strategy, need to decide right product, market, appropriate process and Technology and collaboration agreement, sourcing of raw materials locational advantages and feasibility for each product differently.
Technology Upgradation Fund Scheme of Government of India provides an important opportunity for the willing entrepreneurs to venture into this emerging area of textile industry. Various machinery and equipment required for manufacture of technical textiles have been included in this scheme. Now, since the Union Government has realized the importance of this field, it is expected that new sops in the next five-year plan may yield expected results.
About the Author:
The authors are serving as Lecturer for Department of Textile Technology in SSM Academy of Textiles & Management.
To read more articles on Textile, Industry, Technical Textile, Dyes & Chemicals, Machinery, Fashion, Apparel, Technology, Retail, Leather, Footwear & Jewellery, Software and General please visit http://articles.fibre2fashion.com

To promote your company, product and services via promotional article, follow this link: http://www.fibre2fashion.com/services/article-writing-service/content-promotion-services.asp