Visual merchandising is in existence since the dawn of civilization and prevails anywhere a trade activity takes place. Its like an alluring cover of a book which sparks interest in the minds of the viewer to read the book. Starting from big outlets that reserves thousands of rupees in its budget to create an attractive window display to a small street trader who puts the biggest mango on the top of his pile to attract the customer, Visual Merchandising plays a prominent role. With the dawn of the 21st century, business organizations started to put more focus on visual merchandising so as to sustain themselves in the world of cut throat competition. One way for the traders to distinguish themselves from others is their unique and creative way of creating a visual display.
Elements of Visual Display:
It is generally assumed that mannequins are the sole form of visual display. But this is far from the actual fact. Visual merchandising is made up of several important components which makes this as an art and complete in itself. Mannequin is a key element in this process.
v Exterior Signs: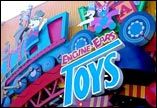 Exterior signs help to communicate a location. An ideal signage should be visible from a distance of 200 meters, with 8 inch letters. Exterior signs communicate the viewer about the business happening inside. For example, expensive and lavish sign boards indicate luxury products sold inside. Here business logo plays an important part. One or two simple and catchy keywords can be used in the sign boards to give a better understanding of the retail store. Utmost care should be taken in exterior sign boards to make sure it looks fresh and without any damage. Signs with unlit light bulbs of faded paint might hurt the image of the store and prevent the customer from entering inside. A well maintained signboard is the stores signature.
v Planogram:

This is a retailers blue print of how the merchandise should be arranged, so as to allow the visitor to properly view the product and its price. It is an international language of product presentation and shelf; space utilization. If the retailer has chain stores, this is a good way to communicate to all the staff about the arrangement of the products. This leads to creating a room setting with visible focus areas, and positioning the products in a proper way.
v Props:

These are special elements that give a feeling of reality to the displayed product. For example, a winter theme will be enhanced by props such as dried leaves, snow flakes etc used as a back drop for the product actually displayed. They may or may not be directly related to the products sold but they provide support for their sale. Props support the theme of display and breathe in life into the products showcased by making it look alive.
v Awnings:

Awnings are sun shelters that provide shelter to the customer from weather, reduce the glare and enables to customer to view the visual display in a clearer manner. Similar to an exterior sign board, an awning that is not well maintained will damage the stores image and stop the customer from entering inside. Appealing colors add attraction to the awnings used. It should be put in such a way that it does not hide the sign board.
v Landscape: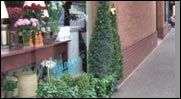 A well designed landscape would look simple and make the customer feel relaxed. It also helps the retailer to screen the dirty environment of the store. Flower plants placed before and below the window display area gives some depth and makes the display more appealing. Well chosen and carefully maintained plants at the entrance will give a hearty welcome to the