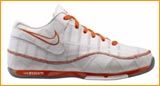 Shoes made from leather, fur, and other animal skins are believed to be trendy in the eyes of many today. But the growing conscious of eco friendliness has made people to turn towards a new way of Vegan life. Vegan is a person who does not use any product made from animals in his food. This virtue is reflected in the footwear field as well. Nike, the popular American manufacturing company for athletic shoes and other equipments, has come up with a new product, a basket ball shoe with the name Nike Trash Talk. The best part of this shoe is that it is claimed to be the first basket ball shoe that is made from manufacturing waste.
The Nike Trash Talk is manufactured from waste leather, waste synthetic materials, and other substances available on the factory floor. The upper part is made from waste leather and synthetic materials which are fixed together with zigzag stitches. The middle sole of the shoe uses scrap-ground foam from factory production. The outer sole of the shoe uses eco friendly rubber materials, and other manufacturing waste from Nike Grind. Nike Grind is a recycling program, in which Nike collects worn out athletic shoes of any brand, and recycles them into reusable material. The shoe laces and sock liners are made from eco friendly materials. To make the mission perfect in all the ways, the shoe will also be packed in a cardboard shoe packing box which will be made only out of recycled materials. This shoe is believed to have met with the desired design standards of Nike.
Promotion of this shoe was done by evergreen basket ball star Steve Nash. He first wore this shoe during a basketball game on the Valentines Day. Nash is himself known to be an eco-friendly person and thus was a right choice to promote a Vegan product. This shoe made from 100 percent trash is priced around $100 USD. It is claimed by Nike to exhibit a good on court presentation as performance footwear.
In the recent times, fashion world is walking on a greener path by putting more focus on environmentally friendly products. Earlier it was believed that environmentally friendly or recycled products did not look appealing to the end user. But now, fashion conscious manufacturers are making their products with fashion and green motive mixed in the right proportion so that the resulting outputs are products of the customers choice. Despite this transformation, being environmentally friendly proves to be a bit costly. Shopping for a product that is both eco friendly, and within the limit of the persons budget seldom goes with each other. The trend for eco friendly products will take time to become a craze among people and be available at a limited cost.
References:
To read more articles on Textile, Industry, Technical Textile, Dyes & Chemicals, Machinery, Fashion, Apparel, Technology, Retail, Leather, Footwear & Jewellery, Software and General please visit http://articles.fibre2fashion.com

To promote your company, product and services via promotional article, follow this link: http://www.fibre2fashion.com/services/article-writing-service/content-promotion-services.asp