This article enables the construction of custom designed special occasion dresses. Common physical characteristics of these disorders include severe spinal curvature, resulting in extreme body asymmetry that requires the use off ore arm crutches and waist-to-foot braces for upright mobility. Some of the fitting techniques used in this article may also be used to achieve good fit in other populations.
The garment adapted who are incapable of executing normal dressing movements. The garment comprises a front panel applicable to the front of the challenged persons torso and a rear panel applicable to the back of the person torso. The front and rear panels each have opposed side edge margins and fastening means distributed thereon for simultaneously assembling and securing the garment to the wearers torso by interconnecting the front and rear panel along their opposing edge margins in torso supported relation in the worn condition of the garment, without the necessity of normal dressing movement.
Clothing to meet the special needs of people with disabilities is available, but many styles offered are more functional than fashionable. The lack of fashionable apparel is especially evident in the category of special occasion clothing for the young men and woman with a disability. Special occasion clothing includes dresses and gowns worn to proms, winter balls, homecoming dances and other special events. This type of clothing plays an important role in such events, adding to the excitement of the occasion and making the event memorable. Young men and women who are disabled are often frustrated when trying to find a formal dress. Because they want to wear the current styles, most purchase off-the rack, ready-to-wear (RTW) dresses and have them altered or adapted to accommodate their physical disability. Sometimes, it is very difficult to alter and adapt RTW garments to create safe, functional clothing and maintain the original design lines and features; as a result, the young men and women are often disappointed with the look and the fit of the altered garments.
Conventional clothing is closed in the buttons, zippers, hooks and eyes are in the traditional means in which the indoor and outdoor clothing are fastened. One in five people in the world, both adults and children, are permanently disabled. Millions more people are temporarily disabled due to accident or illness (from the paper magnetic garment closure system and producing the method for same written by ELAINE M.GOOD). The garment wearer is forced to rely on another person to assist them in their dressing, leaving them unable to live independently.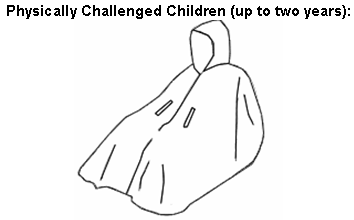 This garment is necessary for the other alteration in the dressing so to make comfort for the wearer and also for the person who make them wear. So this method of cloth or garment is most suitable for the challenged children. This cape has a long front zipper, draw string hood, hand openings that provide easy access to fasten a security belt. Made longer in the front to cover the legs and short in the back.