Wool is an excellent fabric especially during the winter seasons. Silk is a highly sophisticated fabric whose potential was felt even before thousands of years. Both are natural fibres with unique characteristics. Their traits include resilience, draping properties, natural resistance to heat, excellent dyeing properties etc. But these fabrics are difficult to clean. Process of cleaning through water, and with detergents may damage the fine texture of the fabric while dry cleaning makes the process very expensive. In ancient times woolen clothes were forbidden by Egyptian priests performing temple rituals since wool was believed to be unclean clothing. Researchers have now come up with a new technology wherein woolen, and silk clothing may clean themselves, get rid of the smell and stains in the sunshine. A nano particle coating, that is generally used to clean windows would lead to self cleaning woolen, and silk fabrics.
Wool and silk are the most costly fabrics in the clothing segment. But its delicate and fragile nature makes its maintenance, much difficult. These fabrics are composed of natural proteins called keratins that are vulnerable and can be damaged easily by harsh chemical treatments normally applied to clean garments. Researchers have now developed a woolen fabric with nanoparticle coating containing of particles around five nanometres. Keratin; present in silk, and woolen fabrics are bound with titanium dioxide. Application of ceramic, inorganic material to organic fibre like keratin is a tough task. The technology uses titanium dioxide photo catalyst that destroys dirt, stains, and harmful micro organisms when activated by sunlight. The coating in the fabric is composed of anatase titanium dioxide, a substance which can wipe out contaminants when exposed to sunlight.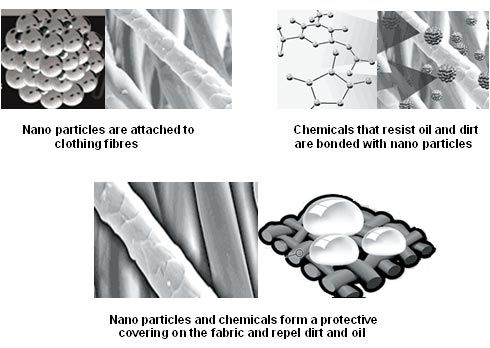 Researchers selected two fabrics for testing. One fabric was coated with the nano particle, and the other one was a plain fabric. Both the fabrics were stained with red wine and were left in sunlight for 20 hours. The nano particle coated fabric did not have any signs of stain, whereas the untreated fabric still remained deeply stained.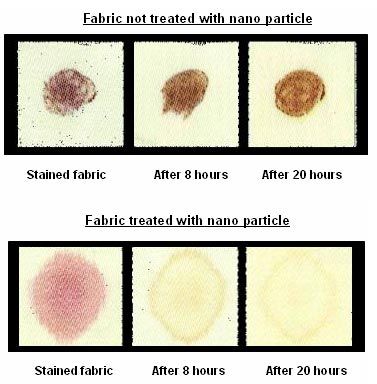 Self cleaning fabrics can be manufactured by simple coating process with anatase TiO2 under mild conditions. Modification of these proteins with succinic anhydride introduces additional carboxylic groups by acylation gives enhanced bonding between TiO2, and the fibres and thus results in a more effective self cleaning process. This coating is non-toxic and does not influence the texture, color, or feel of the fabric. Titanium dioxide is made to stick to the fibres and a chemical reaction is used to activate the surface of the fibres.
Wool and silk are the fabrics that have kept its popularity for hundreds of years. New innovations in the field of textile enable the consumers to preserve these clothing for long years. This technology helps in reducing the consumption of detergents, dry cleaning agents, and water. Self cleaning fabrics will become a standard feature in the future of textiles.
References:
To read more articles on Textile, Industry, Technical Textile, Dyes & Chemicals, Machinery, Fashion, Apparel, Technology, Retail, Leather, Footwear & Jewellery, Software and General please visit http://articles.fibre2fashion.com

To promote your company, product and services via promotional article, follow this link: http://www.fibre2fashion.com/services/article-writing-service/content-promotion-services.asp