Corduroy is a textile made of twisted fibres that are woven in a form parallel to one another which makes the cord in the fabric. The word corduroy is derived from the word, corde du roi which means cord or cloth of the king. It is a ridged form of velvet. It is considered as a long-lasting cloth. Clothes from corduroy are preferred by people especially in colder climates. There was a time when the designers thought Corduroy is an inconceivable material to exhibit their collections. Its inexpensive price and the image it had among the people made them feel that it will be impossible to quote designer prices for garments tailored in this fabric. But now, during the course of time, the same material has become a trademark of the fashion industry. Once considered as the fabric of the middle class people, Corduroy with its cozy, rich, and soft looks have overtaken the demand for denim apparels.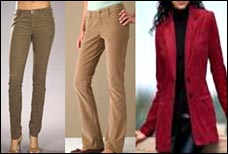 Corduroy fabrics with larger wales like eight per inch are used for making trousers, while fine micro wales having tender fibres with 18 to 21 wales and are used in making delicate tops. Earlier, these fabrics were considered only for winter apparels, but now fashion savvy designers have come up with creative and appealing designs with the fabric, making it an all time sought after fabric. During winters, the fabric is used by branded apparel makers to manufacture wide-wale jackets, and skirts with mitered cut to give a slimming effect and in pants to give a classy, antique look. In summers, corduroy is used for making low-rise pants, charming kurtas with typical embroidery, and A-line skirts. The forthcoming fad will further exhibit corduroy apparels in vibrant hues, and printed apparels in paisley and colored stripes.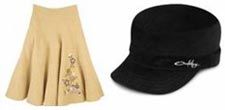 The growing demand for corduroy clothing in the market has given way for new and creative ideas in the manufacture of apparels. New and safe chemical treatments, and sophisticated washing methods that would not damage the look, and texture of the fabric and would not cause the color to fade is being introduced to skim the cream of the market for these apparels. Low rise and tight fitting corduroy apparels were introduced in the market. Both fine and wide wale corduroy garments will be a part of every apparel shops assortment. They are now considered as a strong alternative to denim garments. Ideas are even applied by creative designers to reverse great corduroy coats into silky party wears. The overall finishing of this fabric with a base color and a contrasting color on the top catches the attention of the shopper and lure him to buy.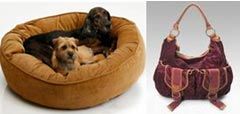 A fashion survey report states that men in the age group 16-24 own 5.3 pairs of jeans, 25-34 have 5.5 pairs, and age group 35-55 own 7.5 pairs. On an average the sales of corduroy trousers for men accounted to 4.4 percent of the overall sales figures of mens trousers. Corduroy jeans and trousers, and blazers in deep shades of green, brown, black, and teal are the most sought after. Apart from apparels corduroy caps, handbags, dog beds etc have also found their way into the market.
Indian manufacturers make corduroy apparels in a decentralized segment. Despite its increasing craze, and demand, bigger mills are still reluctant to adopt this fabric in their line of garments due to its higher production cost, and longer manufacturing cycle. China is more benefited from these apparels as large quantities of corduroy garments are imported from there. Lower price and a finishing superior to Indian garments favor the Chinese market for corduroy apparels.
This casual wear with great plush looks, with stretchy and comfortable feeling has a promising market in the forthcoming years. It is in the decision of the manufacturers to make the optimum utilization of the opportunity.
References:
To read more articles on Textile, Industry, Technical Textile, Dyes & Chemicals, Machinery, Fashion, Apparel, Technology, Retail, Leather, Footwear & Jewellery, Software and General please visit http://articles.fibre2fashion.com

To promote your company, product and services via promotional article, follow this link: https://www.fibre2fashion.com/services/article-writing-service/content-promotion-services.asp