Abstract:
The way apparel organization embraces superior serviceability in shaping its appropriate supply chain configuration, will determine value of future business. Apparel supply chain exists primarily in three configurations to suit overall business environment. Effective management of supply chain by responding quickly to market-demand while keeping optimum inventory, is more preferable to only efficient management of supply chain by minimizing inventory without fast response to consumers demand.
Key Words: Supply Chain, Basic Product, Fashion-basic product, Fashion product, Push and Pull supply Chain.
Introduction:
Many apparel organizations worldwide have restructured themselves from vertically integrated composite set-up to horizontally aligned configuration. Among the various reasons gravitated the transition from vertical to horizontal structure, there are the emphasis on greater organizational and process flexibility to cater volatile market demand. Also, remarkable improvement in productivity and cost of machinery make it increasingly risky to underutilize the entire range of production equipments-from spinning to processing machines kept under one roof. Cost cutting, arising out of heavy debt associated with increasing acquisition, also influences management to keep organization lean and horizontally aligned.
However, this splitting-up of once vertically aligned organizations into many independently working apparel companies, each having a separate operation, makes efficient coordination among them a must to sustain increased competition. Also large, vertically oriented organizations, which still exist, need to coordinate their entire supply in light of growing inter-unit competition for productivity, often disregarding market priority. This stimulates apparel organizations to manage their various activities under a new paradigm, supply chain management (1).
Increasing market competition forces apparel companies become efficient in managing their supply chain by reducing inventory, yet maintain the super-responsiveness to volatile market demand. Effective supply chain management, cutting across functional silos and organizations boundaries has provided integrated solution to this challenge (2).
The article describes different types of demand patterns and inventory found in apparel sector, and a typical apparel supply chain. Different types of supply chains are discussed with reference to historical perspective and their current practice among leading apparel organizations in India. The key findings from these practices are analyzed. Prime feature of any supply chain is the balancing the flow of demand by strategically positioning inventory at various nodes of supply chain. Therefore, two major components of supply chain-demand and inventory are discussed with respect to demand variability and inventory characteristics, before explaining various types of supply chain.
Types of Demand and Inventory:
Demand Pyramid: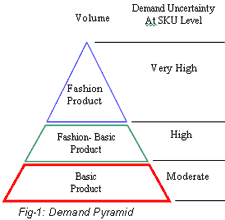 The consumer has all kinds of demands for apparel-apparel, as manifested in fig-1. The consumer demand can be broadly trifurcated into three segments-basic, basic-fashion and fashion apparel. Basic apparel consists of highest volume with moderate demand uncertainty and is priced relatively low. On the other hand, fashionable attire comprises lowest volume with volatile demand, but is highly priced. Mass-product is the feature of basic-product segment and customized merchandise becomes the hallmark of fashion-product category. Therefore, depending to which demand-segment they cater to, apparel organization needs to formulate suitable supply strategy.