During this long period of existence the industry has upgraded itself through innovations and introductions of new products at regular intervals. Sewing and embroidery machinery industry is coming every day with some new features in their machineries to keep abreast with end users requirement. Adaptability and ease of use are becoming the determining factors for the success of a product. Computerized machines with intelligent software applications, automatic re-threading, artistic embroidery designs, and good storage memory are in vogue.
As this market is expected to grow further and reach 25 Million Units by 2010, Fibre2Fashion has tried to take a quick snap shot of innovations in this industry. We have tried to cover some newly introduced sewing and embroidery machines in this article:
---
Innovations by Elna srl, Switzerland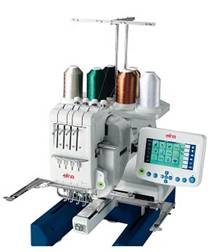 Elna 9900 - Semi- industrial embroidery machine
Single head 4-needle embroidery machine

8 bobbin supports

100 built-in embroidery designs

10 built-in monogram fonts

Lettering - upper & lower case

Weight : 20.5 kg

Dimensions : 365 x 440 x 520 mm

Multilingual interface - 10 languages

Fully independent bobbin winding

USB and ATA PC card compatible

Direct PC link

Dual white LED lights illuminate entire work area

3 standard hoops included

(240 x 200 mm, 126 x 110 mm, 50 x 50 mm)

Embroidery on cap (optional hoop)

Compatible with six industry-standard Tajima hoops

Automatic stitch back after thread breakage

Adjustable speed control up to 800 spm

Full rotary hook (industrial)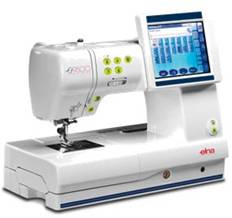 Elna 9500 - Computerized embroidery and sewing machine
122 embroidery designs

10 monogram fonts

Lettering upper & lower case

307 built-in stitches, including 13 buttonholes

3 monogram fonts

Stitch length : 5 7 mm

Moveable screen

Full-colour touch screen (122 x 91 mm)
Automatic / programmable thread cutter

Needle threader

8 white LED lamps illuminate entire sewing area

Computerized thread tension control

Drop feed dog

ATA card / USB memory key

PC link : two-way USB communication

Horizontal full rotary hook

Independent bobbin-winding motor

Multilingual interface 10 languages

Horizontal spool pin

Upper & bobbin thread sensor

Hard cover with storage box
Elna 8300 - Computerized embroidery machine
100 built-in designs

Alphabets 3 styles, 3 sizes

Single or multiple colors with color change key

Edit any letter anywhere in a sequence

Horizontal / vertical alignment for letters

Monograms 2 letters and 3 letters with 4 styles of frames

Combine designs and alphabets

Rotate, resize, mirror image, face to face

Move by drag and drop

LCD touch screen with backlight 94mm x 71mm (33/4" x 23/4")

USB

Port

Built-in needle threader

Extra presser foot lift

Rotary horizontal hook with transparent bobbin cover

Built-in carriage

Top protective cover with design chart

11 languages
Elna 8100 - Computerized embroidery machine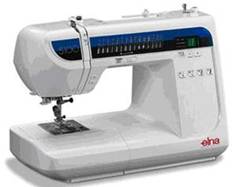 55 built-in embroidery designs

3 alphabet styles

18 built-in border designs

Backlit black-and-white LCD touch screen

USB connection

Built-in needle threader

Rotary horizontal hook with transparent bobbin cover

11 languages

Large standard hoop (140 x 140 mm)

Embroidery format : .JEF

Embroidery design information

Editing functions

Memory

Preferences
Elna 5100 - Electronic sewing machine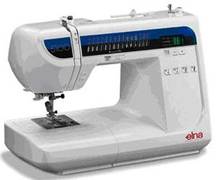 30 built-in stitches including buttonholes, quilting, patchwork and fancy stitches

6 one-step buttonholes: classic, jeans, etc.

Automatic selection of optimal stitch length and width

Adjustable stitch width up to 7mm

Adjustable stitch length up to 5mm

Built-in needle threader

Adjustable speed control

Strong needle penetration on all fabrics

Extra-high presser foot lift

Clip-on presser feet

Rotary horizontal hook with transparent bobbin cover

Auto declutch bobbin winder

Built-in thread cutter

Metric and inch seam allowance lines

Free arm

Feed dog system

Electronic foot control

Retractable carry handle
Innovations by Revo, India
Revo Bag Closer Sewing Machine - Single Needle, Single Thread NP-7A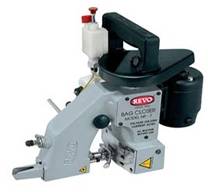 Revo Model NP-7A is a single needle single thread chain-stitch portable bag closer sewing machine equipped with high-grade super-alloy steel timing cam

Engineered for continuous operation, the single thread chain stitch bag closer has a top speed of 1,600 rpm.

Revo NP-7A closes virtually every type of bag, including Kraft paper, cotton, Hessian, jute, PP/PE woven cloth as well as other bag materials.
Revo Off Arm LR Series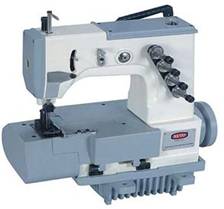 Clear view of work area for operator with ample work space

Heavy-duty puller mechanism keeps sewing material in position and helps feed material without additional effort fro operator

Sews attractive balloon stitches - Low tension sewing gives an attractive finished appearance by producing pliant seams

Tractor-type presser foot ensures smooth, positive power feeding

Cylinder arm allows for uniform lap seam felling on narrow openings

Easy access to stitch regular screw for adjustment of stitch length

Loopers readily accessible through hinged covers for quick threading
There was a time, when only people of high society can afford to wear sewn clothes as they were only hand stitched and the process was very expensive. The invention of sewing machines has brought a revolution in the garment industry. Since then, innovations in the sewing machine have improved the basic stitching patterns, and currently computerized sewing machines can put countless number of stitches and designs in the apparels.
To read Part II: click here

--------x--------