Leather Work in Jawaja
Jawaja is a small town located in the district of Ajmer 70 kms towards northwest direction, and its main occupation is agriculture with a low literacy rate. No craft other than leatherwork is practiced so broadly in Jawaja, though handloom weaving, embroidery work (kashida) is also found there. In fact even leather work is on its verge of extinction as only one family is involved in this practice.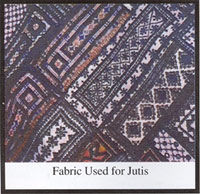 About the craft and its development


Initially people of Jawaja used to make leather products (mainly jootis) for the local market but which didn't brought them much earnings. In 1975, Jawaja Leather Association (JLA) was formed which included 5 main villages dealing with leather craft- Jawaja, Beawar, Malpura, Kabra, Sakawar.
Rural University and a new concept of education rural development were initiated by Professor Ravi Matthai, first director of the Indian Institute of Management (IIM), Ahmedabad. Rural University team then worked with people of the Jawaja block, which included about 200 villages with a population of approximately 80,000 people. Jawaja is a region of high poverty and no resources; some people knew spinning and weaving and owned few looms. Weaving and leatherwork became the source of economic development, and later people understood relevancy of design education into this rural context.
How Leather work evolved
This craft began to evolve after the formation of Jawaja Leather Association (JLA) and the demand for pure leather products increased in the export market. Though lots of leather products were sent to Gujarat but now Gujarat state government has banned the trade of leather and leather products and since then, their sale has dropped.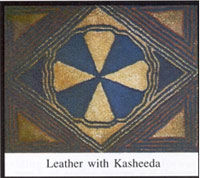 About the artisans
Male/Female Ratio involved in leatherwork is : 7:3

Artisans' Communities: Hindu and Muslim community

Child Labor: widely prevalent.

Average age of the artisians is : 30 years

Literacy: Most of the artisans are 12th pass.

Average family size: 5-8 members

Most of these artisians have low standards of living. They earn just enough to fulfill the basic needs of the family.

Work shed: Most of the leather work is done at home. So the ladies help men in their work by doing embroidery, patch work and bead work along with their household work.

Financial condition is medium; they are not into debts. Though agriculture was also practiced initially but now leatherwork is the only source of their income as this craft gives a full time income.

Wages paid to the labourer are on piece rate bases.
There is no significance of leather craft as such, it is not an aesthetic/a religious/a social act but it is merely a means of earning livelihood.
Resources
Primary and secondary resources:
Raw leather

Sodium chuna

Pickle tool

Babool ki chaal

Oil

Haladi [kota stone]

Becalite stone

Glass

Chemical dyes

Formic acid

Ari gum

Scale, pencil

Wool (for kashida)

Akiai.
Sourcing of material-raw leather (locally called kachha chamda) is sourced from Nasirabad. Production is order based. Buyers contact the association authority and then they get orders. In Jawaja association fixes prices and thus there is very less flexibility.
Leather work in Harmada
Harmada is a remote village in Ajmer, a district of Rajasthan. This region is completely under developed with a very low literacy rate. There is no tele- network and no mobile network found. Harmada is around 3 km from Tilonia; they have very little exposure to other parts of the country.
About the craft
This craft of leather products was started by Aruna Roy who is an active member of SWRC (Social Work and Research Center Tilonia). She gave the training and taught villagers the process of converting raw leather into the finished products. Her training helped these villagers to earn their livelihood who were initially involved in agriculture, which didn't fetch them enough money. This craft is done with the sole purpose of serving a practical need. Artisans have started working for the export market; they supply to Mumbai, Delhi (Connaught Place, Janpan etc). These artisans are satisfied with their work. There is no competition among these artisans. They all work together in one house; it is like a small unit. Thus it can be said that the craft is evolving.
The basic difference between the leather work of Jawaja and Harmada is that the artisans of Harmada specialize in making leather chair, wallets, hand bags, jootis which have hand embroidery [kashida] done on it. Kashida work is mainly done by females in their houses. Apart from Kashida work, they do patch work and sequins work on jootis. Artisans get wages of around Rs 50 per day.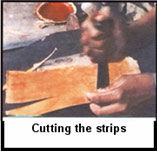 Raw Materials
They get leather sheets from Delhi [Karol Bagh market]. Initially artisans used to get raw leather and all the processing of raw leather was done there itself. But now they got processed leather sheets in order to save on time and other tools and equipments are locally available and are repaired in the village itself.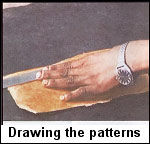 Process
Kashida on leather products
Trace and cut out the desired pattern from the leather sheet.

Draw motives/design for Kashida on these leather patterns. (The buyers mainly give these designs to the artisans).

Take 4 strands of woolen thread and fill up the motives with the desired colour combination. [Mostly chain stitch is used for this kind of work. And colours like red, royal blue, yellow are used in Kashida.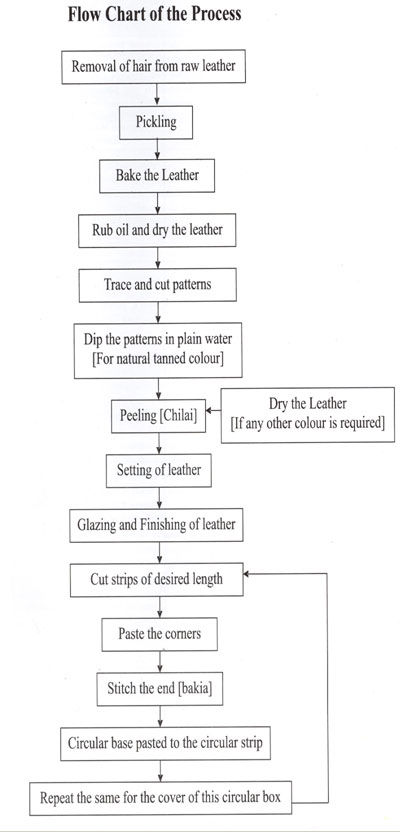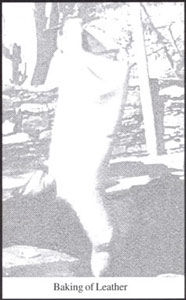 Government policy for leather industry
Keeping in view the large natural resource base of hides and skins produced in the State, RUDA has taken up integrated package by providing all backward and forward linkages in selected areas like Mangrol (Baran), Manpur-Machedi(Jaipur), Beawar(Ajmer) and Nagaur; as to develop them as areas of excellence. An integral part of the strategy is to organize the artisans into producer groups and providing them incentives, as well as creating proper infrastructure facilities by setting up several Common Facilities Centre for development of leather shoes, goods and garments.
About the Authors:
The authors are associated with Pearl Academy of Fashion.
Source: Pearl Academy of Fashion
----------------x----------------