Innovation in the field of Embroidery has always remained field of high interest for its users. In earlier years innovations were mainly concentrated on high speed and greater productivity of machines. But today almost all embroidery machines come with speed of 1000-1200 rpm. Manufactures have become more focused on other aspects of the machine which make embroidering task more user-friendly. Now-a-days greater emphasis is being given to versatility of the machine. Use of automation and software is on rise as automated machines have greater demand in market as these machines reduce labor, save time and are more accurate in producing embroidery designs.
Fibre2fashion brings to you innovations made by two prominent companies in embroidery machines
Richpeace Group Co. concentrates on reforming and advancing the traditional industry by high and new technology and advanced and applicable techniques. Richpeace have researched and developed high Speed Embroidery machine and Computerized Rhinestone embroidery machine suited for more customers.
Innovations by Richpeace Group
Dynamic Computerized Rhinestone Embroidery machine
Highlights of the machine:
Model: RPE-D-RS-(1+1)-500x680
9-Needles

Embroidery Area: 500x680 mm

1 Flat Head + 1 Ultrasonic Rhinestone Head + 1 Sequin Device

Main Shaft Motor: Sanyo Servo Motor

Linear Rail System + Traverse System, 10.4'' Color LCD

High speed: Maximum speed of flat embroidery can get to 1000 rpm. Sequin device maximum speed gets to 900 rpm. Ultrasonic hot-fix Rhine stone speed is 90 beads / minute.

Multifunction: Mixed type embroidery with standard embroidery, sequin embroidery and ultrasonic hot-fix, which represents outstanding integration between machinery and electronics.

High quality: Less thread breakage and better sewing quality at high speed.

Convenient operation: The LCD can display the memorized design learly and makes the operation more convenient and pleasing.

Allows your versatile applications:

A wealth of optional devices can be the best choice for you. Flat embroidery, sequin embroidery and ultrasonic hot-fix Rhine stone can be changed automatically or manually. Complicated mixed embroidery can be accomplished efficiently and accurately with one machine.
Rhinestone Embroidery Machine can fix different size & colour rhinestones on many kinds of fabric. It combines with embroidery work which is unique & with high production ability. This machine can work universally with embroidery products on fashion dress, shoes, fashion accessories, interior craftwork etc. together.
Different Models for choosing:
Richpeace offers different models for this machine based on number of needles (9 needles or 12 needles) a machine have.
Specifications:
10.4"LCD + USB Port

Linear Guide Rail;

Main Shaft Motor is Japan Sanyo;

Frame Driving by stepping motors;

Rotary Hook is Japan Koban;

Flat Emb. Max. Speed is 850 rpm. Rhine Stone Max. Speed is 90 pieces/minute.
In order to improve efficiency of production, the high speed embroidery machine has taken place of the traditional machines. And Richpeace has also searched a new embroidery machine, which is added the rhinestone function based on the embroidering function. It incorporated the embroidering function, sequin function and rhinestone function and so on.
_______________________________________________________
Shenzhen Yuhan Electro-Mechanic Co., Ltd embraces a team of high tech and experienced experts in computer control and machinery. The technology in high speed embroidery machine, multiple sequins and lockstitch chenille machine, and 2 in 1 laser combi machine provides the users ultimate freedom in creation of super fashion masterpiece.
Innovations by Shenzhen Yuhan Electro-Mechanic Co., Ltd
RPV High speed embroidery machine
Shenzhen Yuhan Electro-Mechanic Co., Ltd exposed latest technology in high speed machine last year, it is known as the most advanced in china and sales record showed that RPV series machinery gained worldwide market acknowledgement because of the good quality and non-stop technology development for both computer and mechanics of embroidery machinery.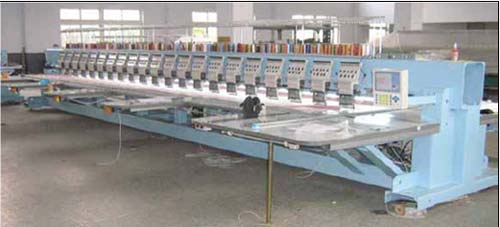 Highlights of the Machine
Maximum speed: 1200 rpm; Production speed 1000RPM.

Latest automatic oiling system: User may set automatic oiling stitches interval: from 1000-250,000 stitches interval. And automatic oiling time span: from 0.5-10 seconds. User may also set manual oiling system.
Advanced X. Y driven system, achieved 1200RPM stable high speed sewing and silent high speed frame moving by adopting X, Y stepping motor , accuracy is guaranteed also with world most advanced Interpolation technology, the most advanced driven curve guaranteed the high speed production , furthermore, it is cost-effective, to an extend that other system , limited by control mode, could not realize yet .
Advanced computer control system: Worlds first Pentium 586 equivalent Computer control system gives maximum speed and accuracy for high speed control as well as max attachment to each head.

Independent Presser Foot: Double CAM driven presser foot and needle bar. Less noise and more accuracy.

Motorized Trimmer and Solenoid trimmer as a free option.

Motorized Jumper.

New type tension base gives more stability towards thread feeding.

Enhanced machine body with heavy structure to resist vibration dramatically in high speedworking.
Multiple Sequins in one needle
Designers who want random combination of sequin size and colors can definitely rely on our system to handle the most complicated job easily. Mechanically, we provide single , dual and triple sequins of the most stable quality and excellent performance, the combination can be 3 sizes in one needle , 3mm, 5mm, 7mm or other shape like flower shape etc just like the above picture showed , 3&5m, 3&7, 5&7, 3&5&7 , the embroidery effect is really amazing. This new fashion already gained acceptance from factories that does high fashion job.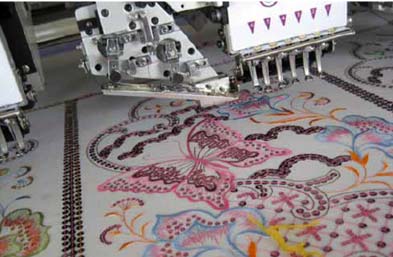 Highlights of the machine:
Worlds No. 1 Multiple Sequins Functions
Stable Sequins embroidery speed up to 1000rpm.

Sequins Parameters real time display: Color, size, shape of the sequin design are displayed in manner of WYSIWYG (What you see is what you get).
Unlimited Combination of all sequin size and colors: You may select random combination of all sizes and colors directly from your design, no need to set on computer and with no limit of 8 or 10 modes of sequins combination. You may embroider unlimited size combination in your masterpiece.
Automatic recognition of multi sequins design enable to you to embroider directly without setting again.

Sequin head independent mending: When thread breaks on some heads, only the said sequin heads raised up for mending, all other sequin heads remain down position .Greatly improved production efficiency.

Sequin devices combination UP TO 9 Types left and right: L1, L1+R1, L2, L2+R2, L3, L3+R2, L3+R3
RP Easy Chenille embroidery machine
Lockstitch Embroidery Machine Does Towel Embroidery
The simple magic device plus RPemb magic computer control and punching system (option) will transfer a simple flat embroidery machine, which did lockstitch embroidery only, into one magic chenille embroidery machine. It is handy, easy and simple.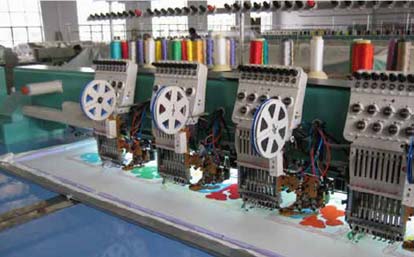 Highlights of the machine:
Perfect design sewing out:

The chenille embroidery thread is in a very low pile and it gives flat, soft and dimensional effect. You may use normal embroidery thread or 150D/2. Well to sew on flat machine is definitely simpler than normal chenille embroidery.

More Colorful:

How many needles do you have in your flat embroidery machine you get same colors chenille embroidery. No limit of 6 color chenille anymore! Furthermore, the color change takes less than one second.

Stronger and lasting towel embroidery:

It is for sure much stronger than normal chain stitch type chenille embroidery as it wont come loose by pulling on one thread end. It is lockstitch style chenille embroidery! Just like towel.

More combination:

You may combine the chenille with multiple sequins, flat embroidery, and also other attachments in the same embroidery machine.

More cost-effective:

Your investment will be more than 100% lower than investing into a chain machine, further

More simple to maintain:

No headache maintaining the very complicated multi-color chenille embroidery machine. It is as simple as a normal flat embroidery machine.

Higher Speed:

Higher than normal chain type chenille, same as flat embroidery speed. If you have a high speed machine, it really does the chenille embroidery at 1200 RPM!

Thus customer can do flat embroidery when they dont have chenille job and never waste machine waiting in the workshop.

New combination of sequins+chenille+flat embroidery also gives a chance to create world high fashion trend!
RP Laser combi technology
RP Laser combi is a system that creates embroidery with laser in one design outline, no need to repositioning and no need to adjust the fabric again and laser head will be used like one needle And the precision for laser control will overpass the traditional one , you will get as much power as you want for fabric layer cut.
The focus laser is very slim, it is non-touch process, guarantee the cutting process is done with precision and smooth, no hair, no mossy for embroidery ahead, and after embroidery process, cutting speed is also quite high.

Laser cutting and computer embroidery can altogether! One operate system controlled both embroidery and laser! No need to adjust position and choose another design and laser is combined totally into embroidery.
To read Part I: click here
-------x--------