Source: The ReDress Consultancy-South Africa
The 2008 Beijing Olympics begin on 8 August and in 2010 South Africa will be hosting the Soccer World Cup. How many of us will give any thought to the unseen thousands that produced the soccer balls, the branded clothing and their team's clothing?
Sportswear and sports products is a lucrative business for those at the top of the value-chain. One year after the last Olympics, this market was estimated to be worth US$ 74 Billion. The industry is driven and controlled by a few dozen global companies such as Nike, Adidas, Reebok, Puma, Fila, ASICS, Mizuno, Lotto, Kappa and Umbro. Sporting bodies such as the International Olympic Committee and FIFA make huge amounts of money through licensing and branding contracts.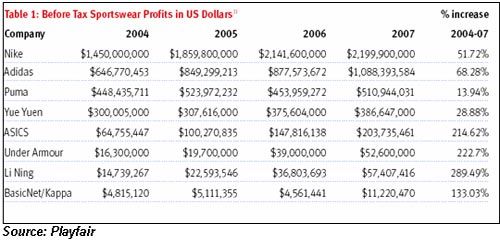 Even though the International Olympics Committee (IOC) signed an agreement with the International Labour Organisation (ILO) "focusing on respect for social justice", it appears the IOC is reluctant to take responsibility for the manufacturing of their products conveniently placing the onus on companies and governments to ensure that manufacturing of related products are not done in sweatshop conditions.
The soccer World Cup is a cash-cow for companies like Adidas. The 2006 World Cup boosted its global sales of soccer balls by 30%. This equated to US$2.33 Billion in sales for the second quarter of the same year.

FIFA earned nearly 635 million from the 2002 World Cup. How much will it earn from the 2010 World Cup and how much of this profit will be made through the exploitation of labour both in Asia and in Africa? It is reported that South Africa's apparel retail chain-store EDCON has the rights to produce FIFA merchandise. A spokesperson for EDCON confirmed with me that the FIFA range would be produced in South Africa, which is great for the local apparel industry. I would like to know if manufacturers producing the FIFA range for Edcon are registered companies or small unregistered CMTs that operate throughout South Africa.
On it website FIFA says that following:
Due to its values , popularity, universal nature and appeal, football (in all of its forms) can be a viable and practical instrument for achieving social and human development targets, tackling many of the major problems faced by society today, and supporting the achievement of the Millennium Development Goals. FIFA's approach to its humanitarian activities has seen a critical evolution in recent years - from a 'charitable giving' approach to a meaningful 'socially responsible, involved, and committed' one.
Can FIFA categorically say that the soccer balls that will be used on the playing fields of South Africa in 2010 will have been made in a fair and ethical manner? Can they confirm that suppliers who have won lucrative contracts for the merchandise that the international soccer teams will wear in South Africa have been made in non-sweatshop conditions? Can South African suppliers of 2010 sportswear products confirm and provide credible evidence that they are abiding with their codes of conduct when it comes to the procurement of 2010 apparel?
About the Author:
Renato Palmi
ReDress Consultancy-SA
Business Development, Research and Publishing
(Apparel Industries)
PO Box 52006 Berea Road 4007
Durban, KZN, South Africa
Web: http://redressconsultancy.blogspot.com