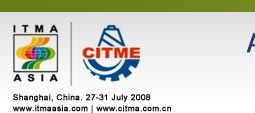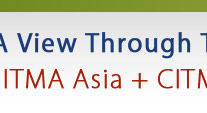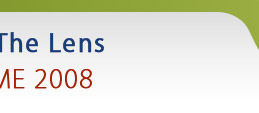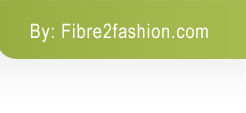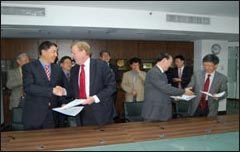 Post quota era has brought sea changes in textile industry. To add to the competition resulted thereby, the urge for advance technology and state-of-the-art as well as globalisation remains the challenges for Asian textile makers. The obvious need to modernise operations in order to compete globally has spawned huge investment in quality machinery, especially, for China that has become a major manufacturing centre for textile products and the world's most dynamic market having one third of the global textile production capacity.
Envisaging this lucrative market opportunities for leading textile machinery manufacturers, a combined show ITMA ASIA + CITME 2008 came to existence to be held every two years in China, starting from 27 July 2008.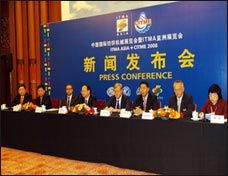 Sharing the objective behind support to this trade event, the policy maker and welfare activities planner in the textile trade of China, Mr Du Yuzhou, President of CNTAC (China National Textile and Apparel Council) comments: "For the 11th Five-Year Plan (from 2006-2010), China's textile industry will be focused on technical innovation and creation, development of Chinese own brands and increasing the added value of our products. All these must be carried out with advanced equipment. It is based on Chinas demand of advanced equipment and the outstanding achievements made by European textile machinery manufacturers, that we have decided to combine these two important events ITMA ASIA and CITME."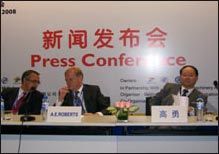 Expounding the rationale, President of CEMATEX- the owner company, Mr Edward Roberts describes - "China's textile industry has enjoyed a period of rapid growth and now has one third of the entire world textile production capacity. The country has become one of the largest buyers of textile machinery, which is one of the key reasons why CEMATEX made the important decision to move ITMA ASIA from Singapore to China. The date in 2008 has been chosen in order to enable us to react as quickly as possible to the changing requirements of the Asian market. We have decided to work on this event with CTMA (one of the owners of CITME) because they share our own objective of offering our exhibitors and their customers, high quality cost-effective exhibitions, and we are delighted that they are our partner in these combined ITMA ASIA+CITME shows."


Answering one of the 'WHYs & WHATs' by our inquisitive team, Ms Maria Avery, Secretary General, CEMATEX, also shares the idea behind selecting Shanghai as the venue and 2 years as the appropriate recursion span for the Fair. She elucidated: "China is the world's largest market and therefore all parties felt that the market needs a major show every two years instead of every four years. Shanghai is also the best location for the show because of its proximity to the main textile regions and its infrastructure."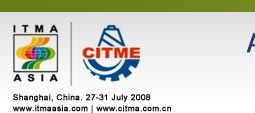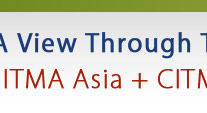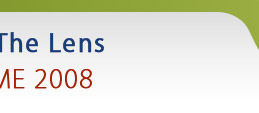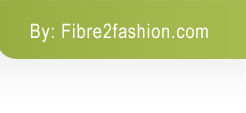 Fibre2Fashion team en-cashed the opportunity to eye witness this giant show, and during the event, spoke to the industry decision makers, organisers, exhibitors and visitors at the site. In this report - A View Through The Lens, our team has tried to pen down industry's review on the Success of this event. It is our attempt to bring to you ITMA ASIA SANGHAI 2008 live at your desk.


Site and Location: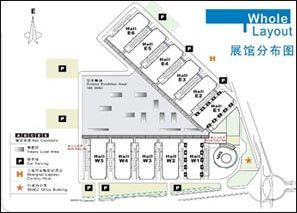 Organised under the synergism of two established showcases ITMA ASIA- Asian International Exhibition of Textile Machinery and CITME- China International Textile Machinery Exhibition, the first combined event, "ITMA ASIA + CITME 2008", held for five days -27 July to 31 July, in Shanghai New International Expo Centre, China, has earned a fervent response from exhibitor and visitors.
Taking off in Shanghai, this milestone event featured the unique strengths of the ITMA brand and China's most important textile event CITME, both of which are the most influential trade shows for the industry. The integration of these two well-established exhibitions into one mega show offered their exhibitors and customers a high quality cost effective exposition.
Held in the space of 126,500 square metres structured by fourteen product categories including Spinning, Weaving, Winding, Knitting, Braiding & Embroidery, Laboratory Testing & Measuring Equipments and others, this, Asia's largest international textile machinery and accessories exhibition, was organized by joint efforts of Beijing Textile Machinery International Exhibition Co Ltd (BJITME) and MP International Pte Ltd under ownership of CEMATEX, China Council for the Promotion of International Trade (CCPIT-TEX), China Textile Machinery Association (CTMA), China International Exhibition Center Group Corp (CIEC), China Textile Machinery Association (CTMA) and Japan Textile Machinery Association (JTMA)(partner).
Show also earned a strong support from global trade associations namely ACIMIT (Italy), AMEC/AMTEX (Spain), BTMA (UK), GTM (Netherlands), Swissmem (Switzerland), Symatex (Belgium), TMAS (Sweden), UCMTF (France) and VDMA (Germany).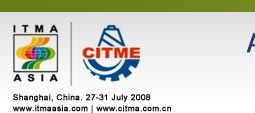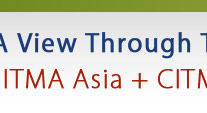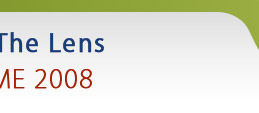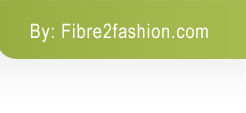 Visitors: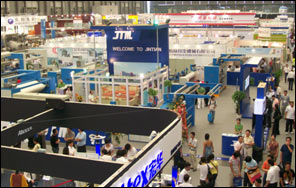 In a bright and energetic morning of 27th July '08 - the inauguration day of the giant expo, our team noticed an overwhelming response with 22,000 of people registering in the first two hours. For 30 minutes, we queued at the entrance and got each of us to venue's press briefing hall.
It was incredible to see the expo recording a huge visitation such as above 25,000 visitors from very first day, and in the span of 5 days, it hosted more than 80,000 visitors with an increase of 150 per cent compared to 30,000 visitations recorded in ITMA ASIA 2005, Singapore.
20 per cent of these visitors were international buyers from 96 countries and regions wherein South and Southeast Asian countries were the major sources, with India ranking one, followed by Japan, Korea, Thailand, Iran, Indonesia, Pakistan, Turkey, Vietnam, and Bangladesh.
Exhibitors:
Total 1,368 exhibitors from 30 nations and regions exhibited their pioneering products in the 11 halls located in the site. China, Germany, Italy, Taiwan and Japan were top five participating economies by the number of participants. The stalls were studded with Brands of the industry like Truetzschler, Oerlikon, XETMA (Germany), Uster (Switzerland), China Texmatech-CTMTC, LMW (India), Picanol (Belgium), AGTEKS (Turkey) etc amongst others.
China topped the list in exhibition space with over 33,000 square metres net, followed by Germany (over 10,000 square metres), Italy (over 7,200 square metres), and Switzerland (over 5,200 square metres). Total 3,300 square metres were allotted to Japan, the special partner of the show.
Copyright Issues and IPR Measures:
As, Intellectual Property Rights stringent measure, an IPR Office in the exhibition halls was set up to help exhibitors against grievances.
During the five days life span of the event, in all, 26 cases of infringements were recorded. Of which, twelve complaints were by Chinese companies against their own domestic peers. While, Italian companies registered seven complaints and Swiss firms registered five complaints against Chinese exhibitors. One complaint was registered by Italian firm against Turkish company, and one by Chinese against Swiss company. The IPR office investigated each case thoroughly and in the case of patent infringements, relevant products were removed immediately from the show.
Besides these, two companies who broke expos IPR regulations by exhibiting products not contained in the Index of Products were cautioned, and were decided to be kept from exhibiting at all future ITMA and CITME branded shows.
Testimonials:
With a view to provide its readers, a more authentic and explicit information, fibre2fashion team interviewed a few of the exhibitors for their experiences and views on the event.
During these chinwags with fibre2fashion team, a German exhibitor, Dr Dirk Burger, MD, Truetzschler GmbH, gushed out: "The number and quality of visitors from China was good and met our expectations. The trade fair was very China-oriented. However, visa issuance hurdles and currently low investment volume in the textile industry, seems to have affected the visitations a bit."
Retorting to our question: If ITMA Asia Sanghai has made their Brands big? Mr Burger replied: "Yes, the Truetzschler brand was presented very well. The visitors reaction confirmed that we continue to take the lead with our products."
Impressed by the fair, he further added: "Organisers gave a very professional performance. The trade fair grounds correspond to a high international standard. Fairs like ITMA, serve to cultivate the image and make competitor comparisons. From a medium and long term point of view, such investments are worth it."
Mr Wang Xiao Hu, VP, China Texmatech (CTMTC), expressed: "It was a successful event, and visitors exceeded our estimation, but turnover decreased a little. Necessary provisions were made and no big Intellectual Property Right event happened. The fair had very well met our expectations."
One of the exhibitors from India, Mr A J Muralidharan, VP Mktg- Veejay Lakshmi Engineering Works Limited, stated: "Due to recent Olympics, hot and humid climate, and travel as well as security constraints, the participation was a shade lower than can be anticipated for the show like ITMA."
"We were able to promote our brands especially our Excello Automatic Cone Winder, and have observed that the customers from China have a taste for good quality products. "

"The fair arrangements were very good. The authorities were very cooperative. All logistics including material handling; arrival of container; un-packing; re packing etc was excellent, and it was a pleasant experience being there."

"We have got good leads. And we see our participation paying in the long run, because of present market situation wherein textile industry is diving South-wards in all countries," Mr Muralidharan concluded confidently.
Organizers' Say:


On the success of the felicitous event, incited President of CEMATEX, Mr Roberts said: "The success of the first-ever combined show demonstrates that we are moving in the right direction to meet the needs of the textile manufacturing community. Together with CTMA, our objective is to offer our exhibitors and their customers a cost-effective exhibition of the highest quality. It is more beneficial to have ONE significant platform, as opposed to a series of fragmented textile machinery showcases that put a strain on financial and human resources. Our intention has been clearly stated in our show promotion: Two Established Showcases, One Leading-edge Platform, Infinite Business Opportunities."
Mr Gao Yong, VP CNTAC and President of CTMA, supported saying: "The global textile industry is in a critical transitional period from traditional technologies to high-tech civilisation. The massive display of technology and equipment at the exhibition played a very important role in the promotion of the Asian and global textile industry."
The special partner of the show - JTMA's Chairman, Mr Tetsuro Toyoda expressed his pleasure to see visitors multitude visiting the booths and exclaimed: "It is good to see so many visitors at the show, especially when you realise that all these people have to pay for their tickets for the first time at such a show in China. This demonstrates the joint strength of the two brands and the enthusiasm of the customers at such a difficult economic period. This is really encouraging."
Speaking on the success of the event, Ms Sylvia Phua, CEO of the co-organiser company MP International, quotes: "The show was sold out several months before the event and we had a long waitlist of companies waiting for space right up to the show itself."
"One of our main objectives when planning this show was to achieve one huge, high quality show at a reasonable cost for our exhibitors, and to attract high quality visitors from all over Asia. This was achieved. The ITMA ASIA + CITME 2008 show was the largest textile machinery event ever held in China, the cost per square metre to our exhibitors was much lower than other local textile machinery shows held in China, and we also were able to attract 20% of our visitors from outside China, which is the highest percentage ever at a textile machinery show held in China. The fact that we charged a visitor entry fee also ensured that the quality of visitors was much higher than at previous Chinese shows," she closed in satisfaction.
Conclusion:
It was a great experience for our team to be at the show. Moreover, in the light of the comments from the participators and organizers, it would not be an exaggeration to make assertive note that- though organized for the first time in the textile history, this, one of its kind- hand in glove event, (sparing a few off-putting instances), has lived up to the expectations of industry in proportion to the brand image that ITMA has created so far in the arena of textile machinery trade fairs.