Among the myriad Indian things whose demand is growing by the day in international markets - Indian garments, Ayurvedic medicines, Yoga and Indian fashion accessories, for instance Indian embroidery also occupies a place of pride. Indian embroidered garments are all the rage now in the international markets, and on ramps the world over.
Embroidery styles in India are as diverse as the religions followed and the languages spoken in the country. Almost every region of India has a distinct style of embroidery, practiced since generations together. This article attempts to study some of the major embroidery styles from different parts of India.
Kantha embroidery: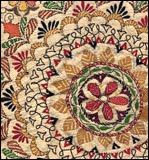 'Kantha' is a traditional embroidery style of Bengal, involving simple, running stitches. Kantha work originated in Bengal for making quilts out of waste fabric. The word 'Kantha', in fact, means 'embroidered quilt' in Bengali. The Bengalis used to arrange pieces of fabric in layers and stitch them together into a quilt using a running stitch, which later began to be known as Kantha work. This quilt would be used either to sleep on or as a blanket to cover oneself. Bengali women used to make use of old silk and muslin sarees for making quilts in this manner, instead of throwing them away.
References in literature indicate that Kantha embroidery has been in vogue for over 5 centuries. Mention about Kantha work has been made in the work Sri Sri Chaitanya Charitamrita by Krishnadas Kaviraj, which was written during this period. This is perhaps the oldest reference to Kantha work. It is also believed that Lord Buddha and his disciples used to patch rags together in a similar fashion, and make a quilt to cover themselves.
Both simple as well as elaborate motifs can be used in Kantha work. Usually, images of gods and goddesses, flowers, animals as well as geometric patterns are used as motifs in this kind of embroidery.
Banjara embroidery: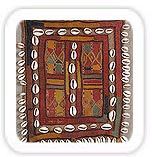 The Banjaras, a nomadic tribe largely settled in Rajasthan, practice a distinct style of embroidery. It is popularly known as 'Banjara embroidery'. Sometimes, in Banjara embroidery, pieces of animal bones, gold, silver, brass, mirrors and cowries are also used. Banjara embroidery is very colourful and vibrant.
Initially, Banjara embroidery was restricted to the traditional skirts worn by the women of the community. However, with the passage of time, it began to make an appearance on other clothing items, such as blouses and jackets. Nowadays, this kind of embroidery is found on a number of items, ranging from bags and belts to bed spreads and wall hangings.
Banni embroidery: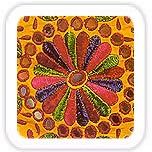 'Banni embroidery' refers to a kind of embroidery done by people belonging to the Banni community in Kutch. It is also known as 'Heer Bharat'. It makes use of brightly coloured threads; yellow, red and orange are the most commonly used colours. Beads and mirrors are also widely used for added effect.
Usually, silk floss is used for the embroidery. Chain stitches and buttonhole stitches are commonly used in the Banni style of embroidery.
Kathi embroidery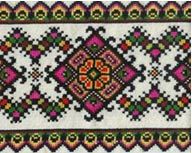 The Kathis are a nomadic tribe living in the state of Gujarat. They practice a unique style of embroidery, which is known as 'Kathi embroidery' or 'Kathi work'. Usually, this kind of embroidery is done on a black-coloured background, using threads in bright colours. Colours such as red, orange, purple, yellow and white are commonly used to create the designs, while green and blue are used in small quantities for the purpose of highlighting.
Commonly, designs from Hindu mythology, flowers, leaves, animals and birds are used as motifs in Kathi embroidery. Darn stitches, chain stitches, as well as a combination of chain and interlacing stitches are used in this kind of embroidery, for the outlines of the motifs. Herringbone stitches are used to fill in these outlines. Sometimes, mirrors are also used to create additional effect.
Soof embroidery: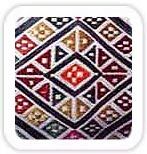 The Soof style of embroidery is practiced by the people belonging to the Megwar, Rajput, Soof and Sodha communities. It is a style of embroidery that uses simple stitches, which are also called 'soof'.
Soof embroidery usually involves geometrical patterns. Usually, the patterns are not pre-drawn, but are developed as and when the embroidery progresses. The most common motif found in Soof embroidery is a wave, known as 'lehar'.
Aari embroidery:

The Aari embroidery is a special style of embroidery, practiced by the Muslim cobbler community. The word 'Aari' has been derived from the word 'Aar', which is the special type of needle used for this style of embroidery. Small chain stitches are commonly used in Aari embroidery, creating a rather intricate look.
The motifs used in this style of embroidery are mostly of the Mughal type. Aari embroidery is also known as 'Zari embroidery' on account of the golden thread that is commonly used in this style. Coloured thread is used as well, to create a beautiful effect.
Kasuti embroidery:
Kasuti embroidery is a form of embroidery practiced in Karnataka and Maharashtra, also known as 'Kashidkari'. It is largely practiced in Dharwad and Bijapur in Karnataka. The origin of this art is believed to lie in the Chalukya period, dating back to the 6th to 10th century.

The motifs used in Kasuti embroidery are largely geometrical ones, inspired by the structure of temples. The motifs used in Rangolis are widely used in this embroidery style. Other commonly used motifs are bells, birds, animals and chariots. Usually, the patterns are never pre-drawn.
Generally, the colours that are used in Kasuti embroidery are bold, such as orange, violet and yellow. Initially, only cotton threads and cotton cloth were used in this kind of embroidery; however, with the passage of time, silk cloth also began to be used.
Running stitches are used in this embroidery style. The specialty of Kasuti embroidery is that both the sides of the fabric appear similar.
Kashida embroidery:

Kashida embroidery is a style that has been traditionally practiced in Kashmir, on account of which it is also known as Kashmiri embroidery. Usually, this type of embroidery is undertaken on a base of wool or cotton, which is often white or cream in colour. These days, even fabric in pastel shades is used for Kashida embroidery. Chain stitches, satin stitches, slanted darn stitches, knot stitches and herringbone stitches are most commonly used in this embroidery style. Very few stitches are used at a time; usually one or two types are used in a piece of work. In some cases, an entire piece of embroidery is done using a single type of stitch.
The motifs in Kashida embroidery are often inspired by the beautiful natural landscape of the area. Flowers, leaves, mangoes and creepers are the most commonly used motifs in this embroidery style.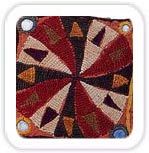 Bidri embroidery:
'Bidri embroidery' refers to a style of embroidery that is largely practiced in Bidar in the state of Andhra Pradesh. It is done on black-coloured cloth, using silver-coloured thread.
The motifs and the stitches used in Bidri embroidery are similar to those used in Zardozi embroidery.
Chikankari: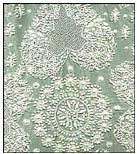 Chikankari is a style of embroidery popular in Uttar Pradesh, mostly in the city of Lucknow. Some experts believe that the craft of Chikankari was developed by Noorjahan, the queen of Jahangir. Also known as 'Chikan embroidery', it used to be done mainly on fine muslin cloth; however, it is now also undertaken on other fabrics like georgette, cotton and chiffon. Chikankari initially used to be done only on dresses, but now it is done on a variety of items, such as pillow and cushion covers, table linen, curtains, etc. Earlier, Chikan embroidery was done using white-coloured thread only, but now it is found in a variety of colours.
The motifs used in Chikankari are commonly floral, of which lotuses, jasmine, roses, paisley and flowering stems are the most popular. Creeper designs are also widely used. Some of the patterns are inspired by Mughal architecture.

Usually, the herringbone stitch, buttonhole stitch, running stitch and chain stitch are used in Chikankari, to create various kinds of effects.

Zardozi embroidery: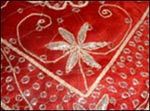 'Zardozi' is a beautiful form of embroidery, which is believed to have originated in Persia. The name 'Zardozi' comes from the words 'Zar', meaning 'gold', and 'Dozi', meaning 'embroidery', in the Persian language. Zardozi work was largely used to decorate the garments and scabbards of people belonging to royal families, as well as wall hangings in the palaces, and the clothes used for the royal elephants and horses.
After Independence, this style of embroidery developed in the cities of Lucknow and Hyderabad.
Today, it has developed to the extent that no wedding trousseau in India is complete without a piece with Zardozi embroidery. Zardozi work is also found on other items now, such as pillow and cushion covers and wall hangings.
Zardozi is done using a crotchet hook. It makes use of silver- and gold-plated threads, as well as several other items. Metal wire, called 'Dabkaa', small decorative 'Tikkis', pieces of glass, pearls and plastic beads are some of the items that are commonly used in Zardozi work. Usually, chain stitches are used in this type of embroidery.
Phulkari embroidery:

'Phulkari' is a style of embroidery that has been traditionally practiced in the state of Punjab. The word 'Phulkari' means 'growing flowers'; and this art probably got its name from the motifs of flowers largely used in this style. Besides flowers, some other designs such as animals, peacocks, red chilies, and the ace of diamonds are found in phulkari embroidery. The colours used in phulkari embroidery are bright and eye-catching. Commonly, phulkari embroidery is done on handspun khadi cloth. Simple darning stitches are used.
Though the exact origin of phulkari cannot be traced, references to it have been made in literature dating as far back as 2000 years ago. Originally, phulkari used to be done on garments, but now, it is found on wall hangings, bed spreads, as well as pillow and cushion covers. In Punjab, Phulkari garments are considered very auspicious, and are inevitably part of a bride's trousseau.
When highly intricate patterns are made use of, it is referred to as 'Bagh', meaning 'garden'. There are several varieties of phulkari, used on different occasions. For instance, the 'Chope' is a piece of red-coloured fabric with only the borders embroidered. It is usually presented by the bride's grandmother to the bride before the wedding ceremony. Similarly, 'Darshan Dwar' refers to a piece of fabric with a gate embroidered on it. It is used for presentation to temples, and also used to decorate the walls of a house when the 'Guru Granth Sahib' i.e. the holy book of the Sikhs is brought home.
Ahir Bharat: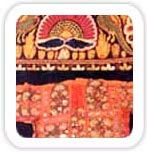 'Ahir Bharat' refers to a style of embroidery practiced by the Ahir community, largely residing in Bhuj, Anjar and Mandvi. Ahir embroidery is commonly found on clothes, wall hangings as well as bags.
Motifs such as elephants, milkmaids, flowers, scorpions, parrots and peacocks are the most commonly found in this kind of embroidery. A stitch called 'Kanta' is used to prepare the outer boundary of the motif, while the stitch called 'Bakhiya' is used for the detailing inside. The stitches that are used for filling in the gaps are called 'Dana'. Sometimes stitches called 'Sankali' and 'Vana' are also used for adding effect to the design. Mirrors are widely used in this kind of embroidery, usually in the shape of a tear.
Mirror embroidery:

'Mirror embroidery' is a style of embroidery popular in Gujarat. It is called so because of the wide use of mirrors, called 'Abhla' in Gujarati. This art is believed to have an origin in Persia, dating back to the 13th century.
Though this art is largely practiced in Gujarat, it is found to a certain extent in Rajasthan as well. In Orissa, mirror embroidery is sometimes done to accentuate the appliqu work done in this area.
Blue, black, white, red, green and orange are the most commonly used colours of threads. Usually, the designs are created with thread, and mirrors are used to decorate them. Cross stitches, satin stitches and buttonhole stitches are largely used in mirror embroidery.
Rabari embroidery:
The people belonging to the Rabari community of Gujarat practice a style of embroidery, known as 'Rabari embroidery'. It makes use of mirrors of various shapes, such as round, rectangular, triangular, square and rhomboid. Rabari embroidery used to be done initially on garments, but later also began to be done on other items such as curtains, table linen, bags, caps, cradle clothes, jackets, etc.

The exact origin of the Rabari style of embroidery is not known; however, it is similar in appearance to the ancient embroidery practiced in Baluchistan. The motifs used in this style of embroidery are specific to the Rabari community, and each has a distinct name and meaning. Temples, women with pots on their heads, mangoes, leaves, scorpions, coconuts, parrots and elephants are a few motifs that are very commonly found in Rabari embroidery. Square chain, buttonhole, single chain, herringbone, running, double running, Romanian, knot and blanket are some of the stitches commonly used in Rabari embroidery.
Indian embroidery in the international market
The international market for Indian embroidery products is estimated at about Rs.75 billion, with a growth rate of nearly 18% per annum. UK, Saudi Arabia, Morocco, Indonesia, Malaysia, Egypt, USA, Africa, Middle East and Europe are the major importers of Indian embroidered products. The export market of Indian embroidery products is growing at the rate of almost 15% per annum.
These figures leave no doubt about the fact that Indian embroidered products have created a place for themselves in the international market. There are certain embroidery styles like Chikankari and Kashmiri embroidery, which are hot favourites among fashionistas the world over.
References:
Picture courtesy: