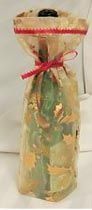 Wine is a preferable choice to uplift the mood of imbibers; a beverage of celebration. A sparkling wine in a clear straw yellow color, and a rich bouquet reminiscent of fruits and flowers would be the choice of all wine enthusiasts. How trendy would it be to carry this appetite stimulant is a bag made exquisitely for itself? A 'Wine Bag' that can turn a 'gift of grape' into something to treasure. Unique wine bags are now available in the market to impress.
Wine bags are available in various sizes to carry wine bottles. They are normally made from jute and are dyed in vibrant colors to give an appealing look. Strong handles are attached to it to assure its durability. These bags are also offered in customized forms as per the requirements of customers. They are also made from finest quality of paper using brass aluminum eyelets with strong cotton, silk, or jute handles. Paper bags hold as much weight as a plastic bag, and are 100% bio degradable and eco friendly. Handcrafted wine bags are available made from mat work. These bags have a tempting look and manifold the intoxication of the wine.
Organic wine bags:
With the increasing awareness of global warming and environmental hazards, now organic wine bags are making inroads into the wine market. Made from 100% certified organic cotton or blends of 60% hemp and 40% charmeuse, these bags are suitable for every environment conscious shopper. The bags are woven and printed with low impact inks and dyes which do not harm the environment. These beautiful and reusable bags are a gift in themselves.
An Elegant Gift Packing:

Wine bags are an attractive and best gift option for all those people who wish to make a gift of love and fun. Epitome of style, they reflect fine craftsmanship making a preferable gift for wine connoisseurs; an extra special way to present the gift. It is also ideal for wine companies and vineyards as premium packaging because it ensures against breakage by keeping the bottles from clinking. A survey undertaken by the National Wine Industry Board of France states that 12.5% of consumers preferred to buy wine packed in wine bags. 68% of the people expressed their wish to gift wine to their friends and relatives packed in the bag. Australia is one of the first countries to use wine bags. The market penetration for wine bags in Australia is 50%, followed by Norway with 42%, Sweden with 33%, Finland with 25%, and Denmark with 12%.

Wine bags are easy to carry and look very elegant. These bags are trendy and are designed to keep a wine bottle with safety and style. They hold the bottles in standing and organized position. The bags are designed in such a way, that they hold wine bottles with different shapes. Beautifully designed with a spectrum of colors they are available for a single wine bottle and also with multiple compartments for storing more than one bottle. The bag is divided into sections enabling people to carry the wine bottles comfortably without the worry of the bottle being cracked as they are kept separately without touching each other and in a standing position.
Wine bags are one of the fastest growing segments of the market, catering to the people who want to shop with convenience and longer shelf life of the bags. Made in different designs and styles they make a fashion statement. Wine bags are worth buying; for wine lovers.
References: