The Boston Globe: July 31, 2008
'At Vegas Expo, It's Shoetime'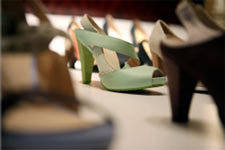 LAS VEGAS- This city is a haven of glamour, glitter, and greed. Could there be a more natural location for one of the most elaborate shoe events in the world?
The World Shoe Association expo, billed as a "global footwear and accessories marketplace," took over the Vegas strip this week, drawing 35,000 guests and hosting retail players from more than 90 countries. Most flocked here to take in the Spring 2009 shoe collections. Fetishists met their match.
WSA is a surreal world where phrases like, "Your foot-beds are amazing!" and "We're combining trends, from the bootie to the gladiator to the bondage," and "like Ugg boots, but sexier" are uttered without irony. Where black, gold, and silver are tarted up as "black iris," "marigold," and "silver rose." Where the neologism "flexy" a conflation of flexible and sexy doesn't raise an eyebrow.
Showgoers - a stylish melange of buyers, vendors, designers, and brand founders - appeared to run on a steady fuel of caffeine, booze, and sugar. Fishbowls outside of every gleaming display booth - practically mini-boutiques within the enormous Las Vegas Convention Center - tempted with piles of wrapped chocolates or sticky confections.
Shoe companies constructed elaborate pavilions in which to hawk their wares. Me Too boasted a two-story wooden structure, while a lush white expanse of Panton chairs and Saarinen Tulip tables marked the Italian Shoemakers' base. Skechers ensconced buyers in a striking white capsule with gleaming blue panels and bamboo.
"The Box," an uber-chic compound, complete with a dreadlocked DJ and plastic goblets of red wine, hosted sleek collections from Velvet Angels (think knee-high filigree laser-cut leather boots) and Kathryn Amberleigh.
At the Venetian Hotel, more than 350 designer and luxury exhibitors at the Collections at WSA (think higher-end, aspirational brands) set up shop within the hotel's bedroom suites. There were United Nude colorful wedges splayed out on 600-thread-count sheets, strappy Isaac Mizrahi Couture numbers perched on an armoire, La Fenice stilettos balanced on mini-bar boxes of exorbitantly priced jelly beans.
Forget "Le Reve" down the street. This shoe-heaven dream was for real.