There was a time when denim clothing was considered as just weekend lounge wears, but now people wear them for work and also for parties. Walk into the ritziest of parties, and more than half of them would be seen in denims. A simple cloth has grabbed the attention of everyone and has created a tremendous impact on many. It is an acceptable piece of clothing to a house wife as well as to a fashion savvy model on the runway. Denim business has been identified as a profitable choice right from the retailer selling in the mass market to the exclusive specialty shop proprietor. Initially it was considered as a bittersweet product. Though jeans have been accepted as an integral item in every persons wardrobe, the heavy price tag was not conceding. But later on, when more manufacturers entered the industry and the competition heated up, denim apparels were sold with an affordable price tag to suit the needs of every customer.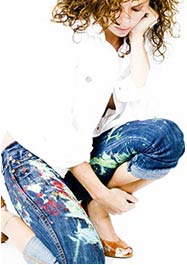 Global jeans market is estimated to be around d $49 billion USD. 50% of the global denim capacity is concentrated in the Asian countries, mainly in China. In US, it is a $10 billion industry. On average, US customers purchase 450 million pairs of jeans in a year. Many other countries have also developed their denim markets. Industry analysts estimate that global demand for denim products is likely to rise by 5% every year, and simultaneously, global supplies will increase by 8%. They forecast a bright future for denim apparels provided that the garments appeal to the consumer in a modern way while retaining its traditional ethics as well.
Denim industry is the most fragmented in the apparel industry. Due to the stiff competition with its substitute products like cargos, khaki trousers, and cotton combat, denim sales witnessed a slight drop during the recent past. The market also met with saturation during 2005 due to the excess export of garments from developing countries. But saturation in the market only led to the innovation of new fabrics and trends in the denim industry in the developing countries. Later on, during 2005-06, the industry emerged again with the evergreen fashion attire; back on track. Couture designers worldwide are attempting various experiments with the fabric to increase its value. Their creativity and desire to capture the denim market is seen in the form of patches, rhinestones, appliqu and glitter in denim apparels. Smart fabrics are also used in an innovative way. Chemical finishes like dry foam finish, flat mercerized, tinted, pigment blotch and used creatively in denim apparels.

Companies like Levi Strauss, ITG, VF, Perry Ellis, and American Eagle Outfitters have a strong hold in the denim market. American Eagle Outfitters is a leading denim retailer whose garments have a blend of American West and European touch in their denim apparels. Specialty stores like Mason's, Lola and Signature Style in Fayetteville have the hottest designer collections. Sensing the potential of denim apparels, Cone Denim, a business unit of ITG is now focusing on growing its market by sourcing in African countries. Perry Ellis International Inc. owns a portfolio of highly recognized brands like Jantzen, Girl Star, Savane, Grand Slam, Original Penguin, Natural Issue etc. A new jean has been designed by Levi Strauss that is compatible with iPod music player. VF Corporation has many reputed denim brands like Lee, Riders, and Wrangler etc.