There was a time when denim clothing was considered as just weekend lounge wears, but now people wear them for work and also for parties. Walk into the ritziest of parties, and more than half of them would be seen in denims. A simple cloth has grabbed the attention of everyone and has created a tremendous impact on many. It is an acceptable piece of clothing to a house wife as well as to a fashion savvy model on the runway. Denim business has been identified as a profitable choice right from the retailer selling in the mass market to the exclusive specialty shop proprietor. Initially it was considered as a bittersweet product. Though jeans have been accepted as an integral item in every persons wardrobe, the heavy price tag was not conceding. But later on, when more manufacturers entered the industry and the competition heated up, denim apparels were sold with an affordable price tag to suit the needs of every customer.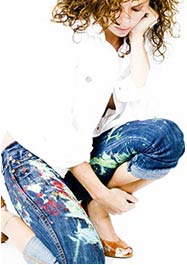 Global jeans market is estimated to be around d $49 billion USD. 50% of the global denim capacity is concentrated in the Asian countries, mainly in China. In US, it is a $10 billion industry. On average, US customers purchase 450 million pairs of jeans in a year. Many other countries have also developed their denim markets. Industry analysts estimate that global demand for denim products is likely to rise by 5% every year, and simultaneously, global supplies will increase by 8%. They forecast a bright future for denim apparels provided that the garments appeal to the consumer in a modern way while retaining its traditional ethics as well.
Denim industry is the most fragmented in the apparel industry. Due to the stiff competition with its substitute products like cargos, khaki trousers, and cotton combat, denim sales witnessed a slight drop during the recent past. The market also met with saturation during 2005 due to the excess export of garments from developing countries. But saturation in the market only led to the innovation of new fabrics and trends in the denim industry in the developing countries. Later on, during 2005-06, the industry emerged again with the evergreen fashion attire; back on track. Couture designers worldwide are attempting various experiments with the fabric to increase its value. Their creativity and desire to capture the denim market is seen in the form of patches, rhinestones, appliqu and glitter in denim apparels. Smart fabrics are also used in an innovative way. Chemical finishes like dry foam finish, flat mercerized, tinted, pigment blotch and used creatively in denim apparels.

Companies like Levi Strauss, ITG, VF, Perry Ellis, and American Eagle Outfitters have a strong hold in the denim market. American Eagle Outfitters is a leading denim retailer whose garments have a blend of American West and European touch in their denim apparels. Specialty stores like Mason's, Lola and Signature Style in Fayetteville have the hottest designer collections. Sensing the potential of denim apparels, Cone Denim, a business unit of ITG is now focusing on growing its market by sourcing in African countries. Perry Ellis International Inc. owns a portfolio of highly recognized brands like Jantzen, Girl Star, Savane, Grand Slam, Original Penguin, Natural Issue etc. A new jean has been designed by Levi Strauss that is compatible with iPod music player. VF Corporation has many reputed denim brands like Lee, Riders, and Wrangler etc.

Every persons wardrobe contains clothes that fit into two categories; timeless and trendy. Timeless garments never go out of style. Trendy apparels are popular and yet; short lived. People who dress to impress often go for trendy apparels. People in the age group, 13-17, and 25-34 have more specific choices while shopping for denims. In todays denim market new trends are introduced every single day. Fashion oriented ring denim, stretch denim, and 2 ply denim, are currently seen in the store shelves targeted for the high niche market. Colored jeans is the recent trend, whereas, white denim has an evergreen charm.
Boutique denim is becoming more popular these days. Super slim cigarette denim pant with long and bunchy looks at the bottom is the fad of the season, and gives a slim look to the wearer. Some upcoming trends in the denim world are:
Tencel Denims: Tencel is a fibre that blends easily and enhances the comfort feeling. The fibre is produced from wood pulp harvested from sustained forests where less pesticide is used in trees. Therefore it is environmentally friendly as well. Using this fibre in denim adds a luxurious, silk like feel to the apparel. Though the production cost is a little high, it is likely to come down when the fibre becomes popular. Tencel denims have a good luster and drape compared with the normal denim. They are available in plain weave as well as stretchable denims. Brands like Lee, Hoffmen, Charlie, Killer and Jealous are currently using this fibre in their products.


Organic Denims: With the increasing awareness of environmental safety, organic clothes are simultaneously gaining immense popularity. Considering the fact that denim industry consumes 17% of the worlds total cotton production, it is imperative that the industry moves towards the organic way. Some good organic denims produced worldwide are:



Nudie Jeans: Potato starch and natural indigo etc are used to makes these jeans.
Loomstate: This is a reputed brand which uses 100% organic cotton for their products.
7forallmankind: Sevens launched its organic denims in the name Yosemite collection. It is a non-stretch fabric with indigo fading throughout the front and rear.
Levis Eco: Levis uses organic cotton for their denim products.
Sling and Stones: This is a Japanese brand that uses only handpicked cotton, dyed with natural indigo and washed in an environmentally friendly way.
Sharkah Chakra: This brand is sold in the stores in London. They are 100% organic denims starting from cotton, to dyes and handloom weaving. The production process is quite long, but its objective is honorable.



Linen/Ramie Denims: It is a plant fibre added with denims to give the fabric a silky luster and reduce wrinkles. This is a delicate material when compared with cotton, and hence is added with a strong fibre like denim. Ramie cotton denims are found in a variety of combinations and prices to suit the customers choice and needs.
Getting Away from Traditional Colors: Blue is an evergreen color of denim apparels. In a survey, 39% of women confided that they prefer medium blue, 24.2% chose dark blue and 16.9% of them favor light blue. 19.9% have other choices. With the change in fads, color denims are showing up in the market. Popular colors are faded vintage, crosshatch, blasted vintage, and dark vintage. Browns and other pale shades offbeat the typical blues and is now becoming a key trend. Followed by this is the use of monochromatic color, and tone on tone ones. New purple over dyed indigo makes Lindigo denims along with earthy shades of pine green, pinon, dried bone and rawhide. Jeans in its traditional blue color is no longer in vogue, but prints. Brands like Lee Cooper, Killer and Chelsea are getting away from the traditional colors. Lee Coopers products are available in a retro wash range of burgundy, while Pepe, an international brand manufactures denim apparels in novel colors of orange, sober beige and green.


Modal Cottons: Modal fibres are made from reconstituted cellulose from the beech tree. It is used with a proper blend of cotton for tailoring denim apparels. These denims are made of 70% cotton and 30% modal twill and are mostly available in the colors of indigo, gold, tan, and stone washed. It is resistant to wrinkles and thus gives an added advantage when blended with cotton fibres.


Special Finishes and Coating: Fabrics with special finishes and coating add sophistication to the attire, and provide comfort to the wearer. Reversible fabrics, double twisted yarns, add a new dimension to the fabric. Digital prints distressed corduroy, printed denim, and mesh warp knits are also seen in the fabrics. Fancy denims with needle punch, heatset and laser treatments, and denims with colored resin coatings and spray on colors dominate the scene.


Bullet proof denim Fabrics: Levi Strauss has come up with a denim jacket with a level IIIA bullet proof lining sewn inside the jacket. It has the looks of a perfect casual wear with an all around protection. It comes with a hefty price tag of around 775.


Vegetable Dyes: There are more than 500 color giving plants in this world. Generally, denim being a cotton fabric makes it difficult to dye with natural dyes. But skilled methods are used to apply vegetable dyes in denims. Indigo dyes are used to bring blue color in the fabric. Greener shades are obtained by dyeing the fabric in an indigo vat and then over dyeing the same in yellow producing dye. Increasing concern on global warming has made more and more people buying denims colored with vegetable dyes.


Ripped Jeans: Of the many things that defy explanation in the world of fashion, Ripped jeans is one. This baffling trend initially sprung up during the early 80s, then faded away and has revived once again to be currently seen on the runways. This started as a popular street trend, and is slowly creeping into the high street and catwalks.
Starting from the hottest designer brands to the faked ones, denim has become everybodys all-time favorite. It is like a workhorse that lives for many years, and withstands tough washing treatments that most other fabrics do not. Denim is now handled with care and efforts as most other luxurious fabrics of the world and will rein in the global fabric market for the coming decades as well.
References: