The countdown for a highly awaited show for entire textile fraternity, India ITME, has begun. This show is an 8th India International Textile Machinery Exhibition by the organizers i.e. India ITME society, which is going to be held at Bangalore International Exhibition Centre (BIEC), India. This show is projected to play a major role in bringing together technology providers and end users which is quite critical in current critical and thus will provide impetus to a stagnant textile industry. Organizers of the show aim to promote the latest technology and improvements in production for a brighter tomorrow through India ITME, 2008.
The Show:
ITME is organized at regular period of time i.e. 4 years and 7 such fairs have been held till date by this society starting from 1980. Last India ITME was organized at Mumbai with 748 exhibitors. This time Bangalore has replaced Mumbai and is all prepared to host the show, with its high-tech Bangalore International Exhibition Complex. Organizers believe that this shift in venue will provide more convenience to the exhibitors.
The show occupies a vast area of 42,500 sq. mtrs, where exhibitors will display their products inside 3 air conditioned hall. Almost 700 participants, from across 30 countries are estimated to attend the show out of which 450 are Indians and 250 are foreign participants. Approximately 1, 00,000 to 1, 20,000 visitors are expected to attend this show.
Participants:
Stage for the show is set and almost all participants /exhibiters are done with their preparation for the show and are ready to unveil their innovations in front of the world. Visitors are likely to see products covering from pre-spinning, spinning, weaving, knitting, processing, testing and textile finishing lines besides non-woven textile machinery, the textile industry will see higher technology, speed and better quality in its production operations in the years ahead.
From India some leading participants of the show include companies like Alidhra, ATE, Batliboi, Bekaert Carding Solutions, Dalal Engineering, Dhall Enterprises & Engineers, Himson, ITEMA weaving (India) Pvt. Ltd., Kirloskar Toyoda, Laxmi Shuttleless Looms Pvt. Ltd, LMW, Oerlikon Textile India Pvt. Ltd., Peass, Prashant Gamatex , Premier, Rieter India, Trumac, Veejay Lakshmi, Uster Technologies (India), Voltas etc.
While India ITME, 2008 has also attracted some renowned foreign participants like Amsler Tex , Bruckner, Comez , CTMTC, Dilo, Groz - Beckert, Jakob Muller, Karl Mayer, Laroche S.A, Lindauer DORNIER, Memminger, NSC Nonwoven, Oerlikon, Picanol, Rieter, Santoni, Savio, Spindelfabrik Suessen, SSM Scharer Schweiter Mettler, Terrot, Tsudakoma etc. from different countries like Germany, Italy, Switzerland, France, Belgium, China , France etc.
Following are glimpses of machineries to be displayed by some major manufactures of Textile field:

C 60 Card
The design of the C 60 card enables optimum, economical yarn production to be achieved with low space and energy requirements per kg of sliver. Output of up to 240 kg/h and unparalleled flexibility in the range of applications are the outstanding characteristics of this
card.
Ring spinning machines
The K 452 and G 352 machines are available with up to 1 632 spindles. The K 452 is therefore the longest compact spinning machine on the market. Particular attention has been given to further reducing energy consumption. At the fair the COM4twin solution for fine yarns is presented in a especially attractive way.
Combing solution
The OMEGAlap E 35 high-performance combing preparation machine is adapted to the performance of the new generation of combers. Outstanding fibre selection, low energy consumption, nip rates of 500/min, output of 74 kg/h and bat weights of up to 80 g/m are the main features of the new E 66 / E 76 combers. The fully automated combing system offers advantages in economy and quality.
Rotor spinning
The R 40 rotor spinning machine provides high productivity at reduced energy consumption with 500 spinning boxes at delivery speeds of 270 m/min; as much as 350 m/min can be achieved with 240 spinning boxes. The R 40 is available with 2, 3 or 4 robots. The BT 923 rotor spinning machine is now being offered with up to 400 spinning positions per machine. Rotor speeds of up to 110 000 rpm result in high productivity on this machine. An optional, integrated fancy yarn device enables fancy rotor-spun yarns to be produced inexpensively.
New double-head auto-leveller drawframe
Rieter has complemented its drawframe portfolio with the RSB-D 221 double-head autoleveller drawframe featuring a maximum delivery speed of 2 x 1 100 m/min. Completely separate drive sides and auto-levelling functions enable each head to produce exactly the same quality as that which is familiar from the RSB-D 40 single-head drawframe. Further advantages are reduced space requirements and low capital costs.
JETlace 3000, custom-designed for hydro entanglement
This machine enables producers to entangle all kind of fibres and also spun laid filaments. With the recent market introduction of JETlace Essentiel, Rieter offers the perfect machine design for the production of wipes. JETlace Essentiel is ideally configured for lightweight fabrics from 30 to 80gsm and with capacities of up to 15 000 tons per year. This new development enables nonwovens producers to take advantage of more than twenty-five years of expertise in the spunlace field, to strengthen their competitive position.

SSM as a market leader in advanced technology and innovative products in the areas of Dye Package Preparation / Rewinding, Air Texturing and also Final Make-up for Sewing Threads is going to display following SSM winding and yarn processing machinery:
Dyeing/Rewinding and Assembly Winding
1. PW2-W DIGICONE fastflex with digitens
The PW2 is a manual precision package winder with mechanical speed up to 2200 m/min. Besides the fastflex thread laying system, the drive concept with spindle motor is another key feature of this innovative design. The space-saving integral layout (single-sided) with 6 spindles per section and the maximum machine size of 60 spindles assure rational, efficient operations in the winding department. Improved winding performance and package quality are further generated by digitens, the new technology for tension control during winding. The PW2-W fastflex covers a wide range of yarns like silk, elastics yarns, textured or flat filaments, fine technical yarns including monofilaments and last but not least staple yarns.
2. TW2-W and D DIGICONE preciflex
The TW2 is a manual precision package winder with mechanical speed up to 1500 m/min. This friction drum precision package winder has the electronic preciflex yarn laying technology allowing a high flexibility for producing a made-to-measure cross wound package of various types of filament and staple yarns. It is an overall simplification of the superior winder that offers an innovative solution with an ergonomic design. Digitens, our online tension control system, is also an optional solution for quality packages. The TW2-D is the assembly version with up to 3-ply integrated supply packages.
3. CW2-W and D Classic Wind
The CW2-W is a cone to cone random package winder for the preparation of packages for weaving, warp knitting and circular knitting processes with a maximum mechanical speed of 1300 m/min. The CW2-D is the assembly winding configuration.
The main aspects of this new standard of random winder are a brand new design with an optimised yarn path and winding geometry, a new sophisticated anti-pattering system, freely programmable according to the ribbon areas and individual adjustable winding parameters via a central machine terminal with touch screen display. It also incorporates an individual electronically controlled package length and package diameter in the winding recipe.
New Market Introduction by SSM includes:
Air Texturing:
SSM introduces the TW2-T DIGICONE preciflex air texturing machine with manual doffing and the new slub yarn device fancyflex2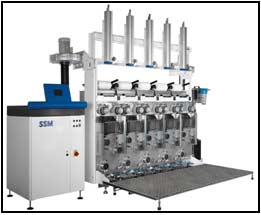 The TW2-T is an economical air texturing machine with friction driven take-up concept. The With the well known SSM single drive technology, the TW2-T DIGICONE preciflex is designed for the processing of fine to medium continuous synthetic feed yarns up to 1100dtex (final) single, parallel or core/effect yarns for woven or knitted textile products. The proven godet heating system ensures final yarn count regularity and thus excellent dye uniformities. The yarn path concept is based on long-term experience within SSM and is designed for the finer textile yarn applications. The TW2-T can be delivered with an elastane feeding device and the slub yarn device fancyflex2 for effect yarns.
Sewing Thread / Finish Winder
TK2/20K Finish winder for king-spools
TK2/20C Finish winder for cones
The newly developed Thread King 2 series is the next generation of HACOBA high-performance sewing thread finish winders. The new modular machine concept allows us to offer this machine as a semi-automatic winder or with a new high-performing Auto-doffer. The TK2/20 is available as Cone as well as King-spool winder.
This machine combines the high performance of the well known THREAD KING series with the functionality and operational comfort of modern control concepts.

Card TC 07
The Trtzschler Card TC 07 has been developed for high production applications.

Drives, tuft feeding and sliver formation safely handle up to 200 kg/h

Extensive quality monitoring and special optimizing tools go without saying

The man-made fibre Card TC 07-S is a special execution, optimized for high performances when carding man-made fibres.
Draw Frame TD 03-600: Concept of the future
The Trtzschler Draw Frame TD 03-600 offers performance features that still have no equal on the market.
Individually driven drafting cylinders, thus elimination of all gears
Intelligent computer control with extensive online quality control
Simple parameter selection directly via colour monitor, instead of changing gear wheels and belt wheels
New Features:
Self-optimization of the break draft with AUTO DRAFT and of the main drafting point with OPTI SET

Integrated quality monitoring

New top roll loading with AUTO RELEASE during Standstill Wider

Newly developed drafting system
Draw Frame TD 02:
Trtzschler Draw Frame TD 02 A unique innovation.

Specifically for application in the first passage

The compact and simple design results in unmatched efficiency

Less space requirement
Comber TCO 1
The new Trtzschler Comber TCO 1 sets a new standard in combing.

The kinematics of the nipper movement has been newly designed to reduce the clamping speed of the nipper jaws, the mechanical load, as well as the noise level

The top rolls of the drafting system, as is customary with Trtzschler, are pneumatically loaded

Operation is made very simple by means of a colour touch screen
The Trtzschler Comber TCO 1 also is a new design. Through a special design of gears and mass balancing measures, 500 nips per minute are possible.
Magnet Flat System MAGNOTOP - Change of flat tops directly at the machine without tools.
The system uses the magnetic force of so-called neodymium magnets, which are considered to be the strongest permanent magnets ever: One neodymium magnet, smaller than a cigarette pack, can easily hold or lift a weight of 100 kg. Another decisive advantage: The expensive alloy made of iron, neodymium and boron, retains its magnetic force for many decades.
MAGNOTOP: Advantages at a glance
Improvement of yarn quality through higher precision
Elimination of investments in a flats workshop and accordingly operation costs
Elimination of providers service costs
Elimination of investment for one or several spare flat bar sets
No storing of flat sets
No grinding of flat tops after re-clothing
No transport costs, and simplified logistics

RXI240e: Compact yarn spinning system
(BASIC) Specification
Maximum no. of spindles : 1200
Spindle gauge :70mm
Lift : 160 / 170 / 185 mm
Raw Material : Cotton, Man made fibres and Blends
Yarn Count : Ne 10 ~ 120
Spindle Speed : Max 25,000 rpm (mechanically)
Ring Diameter : 36 ~ 45mm
Draft System : 3 line, 2 zone double apron
FL200 (High-Speed Roving Frame)
Number of spindles X staff: 60 spindles X 520 mm
Draft system: 4-line, 3-zone, D-type drafting system
Raw material: 100% combed cotton
Roving count: Ne5
Machine speed: 1,000 rpm
Fed sliver weight: Ne0.40
Number of twists: 2.5 tpi
Features:
Newly developed 4-motor drive provides greater accuracy and control thanks to the latest servo technology and dramatically enhanced CPU performance

Large, 1 D.4-inch color function panel with Web browser connects to internal and external networks for information and data exchange
4-roller drafting system provides superior roving softness and smoothness