Today Leading Apparel Companies Face Unprecedented Product Development Challenges
Complex multi-channel distribution networks, dynamic consumer demands, pressure to deliver to increasingly aggressive calendars, and global sourcing have created a fast-changing environment where rapid decision making in product development means the difference between success and failure.
Major apparel companies are attempting to manage high rates of product change globally across multiple product calendars, using thousands of different materials, and producing more than ten thousand samples annually. Yet, apparel companies typically manage product data with disconnected systems, spreadsheets, and unstructured data.
Leading Apparel Companies are Turning to PLM to Maximize Value
Effective decision making and execution requires accurate product information and data. Today's apparel leaders are adopting Product Lifecycle Management (PLM) technology enabled by a single version of the truth (or Product Data Record) to manage product information, supplier collaboration, project management, compliance, and design re-use.
What is PLM in Apparel?
The components of a comprehensive PLM solution for the apparel industry can be broken down into four main capabilities:
Strategic Capabilities

enable Project Portfolio Management (PPM) of the product development process through advanced management programs. These more advanced solutions provide strategic road mapping tools as well as support ideation and idea management.

Design Capabilities

provide the ability to link customer needs to product requirements, providing design teams the information necessary to stay ahead of trends. Collaboration tools incorporated within the solutions enable dispersed, cross-functional teams to work together across CAD and rendering platforms. Additionally, data management enables quick and easy design creation from existing product records.

Product Data Capabilities

are the foundation for an effective PLM system, linking all information related to a product (the Product Record) and managing change to that information over time. All data including sketches, tech packs, bill-of-materials, time and action calendars, and costing are centrally housed providing a single version of truth across a firm's value chain.

Supply Chain Capabilities

are an important part of a comprehensive solution and integral to the development process. With globalization resulting in the outsourcing of production, a secure and efficient way of collaborating with external vendors as well as communicating changes in real-time enable apparel companies to increase speed to market.
What are the Benefits of PLM?
Retailers who have implemented PLM have found numerous benefits that include: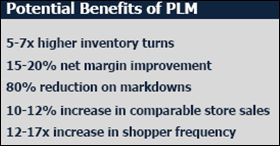 Engage in "Fast Fashion" by increasing Speed to Market

Collaborate efficiently across the Supply Chain and increase Inventory Turns and Visibility

Create products that are of High Quality and Lower Cost, and decrease the number of markdowns

Increase access to designs and knowledge
PLM Impacts the Apparel Value Chain
With a successful PLM implementation, a typical day in the life of designers, vendors, and decision makers becomes more efficient.
All data including trends, designs, material libraries, and previous styles are centralized and easily accessible

A single version of product truth is maintained through the development and production process

Automated workflows will alert those with decision-making responsibility of events

Activities can be monitored and tracked in real-time and shared with an apparel company's supply chain to allow for quick changes

LakeWest Group and Kalypso Combine Talents to Deliver PLM Solutions for Our Clients
LakeWest Group and Kalypso recognize that apparel companies are beginning to realize the benefits of defining and implementing a PLM process. A clearly defined PLM strategy along with enabling technology will make dramatic improvements across the entire product lifecycle allowing multi-channel retailers to remain competitive in the current market place. The balanced approach of our unified methodologies will help apparel companies improve speed to market, collaborate across the value chain, produce the high quality products at the lowest cost, and deliver on the promise of innovation in todays competitive industry.
About the Authors:
Bob Antall is the CEO of LakeWest Group consultants a Company with expertise in retail and wholesale industry and cross-functional skills in Merchandising, Distribution, Planning, Store Operations, Finance, Supply Chain Management, Product Development, and Information Technology.
George Young is the Founding Principal of Kalypso which is a consulting firm serving the world's most innovative companies. The firm helps clients to deliver on the promise of innovation. Service offerings encompass all aspects of innovation including product strategy, development, introduction, commercialization, lifecycle management, and PLM systems selection and implementation.