Rangamati is a district in South-eastern Bangladesh. It is a part of the Chittagong Hill Tracts and the town of Rangamati serves as the headquarters of the district.
For unemployed and needy women, Rangamati Hill District is a best employment place. Here handloom industry has employment opportunities for them, particularly for the indigenous womenfolk.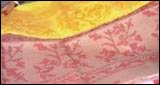 Handloom products of this district are mainly - khadi (an indigenous material), shalwar-kameez, panjabi, frocks, shawls, fatua, shirts, bedcovers, floor mats, dining table mats and cushion covers.
There are nine handloom textile factories in the district. These are: Bain Textile, Nakshi Textile, Banalata Textile, Banani Textile, Tantuj Textile, Craft & Fashion Textile, Bayan Textile, Majumder Textile and Rakhain Textile. These nine factories provide employment to around 2000 underprivileged female workers. Their work is to weave, dye the clothes and process yarn. They can earn Tk 1200 to Tk 3000 per month depends upon their experience and expertise. Amount grows as their experience grows.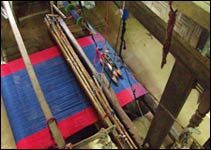 Rangamati's handloom products are gradually gaining popularity both at domestic and international market, but the owners of the handloom factories are not satisfied with the sales. As per them sales is not up to mark due to a wane in the number of tourists. Adding to their sadness, are the skyrocketing prices of yarn, dying and other weaving materials. Prices have unexpectedly gone up by 50 percent, the owners said.

To highlight this point fibre2fashion had talked with a manufacturer of Rangamati handloom fabric.
Bain Textile was established in 1965 at the Tribal Officer Colony in Tabalchhari area of the town. Manjulika Chakma is the owner of the Bain textile. She had started her business with a capital Tk 500. Presently she is considered a pioneer in the handloom fabrics trade. Manjulika Chakma also won a Bangladesh Business Awards in 2003 for her outstanding performance in popularizing home-grown Rangamati Handloom fabrics. Fibre2fashion had talked with Mr. Kaushik Chakma son of Manjulika Chakma regarding Rangamati Handloom fabric. As per him "Demand of Rangamati handloom fabric is very high among tourists. At present 50 workers are working with Bain textiles and they can earn approximately 2000 - 3000 Tk as per their work experience."
Mr. Motaleb Hossain, owner of Banani Textile shares his view by saying "At present we are facing problem in getting raw material as shops are too far from Rangamati." He also asserts that sales are reduced as number of tourists are decreasing.
Owners say that the business is not that profitable currently due to skyrocketing prices of weaving materials. As per them to give a boost to the handloom industry, the Government could give subsidies and interest-free short, and long-term loans.
Despite of all this many handloom factories have sprung up in Rangamati town, where as, there was only a handful about two decades ago.
References: