A recent survey by a reputed magazine states that when customers were asked to name their favorite apparel brands, only 16% of them responded. This denotes a low level of brand loyalty, especially in apparel categories. Every apparel retailer would have experienced price deflation. With the backdrop of falling prices, retailers have come across various ways to tackle the situation, and counteract the effects of lower retail prices on profit margins. One such strategy adopted by retailers is to develop and market apparels under private label brands. This option is being explored by the retailers who do not want to be under the mercy of big manufacturers.
Earlier, manufacturers made the brands and built an image for them. Retailers created a distribution access, and focused on providing value for money. Now, the changing attitudes of consumers, and shortening of time spans, has created a need for more innovative ways of marketing. The person who is close to the consumer, and who understands their psychology is in a better position to create brands of long lasting value. Moreover, garments of international brands are created, keeping in mind the lifestyle and preferences of the consumers of those countries and may not necessarily match with the needs of the shoppers of another country. So, it is the retailer who understands the consumers' choice, preferences, and their budgets.
The Private Label Paradigm: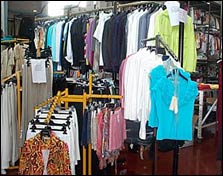 Private labels are generally launched to gain higher gross margins from branded products. They differentiate the retailer's own product from the branded ones and aims to gain and sustain consumer loyalty. They provide a competitive benefit to the retailer over branded players. It also offers a platform for the retailers to negotiate with branded players.
Some retailers combine private label clothing with national brands. They create their own brands and sell them in their outlets along with other national brands at a 40% cheaper price. Stores like Sears and JCPenney opt to combine 50% of their apparels with 50% of national brands like Adidas, Sag Harbor etc. This way, sourcing and cost advantages are passed on to the consumers. Retailers who sell their own private label apparels have appropriate control over product development. The apparels are created by an internal design team. Through adequate market research they are able to customize their outfits to target specific groups of consumers.
Growth Drivers:
Retailers need differentiation and better profit margins.
They imitate designer brands which will reduce their R&D expenses.
Better margin and better control in deliveries.
Independent pricing strategy.
Brand equity and loyalty.
Challenges faced by Private Labels:
Higher risk of inventory.
Higher Research and Development expense.
Markdown or return allowances will not be available.
Failure of the product will create a negative image about the retailer.
More marketing expenses.
Growing Consumer Acceptance of Private Labels:
The success of the private label ultimately depends on the consumers mind set whether he is ready to pay for the private label apparel or not. It depends on the kind of sales and margin level the retailer can drive in the business. There was a time when private label clothing was considered to be a choice of buying only during recessions. In the past private labels targeted the lower income people. But, today private labels are fully accepted, and even wealthy shoppers go in for buying them. Buying private label apparels is in trend currently, and is considered as Smart Shopping. Two out of every three shopper in the world believe that supermarket owned private labels are as good as the other brands.