There is no doubt now that the world is in for a major demand recession, largely triggered by the financial crisis in the US, which is now converting into a contraction in real demand for goods and services globally.
Its very interesting business period across the globe. Its challenge for marketers to develop brands & sustain economic melt down.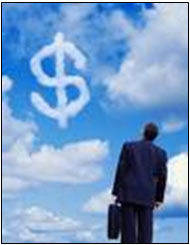 What does one do in such situation? Revive with innovation is the right perspective.
The revival of any industrial sector back to its glory would be possible with right kind of branding & marketing activities. Its not the time for aggressive selling as the need of the time is to recreate market demand.
FMCG players innovating smaller pack sizes at lesser prices so that customers can afford it & continue their buying pattern. This is the right step in direction as the brand will survive & will not become a commodity due to pricing.
Create demand for products of satisfactory quality & reasonable price. Companies have to shrink their profit margins & focus on retaining customers.
This would happen only with branding & marketing exercise as most of the brands are moving towards being commodities & showing decline in their lifecycle.
People buy a brand because it stands for some values. People buy commodities because they are the cheapest alternative available. It is worth pointing out that brands are not created that way; they all begin life as commodities.
Once upon a time Microsoft was just software, Nike was just running shoes and BMW was just a car manufacturer from Bavaria.
The challenge for any marketer is to expedite a transformation and take a commodity, like water, and turn it into a brand, like Evian. This process is called BRAND BUILDING and involves associating a product with values and meanings that the target audience aspires to.
Advertising, sponsorships, endorsement, packaging and a thousand other techniques can be used to link product to meaning and thereby transform a commodity into a brand. Eventually the brand is built and consumers no longer consider it a commodity and are prepared to pay much more for it as a result.
Many marketers do not appreciate that this process can also be reversed.
Just as a commodity can be built into a brand by focusing on its values, a brand can be commodified back into its original form by focusing on its price. When companies overtly emphasis the price of their product or the amount of the product that the consumer will get for a certain price they are effectively commodifying their brand. All of the hard work and heavy investment that went into brand building is stripped away.
Branding Iceberg: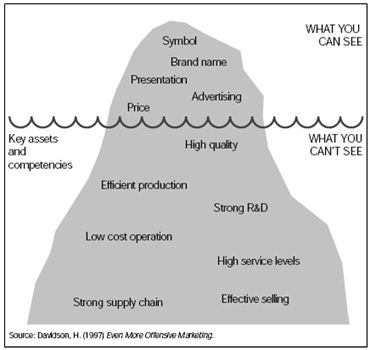 Branding iceberg is classic model which clearly illustrates the myopia of most marketers. We generally are of the opinion that marketers spend huge amount of money to create brands. The answer is 'Yes' for the leading corporates who budget substantial funds for branding but what about medium or small players. They too have products & with 'NAME' but not established brands.
How do they create brands for their products?
Marketers have to focus on branding ice-berg irrespective of size of company or capacity to spend.
What you can see above the water line of the iceberg are price, advertising, presentation, brand name and symbol. This is important for customers for making buying decisions & evolution of brands.
What's below are key assets and competencies such as high quality, efficient production, strong R&D, low cost operations, high service levels, string supply chain and effective selling.
What you can't see below the water line are key to companies success & survival. The key assets & competencies will help a company to innovate products, cut cost & offer satisfactory service levels to customers. These values would transpire & reflect in products transforming into brands. Also enabling Companies to foster growth & sustainability.
This also means establishing a central strategic unit which oversees brand strategy globally while leaving tactical activities to the local markets.
Even though the CEO is the guardian of brand strategy, it is the collective power of individuals in an organisation that provides and sustains competitive advantage. When all employees - and not just senior managers - are engaged with the organisation's purpose, it enables the organisation to adapt to changing circumstances, develop plans that are founded in organisational reality and deliver bottom line value.
Brand strategy development must involve all levels of marketing management and stands a better chance of success when all other relevant internal departments and external agencies are actively involved.
Conclusion:
Irrespective of size of company, marketers will have to create demand & emphasis on brands to sustain its market share. It will be an era where customers will buy quality products at affordable price. 'Brands' will ensure this trust of customers.

About the Author:
The author is heading the Marketing Team at Jaylon Impex India Pvt. Ltd, Mumbai.