Egypt is a country of kingship and divinity. Ancient Egyptians loved fashionable clothes and other accessories. Clothing style was simple and elegant. They took a lot of care in grooming their appearance, and their garments were designed, crafted, and worn with great thought and care. Their clothing style gave them a unique cultural look in history. Egyptians designed their clothes to be light weight so as to suit the hot climate of the country. Most of their clothes were made from plant fibres. They wore clothes made of linen throughout the hot weather.
In today's world, fads come and go for every season. But in the 3000 year old Egyptian history, fashion changed very little. During the Old Kingdom, people wore simple garments that did not require much sewing. Men and women mostly wore draped clothes, held in place by knots in the fabric, and waist belts. Their clothes were mostly white. Creme-da-le-crme people of the society wore long, pleated, and see-through robes. During the New Kingdom, fashion became more modernized, with elaborate pleats and fringes sewn in tunics and other garments. Their clothes became more decorated and complex. Clothes with intricate embroidery made its debut. During this period, the Egyptians were influenced by the fashion brought by Assyrians, Greeks and Persians.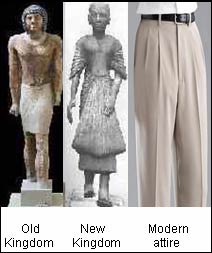 Men from the 'pyramid land' were more fashion conscious than the women of their times. From the drawings, and fabric pieces found in tombs and other places, it is been found that men wore more than forty different types of garments. Men's fashion of the Old Kingdom consisted of a knee-length kilt. They were rectangular in shape, and knotted or fastened with a buckle at the waist. Kilts served various purposes, like indicating the age, and social position of the wearer. Over the kilts, men wore long pleated skirts with a pleated apron, decorated with a fringed sash. Robes were used in various designs, long and flowing. The New Kingdom fashion changed the look of Egyptian men. Application of dyes on clothes brought more colorful linen garments. Their kilt was elaborately fringed and pleated. Sashes and aprons were added to their attire to give them a complete 'fashionable' look.



Women's clothing was 'form fitting'. A unique and refined fashion, delicate and choosy for an even and slim female figure was in vogue. In the Old Kingdom, women wore long skirts with fringed robes and pleats which was wrapped around their waists, pulled over their shoulders and secured under their chest with a knot. In the period of New Kingdom, fashion for women changed by the usage of colorful linen in their clothes. Their simple tube dresses were adorned by elaborate pleated and fringed robe worn over the dress. Women wore long robes parted in the middle to expose their legs. Wealthy women decorated their garments with embroidery, sequins, feathers, and rosettes. Wealthier the class, more transparent their dress were.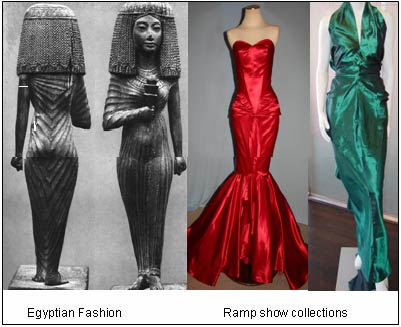 Tight tunic with braces
Cleopatra VII, the Egyptian fashion icon was regarded as the most seductive women in all human history. Among all Egyptian women, the infamous Nile Queen was pretty well aware of how to take the classic Egyptian fashion to its next level so as to best enhance her features. She took utmost care in her clothing and in the way she deported herself. Her clothing style had, and is still capturing the imaginations of countless artists and fashion designers. Her outfit consists of a long and tight tunic in fine, delicate material held tight with a belt, or with braces. A thin shawl flows over the shoulder and is tucked into her belt. Alluring colors of red, green, dark moss green with yellow stripes were used. Historical costumes of Cleopatra are very popular, and are an inspiration for many reputed fashion designers in designing their collections.

It is a universal fact that fashion designers of the modern day get their inspiration from the past. Egyptian fashion is an apt example of this. Visualizing the Egyptian era, and comparing it with the modern fashion, one may see many similarities.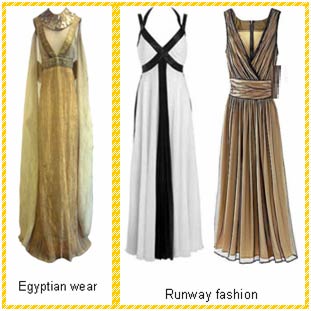 The black kohl eyeliner used by ancient Egyptians to darken and highlight their eyes, are showcased today by both male and female models in the ramp shows. Models are seen strolling down the runways of prominent international fashion shows displaying trendy garments designed with an inspiration of elegant Egyptian clothing. Pleating and draping was a popular style followed by Egyptians. The recent Balenciaga's 2009 Spring & Summer collection displayed outfits with pleating wrapping the entire body and covering the arms in the same way as Egyptian clothing. The 'Fashion King', Paul Poiret, designed his collections with Egyptian influence for this show during August 2007 so as to combine the culture and outfits of that country.
The ancient attire of straight fitting with shoulder straps that was tied behind the neck of shoulders is now one of the most popular silhouettes in the recent fashion. Egyptian tunic style dresses and tops with belting in the waist are now being sought after by most women. High waistlines that were popular in Egyptian times are seen in fashion currently through the revival of baby doll dresses. Lightweight linen clothes worn during ancient times are followed even today. In the current day's trend, many Egyptian motives are used. The hieroglyphics (ancient Egyptian letters), sphinxes, lotus flowers and scarab (a beetle associated with Egyptian god Kepera) are seen in dresses, and other fashion related accessories also. Egyptian style is adopted more strongly in US and in Europe.
Egyptian influence in costumes is seen in the garment styles and also in the embroideries that adorned the garments. Its influence in fashion exists quite predominantly. While the fashion of ancient Egypt is thousands of years old, modern day fashion is much inspired by its ancient clothing styles. Modern day fashions have taken a twist on the ancient clothing styles of Egypt, and will undoubtedly continue in the years to come.
References: