Biological cotton production has ecological and economical advantages
Why bio-cotton?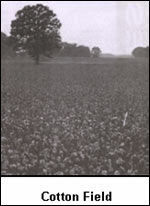 Various interest groups are strengthening the trend towards environmentally friendly production methods. Among these are farmers, consumer organisations and companies which are suffering from increasing competition and environmental regulations. For all of these, the effects of intensive cotton cultivation cannot be ignored. The growing interest of consumers in ecologically produced foodstuffs is currently spreading to other areas of ecological farming, amongst which is the ecological production of cotton fibers.
In cotton cultivation, controlled biological growing is still relatively new. Bio-cotton was first cultivated at the end of the eighties in Turkey. Meanwhile, cotton is cultivated in a controlled biological environment in 22 countries, among which are Egypt, Benin, Burkina Faso, Mali, India, Peru, Tansania, China and the USA.
What is bio-cotton?
Cotton in controlled biological agricultural systems is cultivated according to previously defined standards. This system forbids the use of toxic and persistent non-bio-degradable chemical-synthetic pesticides and fertilisers. This way the soil and the groundwater are not further contaminated. The use of genetically modified organisms is also forbidden. The production of bio-cotton has many advantages:
As no chemical-synthetic fertilisers and sprays may be used, there is practically no more contamination of the groundwater and the farmers have fewer health problems.

Thanks to biological cultivation, the soil fertility is maintained and the crops remain stable over many years.

Thanks to subsidies and bio-premium, small farmers can also manage to live without requiring credit.

The purchase guarantee gives the farmers a feeling of self-worth and ensures them a regular income.
Cultivation and processing of biocotton during cultivation, no chemical-synthetic fertilisers and pesticides are used and genetically modified seeds are forbidden. Bio-cotton is cultivated alternately with other field crops and fertilised with dung and compost, and this maintains soil fertility.
Facts on (BIO) Cotton

Conventional Cotton

Bio Cotton

Worldwide area under cultivation (2007)

34 million hectares

(>3% of the world's farmland)

47.683 hectares (0.14% of the world's cotton surface)

Crops of raw cotton in tons per hectare (crop year 2007)

Israel : 4.4t

China : 3.7t

USA : 2.4t

Kyrgyzstan : 2.5t

(country-average)

Kyrgyzstan : 1.6 t

Mali : 0.34 t

Burkina : 0.51 t

(Project average)

World production Cotton fibres in tons (2007)

25.87 million tons

57,9311 (0.2% of the world's fibre production)

Largest producers of cotton fibres (conventional 2006, bio 2007)

China : 8.7 million t

USA : 4.5 million t

India : 3.6 million t

Pakistan : 1.1 million t

Uzbekistan : 1.2 million t

Turkey : 23, 1521

India : 18, 790 t

China : 40, 791 t

Syria : 2, 500 t

Peru : 2, 017 t
Due to its natural characteristics, cotton became the most-processed and most-used textile fibre. It can be processed at will and is easy to dye and print on. Cotton materials can therefore always be manufactured in any desired fashion colour and colour shades and with practically any desired colour fastness. Wearing and care characteristics can be improved by using wash-resistant, fixable finishes or by chemical modification of the cellulose.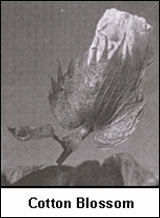 Nowadays cotton clothing can be wrinkle resistant, sanforised, low-maintenance, dirt and water-resistant and have permanent leg-line creases. There is flame-resistant protective clothing or curtains made of cotton materials, which, in extreme conditions, are resistant to decay and mildew.
Finishing increases value and quality
During these processes, the look and the serviceability of textiles are improved, providing added value. Without finishing, cotton wrinkles because cellulose fibres are non-elastic. SANFOR is the best-known trademark for shrink proof finishing. It prevents from shrinking and guarantees form stability during washing.
Mercerising

: By treating the cotton with caustic soda and stretching it at the same time, the section becomes round. The result is a long-lasting shine and softness despite washing and dry-cleaning.
Calendering

is a special method of pressing which gives more or less shine, smoothness and density.
Water-repellent finishing

,

such as impregnating: By soaking in suitable chemicals such as silicon, cotton textiles become water-repellent. But it is necessary to repeat this process after washing.
Easy-care characteristics

obtained by using high-grade finishing (artificial resin or cross-linking): labeled as non-iron, minimum-iron, mini-care, wash & wear. Cotton textiles finished in this way are easy-to-wash, hardly shrink, dry quickly, need little or no ironing and are wrinkle-resistant.
Bleaching makes it possible to dye and to print textiles with light, mellow and bright colours by chemically decomposing the natural colour dye of the fibre. Finishing improves the feel and makes the material soft and pliant, such as for towelling, baby clothing and daywear. Other finishes give a full, firm feel, for instance for tablecloths or napkins. Dyeing and printing is possible with bright colours as cotton easily absorbs dyestuffs.
For the embroidery machine, there are a few points to be taken into consideration. Optimal pre-requisites for fabrics are strength, elasticity, yarn twist S/Z, number of twists, storage temperature, processing temperature of approx. 22C and a high degree of humidity of 6S to 80%.