Biological cotton production has ecological and economical advantages
Why bio-cotton?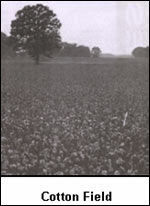 Various interest groups are strengthening the trend towards environmentally friendly production methods. Among these are farmers, consumer organisations and companies which are suffering from increasing competition and environmental regulations. For all of these, the effects of intensive cotton cultivation cannot be ignored. The growing interest of consumers in ecologically produced foodstuffs is currently spreading to other areas of ecological farming, amongst which is the ecological production of cotton fibers.
In cotton cultivation, controlled biological growing is still relatively new. Bio-cotton was first cultivated at the end of the eighties in Turkey. Meanwhile, cotton is cultivated in a controlled biological environment in 22 countries, among which are Egypt, Benin, Burkina Faso, Mali, India, Peru, Tansania, China and the USA.
What is bio-cotton?
Cotton in controlled biological agricultural systems is cultivated according to previously defined standards. This system forbids the use of toxic and persistent non-bio-degradable chemical-synthetic pesticides and fertilisers. This way the soil and the groundwater are not further contaminated. The use of genetically modified organisms is also forbidden. The production of bio-cotton has many advantages:
As no chemical-synthetic fertilisers and sprays may be used, there is practically no more contamination of the groundwater and the farmers have fewer health problems.

Thanks to biological cultivation, the soil fertility is maintained and the crops remain stable over many years.

Thanks to subsidies and bio-premium, small farmers can also manage to live without requiring credit.

The purchase guarantee gives the farmers a feeling of self-worth and ensures them a regular income.
Cultivation and processing of biocotton during cultivation, no chemical-synthetic fertilisers and pesticides are used and genetically modified seeds are forbidden. Bio-cotton is cultivated alternately with other field crops and fertilised with dung and compost, and this maintains soil fertility.
Facts on (BIO) Cotton

Conventional Cotton

Bio Cotton

Worldwide area under cultivation (2007)

34 million hectares

(>3% of the world's farmland)

47.683 hectares (0.14% of the world's cotton surface)

Crops of raw cotton in tons per hectare (crop year 2007)

Israel : 4.4t

China : 3.7t

USA : 2.4t

Kyrgyzstan : 2.5t

(country-average)

Kyrgyzstan : 1.6 t

Mali : 0.34 t

Burkina : 0.51 t

(Project average)

World production Cotton fibres in tons (2007)

25.87 million tons

57,9311 (0.2% of the world's fibre production)

Largest producers of cotton fibres (conventional 2006, bio 2007)

China : 8.7 million t

USA : 4.5 million t

India : 3.6 million t

Pakistan : 1.1 million t

Uzbekistan : 1.2 million t

Turkey : 23, 1521

India : 18, 790 t

China : 40, 791 t

Syria : 2, 500 t

Peru : 2, 017 t