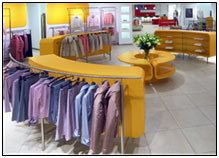 The 'R' word, 'Recession' is a predicament behind every country's economy, and is scary to both individuals and businesses alike. Businesses are down with low sales resulting in declined profits. Investors are seldom found, or even non-existent; to be expressed in a better-bitter way. Reduced sales force the firms for a price cut developing price wars. Businesses dealing with luxury products are hit by the recession in a big way.
The economic slump had brought many big organizations to their knees; overnight, forcing many of them to shut down their operations. It has also hobbled many mall operators. Major retailers; worldwide have reported a decline in sales due to prolonged economic difficulties, as consumers refrain from spending because of deteriorating job markets and a resulting lay-offs. Even people who are employed are curtailing their expenses due to the insecurity of not knowing how long their jobs will last.
Shoppers Retreat - Dip in Performance of Malls: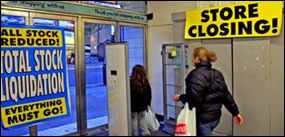 Global slump has deflated the momentum in departmental stores, causing a plummet in their profits. With the sales figures dipping drastically, retailers constantly live a state of anxiety. Industry analysts predict that the downturn might prove more disastrous for mall owners. Sellers who deal with luxury products such as Marcus and Saks, Nordstrom, Neiman, J.C. Penny, Dillard, Kohl, and Sears have their turnover reaching $3 billion. Analysts predict that their sales figures will slump in the forth coming months. Dillard's and Macy's are working hard to woo their target customers. Nordstrom has reported a decline of 68% in profits for the last year. JC Penney's net income was almost reduced to half. Bankruptcies and fallouts from recession have pulled down the shutters of many stores. Mervyn's and Goody's, unable to ride the tide closed their business in 2008. It is envisaged that March, April and May might see more closures or mergers.
Financial crisis force the consumers to go for a compromise with their living style. The cruel twist of fate is that, the slowdown is costing many people, their jobs. Retrenchment and layoffs, being the proverbial last straw on the camel's back, has forced them to restrict their normal expenditures. They avoid certain shopping places, just to avoid the temptation of shopping, and malls top their list. Many of them go in for products which are tagged with attractive discounts. With the aspirational shoppers cutting back, mall owners also fear that once the consumers are hooked up on buying products with discount, and get used with living with less, they may not get back to their old way of spending.
Cracking the Hard Nut Strategies to woo customers:
2009 is expected to be both a challenging and transitioning year, especially for mall owners. They are experiencing a two-fold problem of the consumers and the retailers moving away. Due to unavailability of adequate finance, they have put new projects on hold. Fashion apparel sellers are the most troubled, as they have filled the mall with garments of the latest trends.