Originally designed for the soldiers to blend into the background, camouflage clothing is now becoming a modern fashion phenomenon.
From city to jungle, a camouflage top is a perfect way to fit in with any environment. Wearing camouflage apparel during a fashion photo session is preferable, as the colors are much neutral and the clothing will fit many fashion modeling situations. A spaghetti strap red camouflage or a green halter top in the same, embellished with metallic sequins will blend perfectly into the surroundings, and also make an ultimate fashion statement. This clothing is an ideal choice for outdoor treks, camping and other activities.
Secret of the Camouflage Masters: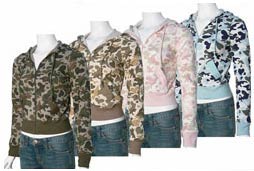 Rudiments of camouflage come from animals. The origin of this fabric dates back to very ancient ages, when certain cephalopods living in the depths of oceans used the colored pigments in their body to change their body shades and patterns to match with their background, so that they go un-noticed by their enemies. Later this optic trick was used for military uniforms, where the camouflage pattern concealed people as well as artillery.
With the span of time, this clothing evolved into a fashion trend. Though not suitable as a corporate wear, fashion designers have come up with several products in camo clothing and accessories. With the change in trend this pattern also underwent a metamorphosis in color and applications. Not only in the conventional green, but this infamous pattern is also seen in other solid shades like red, blue and pink, and pastels of sky blue and cream. Apart from clothing, an array of fashionable accessories such as caps, belts, shoes and handbags are also available in camouflage patterns. These accessories can bring the best even in the simplest costume.
Camouflage makes a Fashion Statement: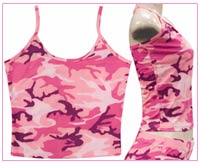 Camouflage bra tops and belts match perfectly with army tint jeans. It has become a part of the urban clothing style. Available in comfortable cotton, or jersey, they are sewed in modern cuts with a deep V or round necklines. The apparel looks more appealing with the addition of similar accessories like caps, boots, and knapsacks. Belts with camouflage patterns, pants with this fabric, and camo shirts studded with rhinestones are seen in the racks of vintage and retail stores. Camo clothing for women is available in various styles specially designed with the feminine form in mind. A creamy pleated blouse and matching trouser tailored with a camouflage material will give an 'upscale' look. Camo tees in spaghetti straps, raglan or long sleeves come both in solid hues and pastels; highlighting femininity.
Camouflage clothing can also be described as an extension of the trend of wearing animal print clothing; leopard, snake, and zebra prints. The pattern owes a part of its fame to the military clothing. Due to their distinct pattern and color combination, the garment has become a mainstay. Growing beyond their original purpose, camouflage is now a fashion icon in the modern world.
References: