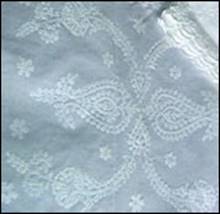 The moment you come across the term chikankari, the mind starts building images of white fabric filled with white embroidery. The designs itself are like flights of fantasy, ranging from small delicate portions to elaborate affairs. It has that irresistible magical affect in itself that one just can not resist the urge to own a piece. Every wardrobe especially in India has at least one chikankari garment and it is also one of the most sought after products or gift items by the immense number of tourists that visit India. But do we actually know what chikankari is? What pains are involved in the production of one single small item? Who are the people behind such beautiful pieces of art? (Chikankari is so breathtakingly beautiful that it can be justifiably compared with art)
Surprisingly we just walk into the renowned retail stores, walk through the various aisles, pick the one that we like, pay and flaunt it in front of our friends. We are least bothered about its origin, its development or its finishing. In order to enlighten ourselves for this purpose, let us move our base to a small village in the state of Uttar Pradesh in India.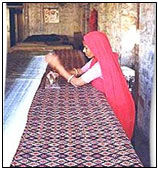 People might wonder why a village and not Lucknow? After all among other things, Lucknow is famous for Chikankari. But unfortunately, we cannot just give the credit of chikankari to Lucknow itself. Although chikankari was first introduced in Lucknow, but in today's times this embroidery is being done in various clusters (villages) in and around Lucknow. In these clusters Chikankari products and fabrics get developed in the hands of mostly women from all age groups. We can find even kids aged 10 in this trade as well as older women of late 50s or till the time they have a good eyesight.

The development of the product starts with selection of the design. Traditionally these designs were the typical paisley motifs and floral bunches, supported by leafy creepers, mostly of Mughal origin. The modern consumer's demand has even brought modifications to these. As the merchandise is changing from saris and salwar kurtas to tops, shirt and tunics, the designs are also becoming more contemporary. A paisley would still remain a paisley but with a modern touch. So the present day designs or motifs have a fashionable touch of some other value addition like sequins, mirror work, zardozi etc, just to be at par with the fashionable crowd.
The chosen design is then engraved on to a wooden block. (Mostly sheesham wood is used.) The problem with wooden blocks is that with time the edges become blunt, so the design which is printed on the fabric becomes very thick, creating a problem for the final washing and finishing of the design as well as hampering the intricacy. Off late blocks are being made with a wooden base with the design on a metallic surface. The same motif can be given a 3D look or a flat look by means of the stitch type being used. The selection of the motifs is governed by the:
Kind of product

Kind of Fabric

Color story involved

Amount of density required.