For those concerned with human resources, a Human Resource Management System (HRMS) is an Enterprise Resource Planning (ERP) software program which particularly deals with employee problems. Such systems are usually integrated with other commercial applications such as finance. Through the years leading a companies' human resource has got progressively complicated as this key functional group now tracks personnel data including education, job history, skills, as well as private information. For years it has been about unfeasible for moderate and large groups to manage the wealth of human resources data properly without using computers. Throughout the history Human Resource Management System (HRMS) ran on huge, enclosed mainframe computers though now most of those systems are accessible on microcomputers. Let's examine at some of their normal parts.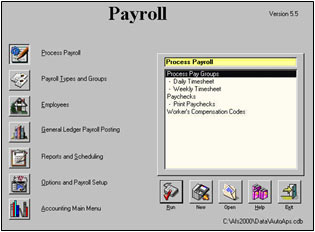 The Payroll module stores knowledge on employees' time worked and absences. Subject to its refinement this module calculates taxes and other deductions and develops an array of employee checks, government checks, and multiple abstracts. It must apply to the letter, national, state, and municipal tax administration, and a series of other technical documents with union and non-union contracts. Certain payroll systems calculate and record overtime with lots of them automatically [depositing] workers paychecks. Generally data originating from the payroll module goes to financial management systems and helps managers in making fiscal decisions.
We all know that benefits are a progressively important part of lots worker compensation packages. A Benefits Administration module lets businesses to process personnel involvement in benefits plans like life and health indemnity, profit sharing, stock purchases, and finally retirement pensions. The efficient systems provide detailed reports which help the company in devise an attractive but mostly inexpensive benefits package for the employees.
In better economic times organizations must always try to gather new workers though even if the organization is not currently hiring, it should get resumes of qualifying aspirants so it'll be able to fill positions quickly when the need presents itself. In the technological world, much of this recruiting is performed online and online hiring has become a major Human Resources tool. Talent Management systems, in addition called Applicant Tracking Systems, analyze the companies present personnel management and needs, find acceptable aspirants whether internal or external, and deal with the actual recruitment operation. A major function of these systems is ensuring concession with Equal Opportunity Employment laws.
The preceding isn't by no means a complete list of Human Resources modules. Other modules examine personnel production, track candidate's qualifications and company educational programs, and provide overall management of the HR function. Concerned companies can choose from many off-the-shelf HR systems therefore a lot of carriers are willing making complicated modifications to their computer systems, for a cost.