We all want to look stylish and sophisticated. Everybody wants to have an admirable personality and be applauded by the people around for her/his wonderful fashion sense and taste. In the present times when there is immense fashion consciousness, appearances play a vital role in determining our impact on the other people. We ought to look impressive and appealing in order to survive in this highly exhibitive world. When there is so much emphasis laid on the looks and style then it is important to keep ourselves equipped with the most outstanding and stylish fashion accessories. Designer Leather handbags are one of the most impressive and sophisticated accessories that are considered as true hallmark of style and elegance.
Designer leather handbag is one of the major accessories of today's fashion world. A Designer Leather Handbag is undoubtedly a highly coveted accessory these days. Trendy bags are used both by the ladies and the teens to complete today's crazy fashion beauty concept. Fashion hand bags work brilliantly with both the formal and casual dresses and for every occasion. Ladies fashion bags are available in innumerable styles and design that is bound to suit the distinct taste of the buyers.
No other fashion accessory offers as much value for your money than the designer leather handbag. Leather handbag is a fashion statement that holds the key to every woman's daily necessities. The handbag is an essential building block of a complete, well-built wardrobe. Every handbag has multiple uses, in both fashion for its appearance and functionality for holding a woman's necessities. There are many aspects that need to be addressed while selecting the ultimate handbag. The selection of fashion handbags include bright colored casual bags, to hand bags that are really fantastic for holidays and multi-pocket shoulder bags in gorgeous shades. A unique look is given to each fashion bag by mix and matching materials to metal latches, padlocks and heavy-duty chain straps etc.
The world of fashion has an important role in society, allowing individuals to use its elements to develop and define themselves. The designer leather handbag plays its part as the ultimate fashion accessory by presenting a particular image of one's self to the world. Just as the selection of a particular handbag allows the individual to define themselves, the shape and structure of the handbag is another piece to fitting the proportions of each woman's body. It is necessary for the woman to know and understand her own body's proportion as this will be the basis to begin to determine which handbag selection would be best.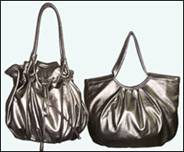 The designer leather handbags are ideal for a college going teenagers who want to look stylish & trendy and even a highly efficient professional woman who should look extremely sophisticated and niche. The handbags can be used to store various important documents or the makeup accessories depending upon the nature of the needs of the user. These bags have ruled the fashion world with their impeccable looks, no other material like jute, plastic, rayon or cloth can replace the magic and grandeur of the leather bags. They look immensely stylish and classy. You can create great impression with the stylish designer leather handbags and win hearts of the people around you.
About The Author:
&sec=article&uinfo=<%=server.URLEncode(1804)%>" target="_blank">Mecharhandbags.com is your one stop source for finding high quality handbags, clutches and women accessories designed by &sec=article&uinfo=<%=server.URLEncode(1804)%>" target="_blank">Charmaine Ho. Find authentic designer leather handbags and clutches at the most affordable prices. Me Char leather clutches are the quintessential luxe-for-less accessories. Made with the fine leather and elegantly lined, Charmaine Ho's clutches come in array of solid colors fit for any fashion fete or casual outing.