Thigh High Boots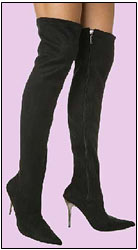 Reach out for thigh high boots and scale new heights of seduction! But please be ready to handle more attention than you have ever received in your lifetime.
Undoubtedly, the most powerful symbol of allurement when it comes to footwear is thigh high boots. In shoedom, thigh high boots or thigh length boots (or) simply thigh boots are defined as boots that extend over the knees. The length of thigh high boot could vary from just above the knee to just above the crotch. Thigh high boots are sometimes also referred to as over-the-knee boots, and especially when cuffed, pirate boots.
Tantalizing thigh high boots are made of different materials such as various leathers, to various synthetic materials like latex, vinyl and polyurethane and fabrics such as silk, polyester microfiber. High heels are more popular in thigh high boots. Though lower height versions are available, heels greater than three inch and reaching out to seven inches are more popular when it comes to thigh boots.
Sexy Thigh Boots
Since thigh boots stretch up to the thighs of the wearer. This is perceived as rather aggressive, assertive footwear. Thigh high boots are usually available in slip-on and zip-up versions. Lace-up thigh high boots that lets you make a little skin show are worn by ultra daring and super-confident women. Glamorous women are also going in for sexy thigh boots enhanced by bold buckles, glitters and holograms to add a tantalizing touch.
Leather Boots
Of all the materials, thigh high boots made of leather are considered the most seductive and stylish. A well-fitting pair of sensuous black leather thigh high boot can raise the sex quotient of any short skirt, tight jeans or long skirt. Leather thigh boots look amazingly sexy in winters when they also protect the wearer from the cold biting.
Women's Boots
Thigh high boots are associated with all women; however, tall women look best in thigh high boots as these tend to draw attention to legs and thighs. Stylists feel slim women should go for tight fitting thigh high boots to highlight their slender figure. Similarly stout ones should go for loose fitting thigh boots to hide their extra weight.
Short women should avoid thigh high shoes as these highlight a woman's shortness rather than accentuating her legs. Several online shoe stores also offer custom-made thigh high boots to ensure the best fit and the best look to the wearer. Alternatively, many shoe companies offer thigh boots with gussets, straps, or other features which allow women to adjust the fit. This feature is especially desirable for women with bigger or more muscular legs as it allows them to adjust the boots to their comfort level. Women with thin legs can also tighten the boots to ensure they stay snug and look attractive.
Fetish Boots
With sex appeal reaching the roof, thigh high boots are often rated as kinky and used as fetish clothing in boot fetishism and shoe fetishism. These are often linked with call girls and those associated with adult entertainment industry. The dubious image of thigh high boots was further strengthened by Julia Roberts role of prostitute in Pretty Woman where she wears black vinyl thigh boots to show a seductive appearance.
Fetish image of thigh high boots have been neutralized over the years by iconic pop stars such as Victoria Beckham, Jennifer Lopez, Janet Jackson, Beyonce Knowles, Keisha Buchanan, and Celine Dion etc who have worn thigh high boots as part of their costuming and brought them in mainstream. Couture fashion houses have also favored thigh high boots and fetched them in the shoe shelf of the style conscious women who love to play with the art of seduction.
About the Author
The author Mrunal, is professionally a webmaster. But, because of his interest in fashion and new styles he was written many articles on &sec=article&uinfo=<%=server.URLEncode(1818)%>" target="_blank">Womens shoes, thigh high heels and &sec=article&uinfo=<%=server.URLEncode(1818)%>" target="_blank">sexy stilettos.