You ever wondered how certain fashion trends originated? It is obvious that many things in fashion have a practical reason such as long coats that keep you warm on cold days. One piece of fashion accessory that has been around for over 300 years, and serves no other purpose than being a decorative piece of clothing, is the men's necktie. While the origin of the necktie is a whole story in itself, this article focuses on the origin of one particular style of necktie: The so called Novelty Tie.
Many different cultures have influenced the evolution of the men's neckwear for the last four centuries. Even though fashion has changed the cut and design of the necktie, it remained as common for men to own ties, as it is for women to wear necklaces. The modern tie comes in an incredible variety of sizes, colors and designs, to match any social situation. Among these, perhaps the most radical departure from the traditional is the novelty tie.
While not necessarily suitable for every occasion, these interesting ties are generally created with a no holds barred standard. Today, novelty tie makers are not focused on making fashionable neckties, but are more interested in making a tie that is funny, interesting, and will strike a conversation in people. Hence, the novelty tie is often times also called the conversational necktie.
While it may be difficult to verify the originator of the novelty tie, the trend appears to have begun in the 1940s. Many neckties from that era bear printed or hand painted designs that range from the unusual to just plain odd. Some sources credit Salvador Dali with starting the movement, when he shocked the art world by presenting his work on fine silk ties. Dali's ties are among those most prized in our time by collectors. Several other popular artists followed suit and even today fine silk ties are produced with the work of new artists as well as that of masters like Van Gogh. These range from actual hand painted originals to reprints of nearly any genre.
Regardless of how it began, the novelty tie soon became more than a fad. Idea after idea was sparked, and new lines were launched. American businessmen had a new way to express themselves around the office and at social events, and manufacturers soon offered more than enough expressions, from the religious to the risqu. More refined cultures such as the British, were, of course, slow to accept the change.

Popular themes soon worked their way into the mix, and by the 90's, nearly any hobby, historic event or public figure was being "immortalized" on the face of a tie. Commemorative ties have been created for virtually ever war in American and World History. Personalities such as Elvis Presley and Marilyn Monroe, all the US Presidents and many more have all been printed or painted on the face of neckties. Our favorite cartoon characters, from Betty Boop to Looney Tunes are available in licensed and unlicensed versions. All the teams of the NFL, NHL, NBA, etc. and individual sports figures have all been subjects of this fashion craze.
Holidays, too, have been the launching pad for literally hundreds of necktie designs. What man hasn't received that Christmas tie that he's obligated to wear to the company party every year? Valentine's Day is another favorite, as well as Halloween and even the "Kiss Me, I'm Irish" tie for St. Patrick's Day. Whatever the occasion, chances are a novelty tie has been printed for it, in silk or polyester.
Technology, too, has had an impact on the novelty tie industry. The LED, the microchip and miniature batteries have provided us with an abundance of flashing, honking, music playing, and "pull my finger" wonders that tip the scales from the talk of the party to hidden far, far back in the closet.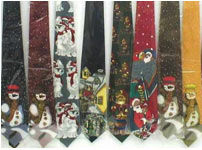 Although the novelty tie is not a fashionable necktie that you want to wear to a nice business dinner, or semi-formal event, they are well suited for special Holidays, Birthdays, and certain types of meetings. For example: It is well suited to wear a necktie with Leprecons printed on it on St. Patrick's day, or a Tie with Christmas trees during the Holidays. Just keep in mind that the novelty tie is not supposed to make you a well dressed man. It won't add style to your outfit, but it is a good way to show your sense of humor on special occasions.
Author Resource: H Pohl is the founder of &sec=article&uinfo=<%=server.URLEncode(1829)%>" target="_blank" title="http://www.ties-necktie.com/">http://www.ties-necktie.com/ an online retailer for men's designer neckties, brand name silk ties, bow ties, silk pocket squares, and designer cufflinks. When not working on the business Mr. Pohl enjoys writing articles related to the necktie industry and men's fashion.
Article from Zing Articles - Best Free Articles on all topics