Who says that jewelry trends are just for the fashion savvy women? Many men have a keen interest in fashion trends and jewelry specifically, and this season's looks are sure to entice even the most fashion-cynical male. As we move out of a cold winter, men's trends are staying on a neutral color scheme, with clothing trending more toward shades of grey. Read on to find out what jewelry works with this hot spring look.

One hot jewelry trend for men is I.D. bracelets. Nothing that resembles something you would see on a hospital patient or on a luggage tag-these bracelets are chic and stylish. Men can get their real name and information engraved on these beauties (available in silver, gold and white gold), or perhaps a favorite quote or song lyric. The possibilities are endless, and you will be seeing these on runways everywhere.
For a while there, it was more fashionable for men to be wearing more understated pieces of jewelry, such as a simple thin necklace with no pendent. This year, spring has men's necklaces blooming in a big way. Although men's jewelry may never reach the epic, sometimes outlandish nature that women's necklaces can reach, the trend this spring is for larger, more colorful pendants for men.
Designers have kept things tasteful and masculine, with simple chains featuring pendants like round, bold colored disks made from a solid gemstone or wood. Large crosses are also being spotted, some in the traditional simple Christian design while others are trending toward more ornate Celtic crosses.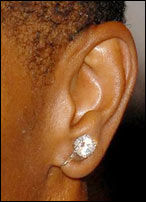 Earrings are also popular this spring, but the George Michael one earring was left behind in the 80's. A few years ago, it was common to see men wearing a simple stud earring in both ears. This trend hasn't necessarily faded away, as many men still sport this style, but what is hot this spring is two studs in one ear.
Many women have multiple piercings in one ear, and now the trend is for men to have dual studs while leaving the other ear bare. The studs are being seen in very simple designs like small diamonds and even pearls. One model was even spotted wearing turquoise, which would be a lovely and bold compliment to the grey clothing trend that is being seen.
For men who enjoy wearing rings, large chunky rings are very hot this spring. These rings look terrific stacked on top of one another, or as a standout piece when worn alone. They usually come in gold or silver, and have thick bands up to inch thick. Look for designs like skull and crossbones, barcodes and Celtic spirals. Wear them on your thumb for a unique look.
Body piercings are also making a comeback, specifically facial piercings. While body piercing was once thought of as very taboo, many models this season have been seen with very simple and even elegant facial piercings. Small diamond nose rings are very en vogue right now, as are small silver lip rings. While the trend of having a small chin stud is fading, you can still make a bold statement with the nose or lip ring.
If you are considering making the leap for this trend, make sure your employer has a policy that allows facial piercings, as no one should lose their job over fashion. If you run into someone on the street who's piercing you like, make sure and ask where they got their work done. Facial and any piercing can go awry if not done at a reputable shop, so make sure you do your research before you go under the needle.
About the Author
L Maher is a content writer who writes and researches about gorgeous and extraordinary Celtic jewelry, as well as Irish culture and history. Get more information regarding Celtic rings.
---
Browse through the latest fashion trend for men on celtic jewelry online.