A recent report has come out with the assessment of likely impact of the slowdown in consumer spending on sales, of discretionary products like swimwear. This is one of the issues covered in a new report on the global swimwear and beachwear market, which also looks at technology, fit and styling, and competition between private-label retailers and brands. The fall-out from the global credit crunch is likely to have an adverse effect on the clothing industry for sometime.
Overall, it could lower world swimwear growth between 2008 and 2014 from 5.32% to 1.69% and leaves the world market at retail worth US$13.25bn rather than US13.85bn, according to a new report. This worst-case scenario, the report says, is likely to lead to a "considerable reduction in the exceptionally large number" of swimwear brands that exist today.
Retail market in 2008
In its 'Global market review of swimwear and beachwear - forecasts to 2014' (2009 edition), it is estimated the retail market for swimwear and beachwear in 2008 is worth US$13.15bn - a 2.1% rise on the market's value of US$12.88bn in 2006. Within this, women's swimwear represents 70% of the world total value, followed by men's swimwear 17%), girls' swimwear (10%), and boys' swimwear (4%). Unit sales for 2008 are up 1.4% to 1,058m pieces. Europe and Japan/Korea have seen volume declines, while volume growth in the rest of the world averages a modest 2.8%. Overall, it is estimated that the average world retail price for swimwear and beachwear in 2008 is US$12.43. This is only marginally up from the 2006 figure of US$12.35.
While the swimwear market in total continues to face a world of no overall price inflation, the clothing industry is facing unprecedentedly high fuel costs and transport charges; volatile exchange rates; and labour shortages in low-cost economies such as China and India.
Slow Future Growth
Following the Beijing Olympics last year, the next major event for swimwear will be the London Olympics in 2012. By then, the retail market for swimwear and beachwear is forecast at US$13.51bn-representing growth of 2.7% over a four-year period. Unit sales for 2012 will be 1,099m pieces, a growth of 41m units from 2008. New demand will be outside Europe, Japan and Korea. It is estimated that the average world retail price for swimwear and beachwear in 2012 will be US$12.29. The most expensive parts of the developed world will continue to be Japan and Western Europe. This sluggish growth forecast is blamed on the current uncertain economic situation, long-term population stagnation, and the shift in branded manufacturing to lower-cost countries.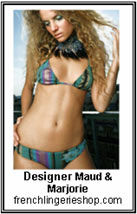 Branding diversity
In the developed world, brands account for between 60% and 70% of the value of the market, and between 38% and 43% of the units. Although, own-label and anonymous units account for three quarters of the pieces sold in the world, it is the variety of brands that exist, especially in Western Europe that contribute to the continuing diversity of the swimwear market. Sales through private-label retailers are dominated by a relatively few generalist or lingerie/swimwear specialist businesses, such as Victoria's Secret in the US and Marks & Spencer in the UK.
The market and product future
The report also notes that Swimwear fashion in the Western world will be driven by the acceptance of swimming as a relaxing pastime for an ageing population; among the younger age group, swimwear will be worn away from the sea and the pool; figure supporting and enhancing fabrics will encourage older women to wear swimwear; Western swimwear habits will take hold in the developing world; Internet sales growth will outstrip that of traditional retailing; and the London Olympics will create a swimwear market 'splash' in 2012, as an antidote to the gloom and doom forecast for 2009-2010.
Originally published in The Stitch Times; May 2009
Image Source: http://www.frenchlingerieshop.com