Retailing is considered as one of the most nimble industry, where the manager comes in contact with the customers and responds to their needs everyday. To be successful in the competitive arena, retailers must be able to convince the shoppers, that they can satisfy their needs better than their competitors. Retailers are always looking for ways to replace slow moving categories with specialty formats. In today's arduous economy, retailers are trying hard to increase the efficiency of their supply chain in order to decrease their risk and increase their profit margins. Organizations seek new technology to enhance their businesses. Businessmen think many times before taking new expenditures and only investments with shorter pay back period are chosen.
Right sizing for Excellence:
Retailers require an approach to improve their gross margin returns per sq. ft, when the sales figures are weak. 'Rightsizing' is a retail process which involves trimming the size of the store and purging off the slow moving products. These products are in turn replaced by specialty formats or shop-in-shop model. Big retailers chose to set up specialty zones under the shop-in-shop models. This approach enables to increase the revenue of the organization. It facilitates optimum utilization of the available shop space in the best possible way by reducing the space occupied by products that are slow moving. This facilitates the consumers to shop according to their preferences. During the period of recession shop-in-shop is the best way to leverage the field knowledge of specialty retailers and increase their profits.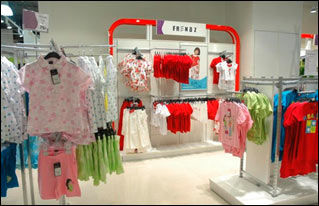 Right sizing enables a complete visibility of the product throughout its life cycle from capacity and raw material reservation, costing negotiations, tracking, and logistics. Its framework consists of strong collaboration, and reporting tools. This process helps the management to take proactive decisions about the life cycle and supply chain activities of the product.
The imperative question ringing in the back of every retailers mind is about the necessity to have and invest in a business intelligence system. Once a retailer has successfully established himself in a market position, he then aims for an accelerated growth in the concerned segment. He needs to build a top-line by expanding multiple geographies and maintain operational profitability. He must fine tune his position by analyzing the behavior of the shoppers. Once, a retailer attains the maturity stage in his business, externalities play an integral role in his further growth.
Right sizing helps the retailers to obtain competitive advantage, and aid the supply chain to gain greater value through consumer collaboration. When a retailer recognizes his position in the evolutionary life cycle, needs and priorities, and utilizes them to guide his investments in business intelligence systems, he will be able to make sound decisions as the right time.
References: