June month of 2009 saw two major trade fairs in the Textile Machinery field. One held in heart of textile city in Istanbul, Turkey and other at Shanghai. Due to global recessionary scenario people were skeptical about success of these fairs in terms of visitation. &sec=article&uinfo=<%=server.URLEncode(1992)%>" target="_blank">Fibre2fashion tried to take a review on performance of both these important trade fairs as follows.
ITM - 2009, Turkey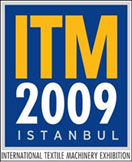 ITM 2009, which was held in textile country, Turkey, is supposed to be one of the important shows in textile industry. Held between 6-10 June, the show attracted approximately 1000 participants despite global recessionary scene. Out of 31,000 buyers who visited this fair, 4000 were visitors from foreign countries. Visitors from approximately 59 countries had appeared in the fair to find out appropriate product for their requirement.
A large bunch of visitors were from the Middle East countries as Turkey is a convenient and central place for visitors from neighboring countries as they dont have to face Visa related problem like fairs organized in European countries plus this is convenient place for them to visit from distance perspective too.
ITM hosted almost all kinds of machinery for textile production and visitors shown interest in state of the art machinery from different categories like model fiber spinning, yarn, weaving, knitting, hosiery, dyeing-print-finishing technologies. But amongst all categories finishing machinery stalls were more crowded and witnessed greater curiosity of visitors.
Turkish manufactures shown great proficiency by developing state of the art machinery which has latest features competitive with their European counterpart.
Visitation by statistics
As per official statistics Maximum visitors were from Dyeing, Printing and finishing sector which constituted approximately 29% of total visitation. Sector to receive second highest visitors was knitting machinery sector with approximately 13% visitation. Weaving sector witnessed 9% visitation followed by home textile with 8.29% visitation.
After Turkey, Iran was the country from where maximum number of visitors attended the show constituting approximately 20%. Iran was followed by Syria with 18% visitation and by Egypt with 6% visitation. According to visitation numbers Bulgaria was on 4th place followed by India.
Fibre2fashion spoke with Mr. Kamal Shah (GM-Exports, Prashant Gamatex Private Limited) who visited ITM, 2009 to know his views about the show.
When asked about his overall views about the show he explained show was excellent considering facilities and amenities provided. Although he didn't find visitation numbers much impressive and said visitors were bit less in numbers than expected. Although he felt visitors profile were quite satisfactory as senior executives working with mills and owners of companies were present in the show.
He also noted that visitors from outside Turkey were also in considerable amount. Visitors from countries like Jordan, Syria and Uzbekistan were present in good numbers although, not much visitors appeared from country like Pakistan.
Mr. Shah, although bit disappointed with visitation at ITM, still believes such trade fairs help in boosting business as they are excellent platform for both the parties i.e. buyers and sellers to discuss and negotiate about different aspects of machines. But he also took a cautious stand and said overdose of such trade fairs is creating indifference in the minds of both buyers and exhibitors as it is difficult for people to participate in each and every fair taking place theses days and that is also too frequently. Mr. Shah was saddened when he observed that although in weaving hall all big brands were present, display of real machines were very less.
ShanghaiTex- 2009

The 14th international exhibition ShanghaiTex 2009 was held in city of Shanghai, PR China between June 12-15, 2009. The show witnessed more than 49,000 visitors out of which 2024 were overseas visitors. Show was well received by Chinese visitors who came from 30 provinces of China. Apart from China, visitors from approximately 40 counties visited the show in order to get acquainted with new launches in the machinery field and search appropriate products for their requirements. Thus overseas visitation comprises of approximately 8.2% of total visitation.
Among all machinery categories knitting sector witnessed highest interest from visitors. Some exhibitors felt that flat knitting machine sector is soon to witness growth as early signs of market picking up are already seen in Shanghai-tex. Textile fraternity is also optimistic about weaving machine sector.
Fibre2fashion got chance to carry views of two leading companies to in order to know their experience with ShanghaiTex 2009.
Shima Seiki, one of renowned manufacturer of knitting machinery experienced quite positive response from the visitors of the show. At Shanghaitex 2009 Shima Seiki exhibited its line of advanced computerized flat knitting machines. The display ranged from its SSG- and SIG- series conventional shaping machines to its latest MACH2-series high-performance Whole Garment knitting machines.
According to Shima Seiki, Shanghaitex 2009 met with resounding success by customers seeking new business strategies in economically difficult times. An unexpectedly large number of inquiries reaffirmed Shima Seikis reputation for high-quality, high-productivity and technologically advantageous knitting equipment.
Singapore based, leading embroidery machine manufacturer Barudan also participated in the fair and exhibited some of its innovative machines.
When asked about experience with facilities and amenities in the fair, the company noted that amenities provided in the fair were very normal and also remarked that overall facilities were a bit confusing due to usage of only Chinese language and not much direction or assistance was provided in English.
Barudan was also disappointed with presence of visitors as they found visitors' response to show was very pathetic and most visitors were from China only and less attendance from overseas visitors. There were very few visitors from countries like India and China.
After observing poor response Barudan is don't seem optimistic about potential of Trade fairs and believes that such Trade fairs /Exhibitions are not attractive for luring our customers to buy in this crisis situation.
These recently concluded two trade fairs reflects shaky condition of textile market but still hopes are there that market will soon revive considering faith of visitors in such events.