India is a very big country which a wide variety of culture and customs present. This country has Himalaya Mountains to its north to Arabian Sea to its south. So to suit such varying climatic conditions we could found different types of traditional clothing worn by people of India. Indian clothing has found its place even in international ramps. Here are listed some forms of traditional Indian clothings: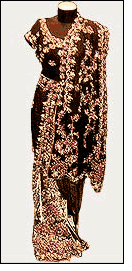 Saris

Sari is the most popular and favorable Indian outfit for women. It is a rectangular single piece of cloth which is of 5-6 yards in length. Usually sari is worn with blouse and petticoat. The most common style of wrapping sari is to wrap it around the waist with pleats in the front and the final length hanging down the shoulders or around the shoulder. This unstitched single piece of cloth suits all body types and enhances the body curves of women. The blouse worn with the sari could be half sleeved, sleeveless, three quarter sleeves or full sleeves. The buttons on blouse could be given in front or back as desired, also now-a-days stretchable blouses without buttons are also available. Saris generally expose the midriff and navel portion of the women.

The madisar saris worn by some Brahmin women are as long as 9 yards in length and are worn in dhoti style. Saris come in various natural and synthetic fabrics like- cotton, silk, crepe, chiffon, polyester, rayon, nylon, etc. The saris could be hand-made or machine made. Hand-made saris are quite expensive and require good maintenance whereas machine made saris are easy to maintain and are not so expensive. They could be printed or decorated by various types and forms embroideries or hand work like beads, sequence work, precious stones, golden and silver zari etc. Saris apart from India are worn in many south-east Asian countries like Bangladesh, Pakistan, Myanmar and Sri Lanka. They are of different types of saris like banarasi, bandhani, kanjivaram, pochampalli, kantha, chanderi, baluchari, etc. to choose from.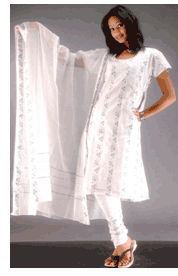 Salwar Kameez

Salwar kameez is a two piece traditional garment of many south-east Asian countries like Pakistan, India, Bangladesh and Afghanistan. Salwar are loose or body hugging trousers which are tied at the waist with a string and kameez is a long shirt exceeding the ankle or shorter not exceeding the ankle length. The kameez is worn on the top of salwar. There are many patterns, cuts, designs and styles are available in salwar-kameez and it varies according to different geographical locations and climate. For example- in north part of India i.e. Kashmir and Himachal Pradesh the kameez is generally three-quarter or full sleeves with the dupatta worn on head as a scarf. The salwar is sewn in many patterns like Punjabi salwar, patiala, churidar, etc. This dress is usually accompanied by dupatta. Also it is found either in the form of ready to stitch dress materials or ready-made i.e. already stitched and finished. It comes in a great variety of fabrics to choose from, right from expensive material to cheap daily wear fabrics.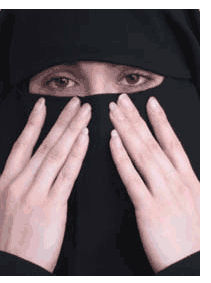 Burqa
Burqa is a tent like clothing which envelopes the entire body of the wearer. It is worn by Muslim women of Pakistan, Afghanistan and northern India. Generally the Muslim women wear burqa over their regular clothes whenever they go out of the house and remove it when they return to the house.

In burqa either the eyes part or face is partially exposed by use of net or grille. The cloth material used for burqa is light weight and the most preferred color is blue and black. In Islamic culture it is preferred to not expose any body part of the women, thus garment serves this purpose.

Kurta-Pyjama

Kurta pyjama is the traditional form of clothing for men. Rural men wear this attire as their regular clothing on day-to-day basis whereas urban men prefer it for special occasions and festivals. But in urban areas kurta with jeans is becoming favorite clothing combination for men as it looks trendy yet comfortable, this style is also been worn by urban women also. Thus setting up a unisex style statement. Kurtas come in various fabrics like cotton, khadi, silk, linen, etc.

A kurta which is shorter in length is known as kurti. The pyjama would be of loose fitting or else churidar style. Moreover kurta-pyjama could be made more stylish by wearing a small vest coat or by putting up a stole. Apart from daily wear kurtas, we could also find ample of designer creation in this ethnic wear. The kurtas could be decorated by usage of attractive embroideries, hand work, crystal and beads, chikan work, etc.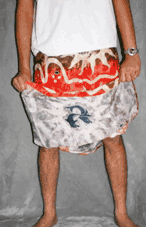 Lungi

One of the unique garment of southern part of Asia is Lungi. It is a sheet like rectangular garment worn around the waist. Mostly this garment is worn by men but in some cultures women also wear it. It is worn in countries like- Sri Lanka, India, Pakistan, Myanmar and Bangladesh. There are many varieties of lungis found in markets like plain, printed, striped, checkered and in varied range of colors. Apart from cotton lungis come in other fabrics also such as khadi and silk. Cotton and khadi lungis can be worn on regular basis but silk lungis are worn basically for festive occasions. In south India the concept of lungis are found more than other parts of India. This piece of garment is suitable for geographical locations having warm and humid climate. It is tied around the waist using double knot.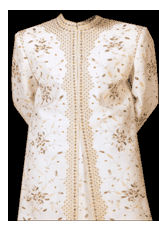 Sherwani

Sherwani was originated in countries of central Asia like Turkey and Persia. It was brought to India by the Mughals. It is a long overcoat type garment worn on kurta-pyjama or dhoti. In Pakistan sherwani enjoys the status of national dress. Whereas in India, Indian men wear this elegant garment for their wedding. Sherwanis could be decorated using embroideries and other type of heavy work. This garments length is slight below the knee length and it is always full sleeved with front buttons.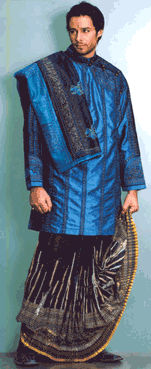 Dhoti

Dhotis are worn across in various states on India. It is known by different names in different states like Veshti in Tamil Nadu, Dhuti in West Bengal, etc. Dhotis are unstitched cloth of rectangle in shape which is worn around the waist extending to the bottom of the legs. It is very suitable for the hot and humid climate of Indian sub-continent region. But as far as its daily use is concerned, it is worn largely in rural areas but in urban areas only for special occasions like festivals or some religious functions. It is more popular in the community of Brahmins. The young generation do not prefer to wear this garment as they consider it old-fashioned. It is worn along with kurta, sherwani or a stole like unstitched piece of cloth (in Brahmin community).

Cotton dhotis can be worn on daily basis whereas silk dhotis are worn for specialized occasions. Sometimes it becomes color specific wear like red dhotis is worn by priests, white or cream color in daily use by everyone, bright colored dhotis with gold thread work by poets, turmeric colored dhotis are worn or weddings.

Thus from above description of traditional Indian garments we could find that there are a large variety of clothing is present in India. Although the youth of India is more inclined to western form of clothing, the designers are trying to make it popular by combining it with western attire and creating an Indo-western look and also coming out with simpler versions of these attires. Like- ghagras is promoted in the form of gypsy skirts.

Visit www.fibre2fashion.com/industry-article to read more on fashion, textile and garment industries.