China polyester filament yarn market gained unexpectedly Yuan 850-900 per ton in July, propelled upward by the strong feedstock values.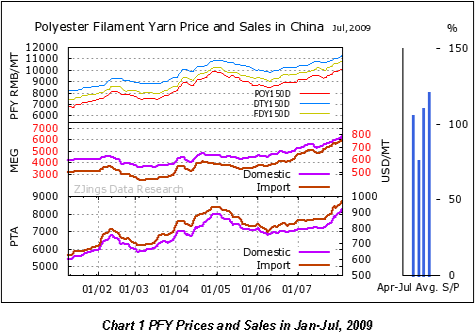 The market edged up by around Yuan 100 early the month, despite participants worries that softening petrochemical and oil markets may weigh on feedstock PTA sector. Yet it still lacked of direction until PTA futures market had displayed a bout of uptrend since Jul 9.
The most-active September contract opened at Yuan 6,972 and closed Yuan 72 higher at Yuan 7,118 with turnover totaled 378,952 contracts on July 9. The contract shot up further late the month as depicted in chart 3 amid extreme bullish sentiment along with a string of unplanned PTA facility turnarounds in China, implying that purified terephthalic acid supply tightness remained in China. Polyester fibers market followed this trend before coming to lose Yuan 100-150 per ton ahead of the announcement of Jul PTA contract settlement, which was the result that spinners were trying to have PTA makers settle the contract lower.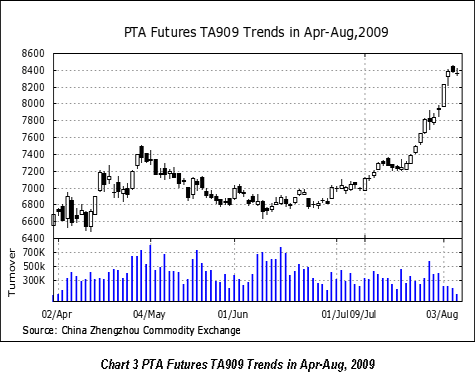 After Jul PTA contract settlement coming out at higher-than-expected Yuan 7,350 per ton by major producers late the month, polyester producers had to push up quotations. The tickup also came alongside with a moment crude oil futures kept a rosy state in the Nymex. The end-month pickup reached as much as Yuan 350 per ton. By 31st July, traded benchmarks were Yuan 9,950 per ton, Yuan 11,000 per ton and Yuan 10,550 per ton, respectively for partially oriented yarn 150D/48F, drawn textured yarn 150D/48F and fully drawn yarn 150D/144F on a delivered basis.
About the Author
The author is an independent analyst on China chemical fibers industry.