This traditional Japanese craft converts simple pieces of cloth into paradisiacal wreaths of art.
Cloth, before and after it touches a persons body is an expression of the wearers social status, custom, heritage, and aspirations. The way the fabric is designed and used holds a special meaning for the wearer affecting ones aesthetic sensibilities. Man has used different ways of embellishing textiles in many creative ways. Dyeing the textiles in lively colors is one of them. In dyeing too, several novel ideas are used to apply the dyes in a resourceful manner. Dyeing has evolved through many cultures all around the world, and is practiced as a special art in countries like China, Japan, Latin America, and Africa. Shibori is a way of dyeing textiles in Japan since the 8th century. Numerous techniques are followed for resist processes.
Shibori is a cloth dyeing technique which includes stitching, binding, twisting, clamping and folding. Basic technique of shibori is to draw a picture on a cloth, and tie a knot tightly with a thread. The cloth is then dyed with one or many colors. Based on the colors used and patterns required to be created, the cloth is dyed multiple times. When the thread is unwrapped, they produce appealing designs.
This is a very labor intensive method. The special feature of shibori is a soft or blurry edged pattern which differentiates it from sharp edged finishing obtained through wax, stencil, or paste.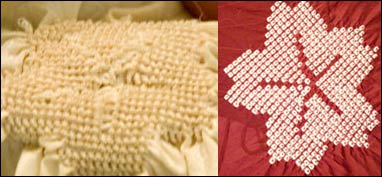 Kanoko Shibori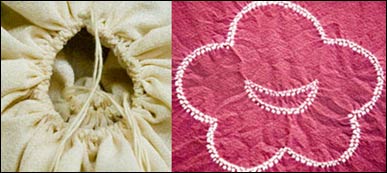 Nui Shibori
Techniques of Shibori:
Kanoko Shibori:

This is otherwise called as tie-dye. Some part of the cloth is tied with thread or rubber bands to get the desired pattern.

Muira Shibori:

This process uses a hooked needle and plucking sections of the cloth. The thread is not knotted, and is just looped. This gives water like design.

Nui Shibori:

A simple running stitch is used, and then the cloth is pulled together to become tight. It is then knotted and dyed. This is a time consuming process.

Kumo Shibori:

This is a pleated and bound technique where the cloth is bound very closely to give a spider like design.

Arashi Shibori:

In this technique, the cloth is wrapped around a pole tightly with a thread. The cloth is then scrunched and dyed resulting in a design on a diagonal.