Introduction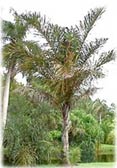 Raffia fibre is natural fibre like jute, bamboo and hemp fibres. It is peeled from raffia palm and normally dyed with natural pigments. Raffia fibre can be woven like straw, tied similarly silk ribbons and packed like Styrofoam pills. Raphia farinifera has the largest leaves so it is a source for raffia fibre. The main source of this palm is-island Madagascar. But now this palm is cultivated in East Africa for export purpose. Qualities of good raffia are soft, durable and easy to dye any colour.
Use of Raffia
Mainly raffia fibres are used in textile and construction industries. To make textile products the membrane on the underside of each individual frond leaf is taken off to create a long thin fibre and then dyed and woven. Raffia fibres are also used as a natural string in many countries. Raffia's quality like pliable nature of the grass, easily adaptable to colourful dyes and the quickness in work make it favourite among Craftsmen. Craftsmen also use raffia for decorating a simple and artistic home.
Kuba Raffia Cloth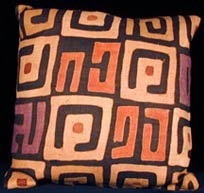 Kuba peoples of the Kasai river region of the Democratic Republic of Congo (Zaire) are the best survivors of the ancient African tradition of weaving fine quality raffia clothes, in past these clothes were delivered across the whole Central Africa.
Raffia cloth decoration has distinct style of decoration as in Kuba diverse group of peoples are living. Earlier Kuba people designed ceremonial raffia dance skirts and embroidered cloth panels "mbal" for occasions and court rituals, but today these events are quite rare.
Men of Kuba weave raffia cloth the "mbal" on an upright single-heddle loom. The mbal is Plain Square of undecorated raffia cloth. In Kuba; generally men are doing simple weaving compare to women. Women use different types of decorative techniques, labourios and prestigious type of cloth decoration like cut-pile embroidery. Kuba people use local plant dyes to colour raffia threads. Normal shades are red, blue, black and yellow. Strand of raffia is inserted through needle in such a way that it goes under a crossover between a single and weft thread. This process is continued again until the end of the strand on the cloth surface is only 1/2 mm long.
The strand is cut equally and close to the cloth using a very sharp knife such that there are two very short tufts between two strands. There is no knot between two strands so weaving must be enough tight to hold the stitch in place. This process is continued till the linear block of the same colour has been completed. To make ground cloth split and fluffed, it is completely concealed by pile and then the tufts are rubbed over with the edge of a knife. Women take a month of regular work to make a small square of embroidery using this technique. To embroidered cloth; women are using known patterns like wood sculpture, metal-working, mat-making, and women's body scarification. Regular interlacing of warp and weft on the background cloth might seem to promote a regular and symmetrical design. From weaving of Kuba artists it seems that Kuba artists favour a more improvisational, fluid effect that plays with deliberate asymmetries and pattern variation. Today large numbers of Kuba textiles are brought for sale in Europe and the United States.
Raffia Needlework

Raffia has been used as a thread in needlework since last few years in place of silk or linen. Raffia fibre's quality like toughness as linen twine and pliable like silk; it is easily adaptable for needlework. Generally delicate strands should be secured for needle work. A fine long darning needle must be used for working in the strands as raffia has delicate strands.
Darning is one of the most attractive forms to which this sort of needlework can be applied. Raffia darning would be usually out of place on the fine fabrics, but on Russian hand-made crash, with its soft silver grey background, it is ideal decoration for porch pillow and summer portieres. Needlework can also be applied on Rough oatmeal cloth, coarse toweling, and huckaback.
References