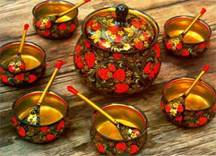 Khokhloma is a famous folk Russian decorative painting and is mainly used in creation of marvelous ornaments, wooden tableware and furniture. This art appeared in the 17th century in villages under Nizhni Novgorod. These paintings are known as Khokhloma paintings although they were never manufactured in Khokhloma, this name is due to the trading settlement of Khokhloma in Nizhni Novgorod Province; painted items were brought there from nearby villages for sale.
Usually black and red floral ornaments are painted against golden background. Sometimes craftsmen use green colour also. There are specific reasons behind using these colours: red adds warmth and softness to artificial gold, whereas black emphasizes its brilliance.
Stages of Making Khokhloma Paintings
Workpieces are turned on a lathe

The workpieces are grounded with liquid clay mortar and oiled with flaxseed oil after that they are treated with drying oil and dried. This step is repeated 3 to 4 times

Next stage is tinning: the item is covered with aluminum metallic powder (once they used silver powder and later cheaper tin powder). Then the silver-coloured piece is ready for painting, which is done in oils, and is secured by drying in a furnace.

Afterwards the work is covered with several layers of varnish, each of them dried separately in a stove. It is under the influence of high temperature, that varnish turns silver colour of the article into golden.
Khokhloma artists are doing these kinds of paintings without any preliminary marking; they apply free-hand brush painting. Khokhloma paintings convey the beauty of live nature as well as symbols of good things, well-being and happiness in Russia.
Following are the main types of Khokhloma paintings
1) Upper painting
In upper paintings red and black ornaments are used against the golden background. This painting includes traditional "grass" and "leaf" elements. "Grass" consists of blades of grass and springs painted with red or black on golden colour. "Leaf" painting is composed of oval leaves and berries usually spread around the stem.
2) Background painting
Background painting is reverse of upper painting; here golden design is used against red or black background. "Kudrina" is one type of background painting-it is flourishing tracery with intricate golden scrolls reminding of curls. These kinds of paintings are more complicated than upper paintings so they are generally used as expensive gift articles in 19th century.
Now-a-days modern Khokhloma enterprises producing many things with Khokhloma paintings like souvenir, vase, candle stand, mug etc.
References