Amidst all the clatters of global recession, Bangladesh is holding optimistic views regarding its apparel export segment.
Global recession is sending shivers all across the globe not leaving any business untouched. Despite all the turmoil, apparel sector in Bangladesh is on a growth trajectory. There is a rapid shift in the spending pattern of the consumers due to the advent of downturn. They have started to curtail their expenditures, and for essential items, they opt for inexpensive substitutes. The same attitude applies while shopping for their clothes as well. China is losing its international orders due to its high prices, and falling dollar values. This has favored the apparel industry in Bangladesh, as countries worldwide, have a demand for cheap clothing.
Apparel industry in Bangladesh accounts for 80% of the total exports. It generates employment for more than 40% of the total industrial workforce. During the past year, the country witnessed a 17% increase in apparel sales with a projected 6.5% further growth. Knitted apparels accounted to one fourth of their exports as the main growth driver of the country.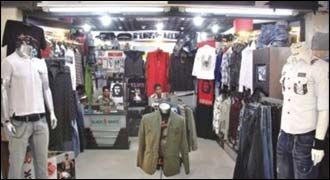 During the first quarter, shipment of apparels grew by 45% to reach $3.4 billion. As per the export data, more than 90% of apparels exported from Bangladesh are to Europe, and US. As recession initially started in US and Europe, and has experienced an adverse consequence of colossal job losses, consumers here have started minimizing their expenditures by substituting inexpensive items in place of lavish goods. People in the Western countries have stopping buying luxury goods, and are switching to low-priced items. Retail giants who were once sourcing from Chinese manufacturers are now looking as Bangladesh as a better option.
As a result many small orders from China is being diverted to Bangladesh. Apparels such as T-shirts, sweater, shirts, and denim pants have become a top choice of sourcing. The country has special access to markets in EU, Canada, and Japan. As it is a least developed country, its textile and apparels is quota free, and duty free. This concession along with less labor costs, and low priced apparels offer a strong competitive advantage in the global market.
As global recession boosts the sales of apparels with cheap price tags, Bangladesh is preparing itself for meeting the global requirements and handle the flood of orders. Growth of the apparel export sector of Bangladesh is one of the most significant social and economic developments. It is specialized in making inexpensive clothing and is the countrys main industry. With an increased investment in the apparel sector, and enhanced capacity in backward linkages such as dyeing, yarn manufacturing, and washing, the country would continue to dominate the global arena as the second largest apparel maker.
References:
http://www.chinapost.com
http://news.alibaba.com