By: Ravi Teja Sharma
Happy News Here: The recession is officially over. But do Indian SMEs have reason to cheer?
During the past one year, it was the small and medium enterprises sector that was affected the most due to the economic downturn. Orders from larger companies dried up and credit availability declined. SME exporters had it the hardest amidst rising defaults by international buyers. But the last quarter has shown some hope to these companies.
According to a CII-MSME Outlook survey, the July-September 2009 quarter could be the point where things start to improve for Indian MSMEs. According to the results of the study, 45% respondents reported an increase in turnover, 42% respondents registered an increase in production and 38% registered an increase in order booking in comparison to the first quarter of 2009-10. The report attributes the positive shift in the July-September quarter to the trickle down effect of various government stimulus packages over the last nine months. The worst of the crisis period is over and a turnaround seems within sight for most of the industry, says Salil Singhal, chairman of CIIs National MSME Council.
Credit flow during the first nine months of 2009 for SMEs was up over the same period last year. Micro and small enterprises have seen a credit flow of Rs.40, 146 crore this year compared to Rs.23, 865 crore in 2008. And while total credit flow in this period was down from Rs.4, 84,805 crore in 2008 to Rs.3, 08,718 crore in 2009, the share of SMEs in the overall credit flow increased from 4.9% to 28%.
Sanjay Sahni, managing director of Ritu Wears, is a happier man today as the recession recedes. In the last six months, his company managed to double its total store area, from 1 lakh sq ft to 2 lakh sq ft. He agrees that credit availability has improved considerably. Upto March there was a difficulty but since then the attitude of the banks has changed. Capital as well as working capital is now available, says Sahni. The growth in business has meant new hiring. The company is in the process of hiring 35 senior and mid management people over the next few months as it plans to open seven new stores in the next 12 months.
The Government of India announced a policy package in 2005 and total bank exposure to MSMEs was Rs.67, 600 crore. All banks were instructed to ensure 20% increase in credit to MSMEs every year so that credit to them doubles in five years by 2010. In March 2009, the exposure stood at Rs. 2, 57,000 crore, which is almost four times. MSMEs, having weathered the difficult economic times, will emerge stronger if due financial and technological support is extended to them, says Dinesh Rai, secretary, ministry of MSME. The challenge now would be to establish global competitiveness, for which they will need to focus on new technologies, R&D and market expansion.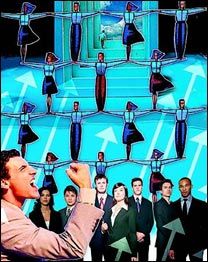 The first stimulus package reduced CENVAT by 4%, cut interest rate by 0.5% for small and 1% for micro enterprises by PSU banks, introduced interest subvention of 2% for exports, reduced the lock-in period under Credit Guarantee scheme from 24 to 18 months and announced an additional plan expenditure of Rs.20,000 crore. The second package included duty drawback benefits for certain products like bicycles, agricultural hand tools, and specified category of yarns with retrospective effect from September 1, 2008, which were expected to have a beneficial impact on MSMEs.
There is no dearth of credit for SMEs
The impact seems to have been positive with orders flowing in once again from overseas customers. Considering that SMEs contribute about 40% of Indias exports, this is a welcome sign.
Exports have begun to pick up slightly. The auto and auto ancillary segments are doing quite well and demand for credit has picked up from them. Even textiles sector has improved slightly and there is an increase in working capital requirement from these companies. Of the overall credit flow in the last three months, majority has gone to agriculture and to some extent to the SME segment, says TR Bajalia, executive director and head-SME at IDBI Bank. GS Madan, managing director, Madan Trading Company, couldnt agree more. Orders have started to come back in the last 1-2 months, though profit margins have dropped. We are surviving on our own as the government has not done much. Enough orders can come our way but pricing is a challenge as yarn prices have gone up 30%, he says. He adds that business from the US has improved slightly but orders from Europe and UK are back. The US should improve further in another 4-5 months.
The improvement is also apparent in the way hiring has picked up in the SME segment. Small and medium business are coming back with a renewed vigour to hire again, especially in the auto components, telecom equipment and pharma sectors, says Amit Tandon, director, Empryean Partners, an HR services firm which works with a number of SME clients. The hiring demand, says Tandon, has picked up considerably in the last quarter. The demand for new hires from SMEs in the July-September quarter was up 40-50% over the last quarter and about 60-70% higher than the January-March quarter. The interesting part today is that SMEs are able to lower their wage bills today because salary expectations today are around 10-15% lower than earlier and in some cases of people who lost their jobs during the recession are available at 30-35% lower salaries. The auto components sector has seen renewed hiring as demand in the auto segment shot up in the last few months.
These fears too have been allayed over the last few months. Deputy Governor of the Reserve Bank of India KC Chakrabarty recently said that there is no dearth of credit in the system for MSMEs and that no bank shall refuse credit to viable and transparent enterprises.
Originally published in "The Economic Times" dated November 30, 2009