What is the present condition of this 700 years old craft? Is it fair enough to expect beautiful, handmade things to compete with mass production?
History has an interesting story behind the traditional craft of 'Tangalia'. Legend says that this craft was born out of the creativity of an expelled couple belonging to two different communities. People who stood against their passion were not able to confine their artistic ideas. Their offspring's formed a separate community, and began weaving with wool, which is known as 'Tangalya'.
Tangalia is a handicraft practiced exclusively in the Gujarat state in India. This craft is practiced in 8 talukas and 26 villages mainly in the district of Surendranagar. People of the Dangasia community are the makers of this craft. Similar to a sarong, this garment is worn by the Bharvad women on special occasions such as weddings.
The Tangalia Motif:
Tangalya is a craft with unique virtues of its own. It includes an inimitable technique of wrapping yarn/threadon the warp yarns during the process of weaving. This wrapping/Knotting a contrast color yarn/thread creates an exclusive effect of raised dots on the shawl. It is done without using any mechanical devices on a pit loom, which is usually practiced as a household activity. It is the expertise of the craftsmen and his ingenuity to reate exclusive designs. Various types of Tangaliya are Ramraj, Dhusla, Lobdi, Gadia, and Charmalia. Peacock, ambo (mango tree), and khajuri (date palm tree) are the most commonly used motifs. These motifs have a geometric and graphic feel to it. The patternare created by arranging these motifs at various ways.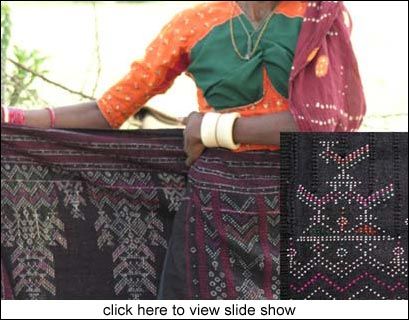 Made from natural fibres such as wool, silk and cotton, tangalia fabrics are woven using raised dots/danas which have bead like effect. Dana work is done on these shawl using wool, cotton, silk, acrylic, and viscose yarn. Placement of the dana is done by calculating the distance between the warp and the weft yarns. Weavers of the fabric have their own design vocabulary passed down through many generations, and also get their inspiration from nature. Designs like squares, triangles, rectangles, and circles are also emphasized. Vibrant hues of pink, red, blue, green, maroon, purple and orange is used. White is predominantly used along with other colors against a black background traditionally.
Is the Craft Getting Extinct?
Unfortunately, these 700 years old craft remains unnoticed in the eyes of craft historians. Good numbers of craftsmen were employed in this process, which gradually declined due to the competitive pressure of the dynamic shifts in the global market. Majority of the artisans involved, are living below poverty line.

Lack of exposure further pushed the craft into oblivion. The craft gradually started shrinking, as people who wear traditional costumes have decreased and the craftsmen involved are taking to alternate means for their livelihood. Tangalya craftsmen with the gifted fingers of this traditional art are no longer working for their communities. They have difficulty in finding markets for these products. This craft has immense potential. High end contemporary products could be developed with design inputs and emphasis on quality materials.
The Revival: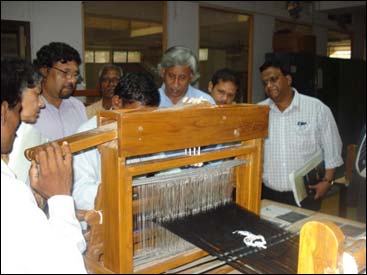 Despite their limitations, the tangalia weavers present one of the finest crafts of India. Tangalia is one among the five crafts picked by NIFT under its special SGSY cluster development project. An association of Tangaliya weavers called Tangalia Hastkala Association is being promoted under this project. This association has a membership of 226 artisans from five villages. NIFT designers and students provide design and other relevant inputs to these artisans.
GI (Geographical Indications) is the name or sign used for specific products that posses special reputation due to its geographical reputation, which is the main place of its origin. Tangalia shawls are registered under GI so as to protect and also add value to the craft. Training is provided to the weavers on aspects such as development in quality, design, product diversification, and experimentation. With the revitalization schemes of the Government, and institutions, the craft is now looking up.
This unique craft with motifs made up of danas requires much skill and efficiency. High quality crafts cannot survive without skillful marketing. With proper aid by the Government and craft organizations quality of this craft can be enhanced, and more market outlets can be identified.
References: