Bed spreads, drapes, curtains, cushion covers, shower curtains, table cloths, pillows, and valances, featured with floral sprays, and delicate patterns in hues of pleasant pastels, on fine cotton fabrics the exclusive craft of block printing. One gets into the sensational world of traditional flavor with a blend of modern aesthetic feeling with hand block printed home furnishings.


This is a 2000-year-old craft. Originated and developed in China, the earliest example of block printing is the copy of the Diamond Sutra of 868 AD. Block printing is a technique by which carved wooden blocks are coated with dye and are repeatedly pressed on a length of cloth to create beautiful patterns. Traditional block prints were preferred greatly by the Mughal Emperors. This is unique in its own way that every piece of fabric is exclusive from other ones, which is not possible for machine printing.
Block printing skills are passed through many generations, and are the livelihood of many families. The design is traced on the woods surface. This process enables much artistic freedom, and inclusion of pictures. The wood is then chiseled to the depth of an inch. Small holes are drilled in the areas meant for flat color. They are stuffed with cotton at the tie of printing to ensure even application of color.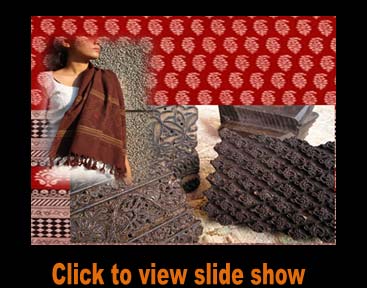 Various Types of Block Printing:
Resist Printing:

Hand woven cotton is sometimes printed with dye and then over printed with mud compound as a resist. Once the mud dries, the entire fabric is dyed in indigo. The part of the fabric that has the dried mud remains red, while the indigo dye sticks to the remaining fabric.

Direct Printing:

In this process, the cotton or silk cloth is bleached, dyed and then printed using carved blocks. The famous prints of Bagh of Madhya Pradesh and Bagru of Rajasthan are used in this method.

Discharge Printing:

In this process, the fabric is first dyed. Then a chemical is used to remove the dye in the places where a different shade needs to be applied. These parts are then colored with a different shade.
Mostly natural colors are used for printing, madder root for red color, rusty iron for black, and indigo for blue color. These fabrics are called Ajrakh and have a geometric printing pattern. Block printed cottons from the city of Jaipur in India are infamous for their exquisite pattern and colors for the past 250 years. This printing makes various apparels such a saris, kurtas, shirts, and skirts. Due to its durability and distinctive features, these fabrics are preferred in the Western countries.
Initially, this craft was a part of the village life. With the passage of time this art lost its significance due to the advent of mill prints, and easy to maintain wash and wear synthetic fabrics. It is the growing appreciation of this art in the international market that keeps this receding craft alive. Parallel to the world of mechanization, and computerization, the traditional craft of block printing continues to exist.
References:
1. &sec=article&uinfo=<%=server.URLEncode(2287)%>" target="_blank">http://textiles.indianetzone.com
2. &sec=article&uinfo=<%=server.URLEncode(2287)%>" target="_blank">http://en.wikipedia.org
3. http://www.woodprintblocks.com/