One of the sad effects of scientific advancements is thedestruction of environment and nature. Consequences of our technological progressresults in adverse effects such as deforestation, air pollution, and minglingof toxic chemicals in water, and ultimately results in depleting biodiversity.Eventually, we may need to conserve nature and biodiversity. One such effort isthe formation of Mann Society.
Brain child of the young Ashish Khatri while he was still inhis teens, the institution owes its origin to likeminded individuals,educationists, engineers, doctors and socially active youths. This is anon-profit, non-governmental, and non-religious, voluntary organization thatworks for the betterment of people in the rural and urban areas of the state.
The Mann Society:
The Mann Society is headquartered in Udaipur in Rajasthan,propagated by the former President of India, Dr. Abdul J Kalam. Envisionedwith aspiration to save trees, and transform India into a developed country, thesociety aims to protect the environment from the impact of global warming,plastic waste, greenhouse effects, and marble slurry. Mann Society isregistered under government Act1958 on 31-march-2009.The society itself isnamed with a meaningful motive which explains the intrinsic worth of itsservices.
M Make A Atmosphere N Nature and N Neat and clean
Young Innovator - Ashish Khatri:
Ashish Khatri is a recipient of a number of awards andprizes among which he is the recipient of an honor of being named JuniorScientist of Rajasthan, by none other than the former President, Dr. Kalam. Hewas also honored by the Government of Rajasthan on Republic day in 2006. He hassecured the first position in the India International Rural Cultural Festivalin the Field of Science held by Ministry of Youth, India and has also baggedthe first position in an exhibition organized by the Department of Science andTechnology in 2006.
Main objectives of the Society:
The society is envisaged with objectives that would promoteand ecological lifestyle and the betterment of the country. Its core objectivesare:
Promote the use of banana fibres into an eco friendly and cost effective product.

Turning marble slurry into useful product for mankind.

Generating awareness among people through camps regarding global warming.

Supporting farmers in agricultural activities leading to the economic growth, and modernization.

Promote environment related issues like rain water harvesting, alternative energy resources and pollution.

Create employment opportunities for the young and physically handicapped.
Fabrics from Banana Fibres :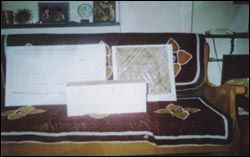 Banana plant is endowed with virtuous fibres which can be used to make good apparels. Though, the plant is more popular for its fruit, it has been a source of high quality fibre which is used to manufacture textiles. Waste materials extracted from banana stems can be a source of livelihood for the poor, rural and tribal population of the country and has the potential to generate employment opportunities along with becoming a source of livelihood for the rural and urban youth of India.
Ashish Khatri has designed a machine which can peel the waste banana stems, turn them into fibres to be turned further in to handicraft products like mats, paper, ropes, fabric (which is wearable and light in weight) and many other products. In the medical industry it can be used for treatment of kidney stones and for animal sterilization.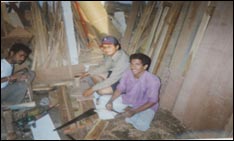 When we asked Ashish Khatri what was the inspiration behind the banana stem project, he smilingly replied, Natural fibres like cotton, silk and many more others are derived from the earth, by cutting plants and trees and which also harms the creatures residing in the soil, but once the banana tree is harvested, it becomes waste, so we have invented a machine, which will produce fibres from the stems of the waste banana plant and have applied for a patent too.
We probed him to tell more about the machine.


Tell us more about the banana peeling machine

.
We call the machine a Banana Peeling Device Machine, which is also an eco-friendly, easy to operate and cost effective machine, which can be handled by any person; male or female.
Kindly reveal the challenges and tribulations you faced while inventing the machine?
In India everybody is affected by the bureaucratic attitude of the government and I too had to suffer from the same. I started working on this project six years back, but it is only in the last two years that I was able to meet with success.The biggest challenge I faced was in finding a mechanic to make the first prototype of the machine after which I took the help of a carpenter and designed a wooden prototype and only after an article appeared in the local newspaper about the machine, did people started to have faith in me and the device and started extended help
What are your plans for the future with regards to the banana machine?
The banana machine is based on very simple concept and is very easy to use and can be operated by even un-educated persons. I would like to collaborate with a firm who want to develop their business in the textile field because; I definitely feel that that this machine has the capacity to create a revolution in the field of textiles.
In what ways do you expect to fulfill the vision of our former President with respect to wiping

out poverty by 2020?




Indian textile industry is the second largest at the global level and scope for employment is very large and with half the population made up of women and also a quite a few who are handicapped, this machine will help generate employment within their homes and also bring in extra income, which can help to a certain extent to eradicate poverty within India
Environmentalists and lawmakers are of the opinion that global warming is a real deal and human activities have been causing it. Embracing eco friendly products and activities to minimize emissions of heat-trapping gases that would degrade the environment is the need of the hour. Mann society proves to be an intrinsic movement making the march towards ecological lifestyle as holistically driven.
Reference: