National Foreign Trade Policy 2009-14: Handloom Is Still Hopeful
Source: Textile Review
Summarily, in the National Foreign Trade Policy, 2009-2014, handloom sector has received a set of measures, which it had never asked. And, it did not get what it had asked.
For the past four years, handloom sector has been asking for restoration of HS classification for handloom products. Last year, government had announced that this would be done. But the recent policy shows that this is not done.
But, government had provisioned for removal of requirement of Handloom Mark for availing benefits under FPS. This removal was never asked by the handloom industry. This would only harm the interests of the handloom sector, benefiting its competitors to avail the FPS benefits of handloom sector. Such a provision is major concern for handloom sector.
We for long have been advocating for enhanced focus on labour intensive sectors for export promotion in national level trade policymaking and implementation. In this regard, Dr. D. Narasimha Reddy, Secretary General, Chamber of Handloom Industry and Commerce, has already written to Shri Anand Sharma, Commerce and Industry Minister, New Delhi.
Comments on NFTP (what we are saying)
Proposed measures are inadequate

No comprehensive action so far on the measures suggested in NFTP, 2004-09

No effective benefit so far to handloom sector from NFTP

Lack of effective efforts to take feedback

Ignorance of cross-cutting segmental interests
Implications for NFTP (what is required)
Linkage with domestic handloom growth policies

Capacity building for primary producers

Building facilitation network in all States, where there is substantial handloom production

Providing financial resources for transaction costs
Roadmap for Future: Strengthening of Handloom Trade (what we are asking)

NAMA and FTA negotiations to include Handloom trade

Handloom products should be included sensitive and special products lists

Representation for handloom sector on different stakeholder committees of GOI

Representation for handloom sector on handloom monitoring committee of Ministry for Commerce (MOC)

Review of institutional structures such as Handloom Export Promotion Council (HEPC) and Handlooms and Handicrafts Export Corporation (HHEC)

Review of measures in National Foreign Trade Policies

State offices for HEPC in major handloom production centres

Legal framework labelling for powerloom and textile products

HS Classification of handloom products

Collection of Trade statistics for handloom products by DGFT and DGCIS

Higher budget allocations for infrastructure in handloom clusters

National Handloom Policy, with wide consultations
General
There is need to create long-term capacity of grassroots CSOs, state level government functionaries and local media to address complex issues of globalization and the World Trade Organisation (WTO) and their relationship with economic development and governance in India.
The revised policy announced on 27th August, 2009, should recognise the need for coherence and consistency among trade and other economic policies of both the Union and the State Governments for maximizing the contribution of such policies to development. The policy in 2005 did mention the setting up of Inter State Trade Council. The Council would provide an appropriate institutionalized dialogue mechanism on this subject. The fruits of such a mechanism are in the making.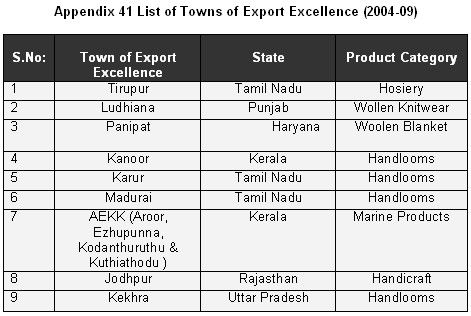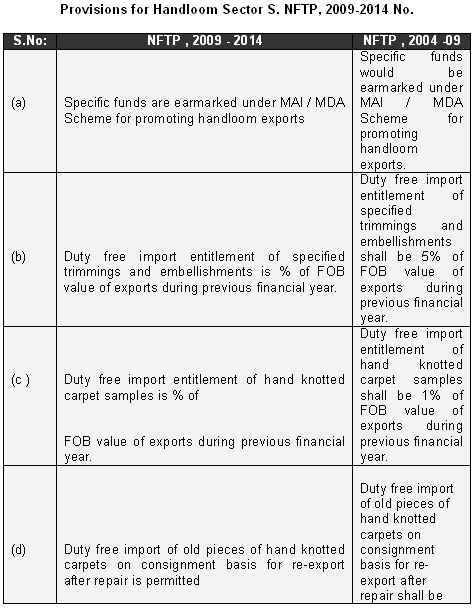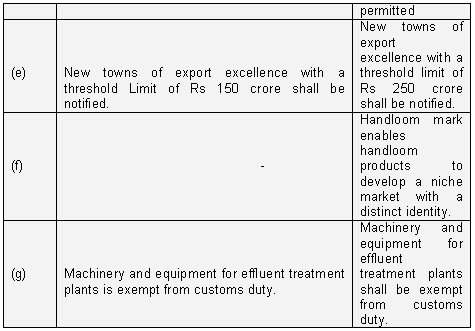 The author is Secretary General; Chamber of Handloom Industry and Commerce (I-CHIC)
Originally published in Textile Review: October 2009