Life sputters back gradually in Haiti, as the garment industry machineries start to run. With a shocking aftermath of the quake, even the vibrations of the apparel industry machines are mistook for an aftershock making the workers scramble for safety.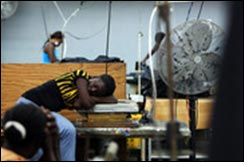 Haitian system suffers a stroke, with the disastrous tremor, and its shocking repercussions. Money has stopped flowing in through the Haitian economy after the devastating quake. Most of the stores in the country are closed, reluctant for reopening. With the apparel industry workers snowed under a hand to mouth existence, they have desperate members depending on them now, more than ever. Thousands of employees are jobless and moneyless. Even if the businesses open, owners do not have money to pump in, still besieged by the rubble.
In an outpouring generosity, relief workers have been sent from several parts of the world. The deteriorated Haitian economy needs something more fundamental than relief. People need proper jobs that will sustain their families for the years to come.
Garment manufacturers are stepping up with optimistic expectations to resurrect the virtuous cycle of work. Around 25, 000 workers have started their work around Port-au-Prince. Employees streaming in through the gates of the industry is a wonderful sight to watch after a destructive quake. With earnings of 5 or 6 dollars for a day, a family depends on them, now, more than ever. Many of them return back to work, with the tiredness of sleeping on the streets showing on their faces. Despite the factory owners assure that their buildings are inspected and were declared safe, many sewing machines are still lying empty. The cracks that run up the walls of the cavernous buildings are scaring them away. Slight vibrations of the apparel industry machines are mistook for an aftershock making the workers run for safety.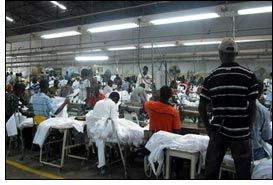 Garment industries in Haiti are set up as a cluster so as to share a common need for support services. The size of the garment cluster is too small to keep repair shops. It takes a long time to fly a technician and fix a broken sewing machine. Production costs are high as there are less investors. Industry workers get paid less for long hours.
Garment industry workers sew, check, fold, pack, and stack the garments. Cardboard boxes are filled with garments heading out to various stores. Haitian apparel workers are hoping positively that the global appetite for apparels will accelerate the countrys economic recovery very soon.
References: