It is somewhat strange that when the total world garment trade is going through uncertain phase, Bangladeshi exporters are thinking of expansion of their capacities. What is the reason for their newfound enthusiasm for further expansion?
The foreign business delegations to the 5th Knit Expo Show and 20th Bangladesh Apparel and Textile Exposition (Batexpo), who talked with the Bangladeshi garment exporters, found them brimming with confidence and planning for further expansion. This is particularly surprising when those with risk management skills have not found anything, which should promise a bright and assured future, particularly unless the Government does not quickly remove some major constraints. Those in the know of things say that unless one can ensure uninterrupted access to energy, improved social compliance, enhanced productivity and further backward integration of the sector including by going in for spinning, weaving and dyeing, it would be difficult for Bangladesh to realize the high hopes it has built up for itself.
Commendable Growth
One, however, must admit that ready-made garment industry in Bangladesh has made a commendable growth over the last 12 years, with annual growth averaging nearly 20%. And the interest shown by the foreign buyers for Bangladeshi products at Knit Expo 2009 suggests there is still plenty of untapped demand. One could forgive Fazlul Hoque, the dynamic President of BKMEA (Bangladesh Knitwear Manufacturers & Exporters Association), for making some bold predictions. He boasts that: "Bangladeshi knitwear exporters will break the Chinese wall." And that within a few years, "Bangladeshi apparel manufacturers will export US$2bn to Japan," up from US$74m in 2008-09. Did he really mean that? Hoque explains: "Bangladesh is presently the world's number three knit wear exporter after China and Turkey. "Pretty soon, maybe next year, we'll snatch position two from Turkey. "Okay, I know that our current knitwear exports at US$6.43bn [FY 200809] are only a fraction of Chinese exports. It may take us 10-12 years, maybe more, to beat China. But one must have a dream."
Fazlul Hoque is not alone in believing that the annual apparel export target of US$2bn to Japan is attainable. Subhan Abdus, President of Japanese trading company Taiyo Japan, from Kawasaki, said: "Japanese buyers don't compromise on quality.But from what I saw in a number of selected Bangladeshi factories, I can conclude that with a few improvements these factories are fit to export to Japan. The US$2bn target sounds realistic to me." The Japan Textile Product Quality and Technology Center QTec, from Tokyo, says that by February 2010 its Dhaka lab will be ready to carry out the specific tests demanded by Japanese buyers. Also, most of the Bangladeshi exhibitors of shirts, pants and other woven garments at Batexpo 2009 appeared confident about their future. The fact that big numbers of foreign buyers are flocking to Bangladesh is excellent news, not only for the 4,825 garment factories and their 3.1m workers, but for the whole economy too. In 2008-09, RMG exports from Bangladesh represented 79.3% of national exports.
Shifting of Orders from China to Bangladesh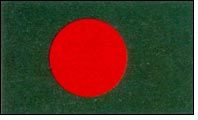 International buyers are well aware that Bangladesh is the country with the lowest hourly labour cost according to the 2008 comparisons made by Werner International and Jassin O'Rourke; and the lowest garment production cost according to the KSA 2009 sourcing guide. No wonder, then, that many of them are thinking of shifting part of their orders from China and other countries to Bangladesh. Foreign investors, in contrast, especially in the primary textile industry, are long term thinkers. So it will be interesting to see how they react on the growing popularity of 'sourcing location Bangladesh '. "For the time being no-one is coming. Everybody is scared and adopts a 'wait and see' policy," Hassan Towfique, Secretary General of BTMA (Bangladesh Textile Mills Association) comments regretfully. Will the Government of Bangladesh be capable of fixing the problem of frequent energy shortages and breakdowns? Further, what effect will the battle for a higher minimum wage have on the RMG sector? Labour unions want to see the minimum wage raised from its current EUR16.6 to EUR50 per month. But credible union leader Mushrefa Mushi (GWUF) says that many manufacturers still stubbornly pay their workers as little as EU R 1 012 a month. What could save the Bangladeshi primary textile sector from collapse if the EU rules of origin for EBA-countries (Everything but Arms) are changed and based on 'single-stage' criterion?
Originally published in The Stitch Times: February 2010