By:- Fibre2Fashion.com
Mumbai, the commercial capital of India is renowned for fashion icons and textile & fashion related business. 'Source India' was aptly planned to be organized in Mumbai, targeting buyers from the Middle East and North African markets.
The first kind international reverse Buyer-Seller meet 'Source India 2010' connecting the African and Gulf Markets in association with the Synthetic and Rayon Textile Export Promotion Council (SRTEPC) proved a grand success.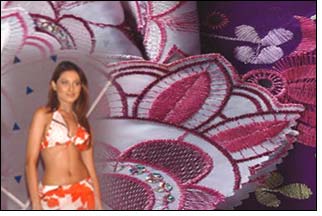 SRTEPC's unique two day initiative, Source India 2010, to bring exporters and overseas buyers together, concluded successfully on 29th January 2010 at Grand Hyatt, Mumbai with over 1440 business visitors. 150 invited buyers invited by SRTEPC from over 20 countries from Middle-East Asia, North Africa and South Asia were present making the show, an impressive event. Shri. A.B. Joshi, Textile Commissioner inaugurated the event on 28th January 2010. Mr. Sanjeev Saran, Convenor, SRTEPC welcomed all dignitaries and buyers and Mr. V.K. Ladiya, Vice Chairman, SRTEPC offered the vote of thanks. The Indian Government led by the Ministry of Commerce has taken special initiative of playing host for the delegates from Gulf and Africa.

Mr. Ganesh Kumar Gupta, Chairman, SRTEPC, while sharing his views about the show said, Source India 2010 was a unique effort towards highly focused and sharply targeted export promotion. Through Source India 2010 we connected the Indian man-made textile manufacturers and exporters with leading international buyers as well as Indian brands and retailers, and substantially raise trade volumes between India and the prime markets for these products, from the current $ 3.6 Billion to $ 7 billion by 2012.


The event showcased the latest range of world class man made textile products from India. Over 100 players from the industry displayed a wide product range including basic and fancy yarns, apparel fabrics like suiting, shirting and dress materials; trimmings and embellishments like laces, embroideries and appliqus; fashion accessories like stoles, scarves and shawls; home textiles like furnishing fabrics, cushion covers, bed covers, table and kitchen linen and so on; and a range of technical textiles for high performance clothing, industrial and specialized applications where India has just started stepping in.
Magic Sparkles on the Ramp: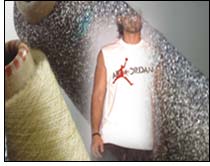 Three distinct fashion shows were conceptualized by the Marketing and Design Elements depicting the wide range of Indian man made fabrics and fashion accessories and their applications in all walks of life. The shows were choreographed by Marc Robinson, a renowned name in the fashion industry. Inspired by the magic sparkles of the night, the fashion show brought a midnight cocktail of short dress, diva gowns and many more.
Each Fashion show showcased 12 collections from prominent Indian fashion designers, brands and manufacturers covering wide range of fashion and clothing applications for both menswear and womenswear with Indian man made fabrics. Celebrities like Monica Bedi and Celina Jaitley walked the ramp for the Evening Glitz show. Themes of the fashion shows were Dawn to Dusk, Evening Glitz and Casual Finesse.
By:- Fibre2Fashion.com
Dawn to Dusk

, noon show on the 28th January, depicted wide range of day-wear outfits, created using Indian man-made fabrics to showcase clothing worn during the span of an entire day. The show started with morning wear and covered all the categories like formal business wear, brunch clothing, Friday dressing, and evening wear, and concluded with club wear collection.

E

vening Glitz

, a gala fashion show on the 28th January evening, depicted the celebratory and festive mood of haute couture. Featuring some of the top designers, this show incorporated the fundamentals of high drama to versatility to social dressing highlighting the future of heritage and contemporary life styles from Paris to Dubai to Mumbai.

C

asual Finesse

, the third show, showcased on 29th January noon, successfully set a perfect mood of relaxed finesse. The idea behind this show revolved around new age concept of smarter casuals. From the age-old definition of worn out jeans and t-shirt, casual wear has become more fashionable and chic. Showcasing gorgeous dresses, trendy college wear and dressy ethnic wear, casual finesse was every bit a trend-setting fashion show as conceptualized.




Testimonials of Beneficiaries:
" have found a couple of promising companies in whose products I am interested in. I particularly liked the format of Source India 2010, specially the fashion shows, which were very well conceptualized and gave me an instant overview of Indian fabric range in synthetics"
Mr. Mohamed Laafou from UAE
"I would like to congratulate SRTEPC on its brilliant execution of Source India and I wish the event success and good business."
Shri. A.B. Joshi, Textile Commissioner
"Such events should also be encouraged in other centres like Ludhiana, Tirupur, Bhilwara and Surat. We would extend support to such initiatives under the MAI program."
Shri P.K. Dash, Joint Secretary, Ministry of Commerce
"Source India 2010 is a strategic initiative aimed at augmenting the scale of $3.4 billion man made textile exports sector. MMF exports have been growing at a healthy ratio of 12% annually during the last five years. The event proves a testimony of the true spirit of globalization, and an integrated approach towards export promotion."